Bintang `Bokep` Jessica Drake Tuding Donald Trump Ajak Kencan dengan Imbalan $10.000
Porn Star Jessica Drake Claims Donald Trump Offered Her $10,000 for Sex
Editor : Ismail Gani
Translator : Novita Cahyadi

PUBLISHED: Minggu, 23 Oktober 2016 , 20:48:01 WIB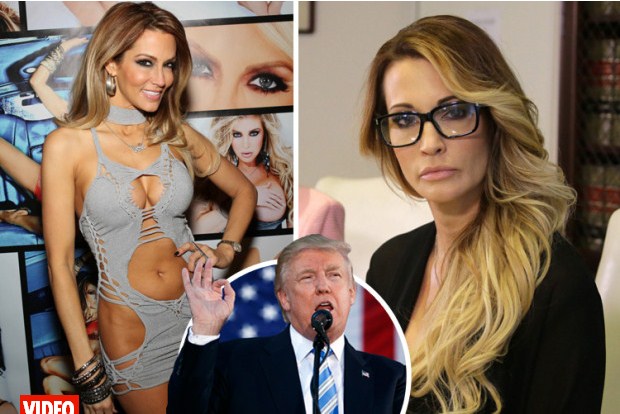 Profil Jessica Drake 10 tahun lalu saat bertemu Donald Trump (kiri) dan saat membeberkan fakta mengejutkan kepada pers, dan kandidat presiden AS Donald Trump (inset bawah) Foto2: The Sun
SEORANG bintang porno menuding Donald Trump menjanjikan uang lebih US$10.000 dan perjalanan dengan jet pribadinya jika mau tidur dengan Trump - hanya setahun setelah dia menikahi Melania.

Jessica Drake, 42, mengatakan ajakan tersebut dilakukan kandidat presiden AS 10 tahun yang lalu ketika keduanya menghadiri turnamen golf di Lake Tahoe, California.

Berbicara pada konferensi pers, dia bilang: "Sepuluh tahun yang lalu saya bekerja untuk Wicked Pictures (produsen blue film) pada turnamen golf di Lake Tahoe.

"Saya berada di ruang para bintang Wicked Pictures pada pagi hari sebelum dia bermain golf. Dia main mata dengan saya dan mengajak saya untuk berjalan bersama di lapangan golf, dan saya tidak keberatan melakukannya.

"Dia meminta nomor telepon saya dan saya pun memberikan nomor itu padanya. Kemudian malam itu, dia mengundang saya ke kamarnya. Saya bilang tidak enak karena saya datang dengan dua teman wanita."

Dia menambahkan: "Ketika saya memasuki ruangan, ia memeluk saya sangat erat dan kemudian mencium saya dan kedua rekan saya tanpa basa-basi."

Dia mengklaim mereka meninggalkan Trump setelah sekitar setengah jam dan dia kemudian ditelepon oleh salah satu staf Trump.

"Dia mengatakan Donald ingin saya untuk kembali ke lantai atas karena ditunggu di suite-nya," tambahnya.

"Saya bilang bahwa saya tidak ingin naik ke atas. Kemudian Donald yang telepon saya. Dia meminta saya untuk kembali ke kamarnya dan makan malam dengan dia."

Dia menyebut bahwa Donald kemudian bertanya: "Apa yang kamu inginkan?" Berapa sih tarifmu."

"Saya ditelepon lagi oleh Donald atau seorang pria yang menelepon setelah diperintahkan Donald untuk menawarkan uang US$10 ribu," tambahnya.

"Saya menolak tawaran itu, dan sekali lagi saya beralasan bahwa saya harus kembali ke Los Angeles untuk bekerja."

"Saya kemudian ditawari oleh Mr Trump untuk menggunakan jet pribadi miliknya yang akan mengantar saya pulang kalau saya mau menerima undangannya."

Tudingan dari Drake menyusul adanya pengakuan dari sejumlah wanita yang menuding Trump meraba-raba mereka. Sang kandidat mengaku akan berbalik menuntut mereka setelah pemilihan presiden berlangsung.

Drake mengatakan Trump mendekati dirinya padahal mereka baru kali itu bertemu. Setahun setelah dia menikahi istri ketiganya, Melania.

"Kata-kata dan tindakan dia adalah bukti nyata atas karakternya - mengungkap kebencian terhadap wanita tak terkendali, tak pernah menyesal telah melecehkan wanita dan menyerang wanita secara seksual," kata Drake seperti dilansir The Sun.
A PORN star accused Donald Trump of offering her $10,000 and a trip in his private jet if she agreed to sleep with him – just a year after he married Melania.

Jessica Drake, 42, said the presidential hopeful propositioned her 10 years ago as they both attended a golf tournament in Lake Tahoe, California.

Speaking at a press conference, she said: "Ten years ago I was working for Wicked Pictures (a porn studio) at a golf tournament in Lake Tahoe.

"I was at Wicked's celebrity gift room in the morning before he teed off. He flirted with me and invited me to walk along the golf course, which I did.

"He asked me for my phone number which I gave to him. Later that evening, he invited me to his room. I said I didn't feel right going alone so two other women came with me."

She added: "When I entered the room, he grabbed each of us tightly in a hug and kissed each of us without asking permission."

She claims they left after about half an hour and she later received a phone call from one of Trump's staff.

"He said Donald wanted me to come back upstairs to his suite," she added.

"I indicated that I didn't wish to return. Then Donald called. He asked me to return and have dinner with him."

She claims he then asked her: "What do you want? How much?"

"I received another call from Donald or a male calling on his behalf offering me $10,000," she added.

"I declined once again, and once more gave as an excuse that I had to return to Los Angeles for work.

"I was then told Mr Trump would allow me the use of his private jet to take me home if I accepted his invitation."

Her allegation follows the claims of numerous other women who accused Trump of groping them. The billionaire says he will sue them all once the presidential race is run.

Drake said Trump started making advances towards her as soon as they met. A year before the alleged offer he had married third wife Melania.

"His words and actions are a huge testament to his character — that of uncontrollable misogyny, entitlement and being a sexual assault apologist," said Drake.