Penumpang Ini Hanya Bayar Rp1 Juta Jakarta - Tokyo, Mestinya Rp93 Juta untuk `First-class`
Traveller Reveals How He Paid just $76 for First-class Plane Ticket from Jakarta to Tokyo
Editor : Ismail Gani
Translator : Novita Cahyadi

PUBLISHED: Senin, 26 Juni 2017 , 20:09:41 WIB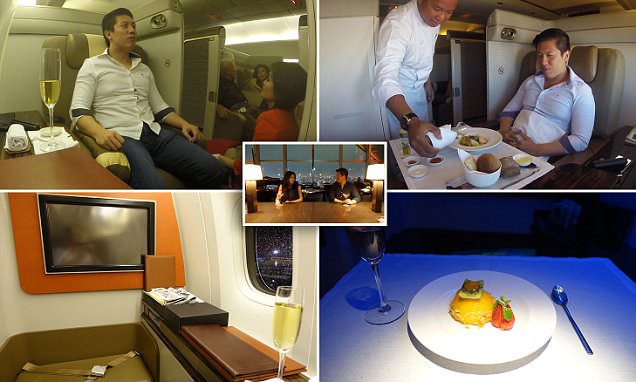 Setelah menikmati pengalaman kelas satu di ruang tunggu, Huang diarahkan ke pesawat, dengan lebih banyak kemewahan untuk dinikmati (Foto2: MailOnline)
TIKET kelas satu dalam penerbangan jarak jauh biasanya sangat mahal - namun seorang wisatawan yang cerdas dapat menikmatinya hanya dengan membayar Rp1 juta (US$76) saja.

Tarif tersebut untuk penerbangan dari Jakarta ke Tokyo dengan maskapai Garuda Indonesia, yang biasanya dijual seharga Rp93 juta (US$7.000). Namun pengusaha Sam Huang menggunakan poin frekuensi penerbangan untuk mendapatkan diskon besar hingga Rp92 jutaan (US$6.924).

Huang mengajak ayahnya mengikuti perjalanan 10 hari untuk merayakan ulang tahunnya ke-60 dan luar biasanya lagi, mereka menginap di sebuah kamar seharga Rp13 juta (US$1.000) di Hotel Hyatt Park yang bergengsi - lokasi syuting film Lost In Translation - dan dia dapat menginap dengan gratis.

Dia berkata: 'Untuk sampai ke Jepang saya terbang dengan penerbangan kelas satu dengan Garuda Indonesia dari Jakarta ke Tokyo. Tarif normal adalah Rp93 jutaan tapi saya cukup membayar sejuta rupiah saja ditambah poin frequent flyer.

'Garuda juga memberikan promosi jarak tempuh 90 persen yang luar biasa, yang berarti saya hanya harus menggunakan 13.500 mil untuk penerbangan saya. Untuk membandingkan, di AS jumlah mil yang sama tidak akan cukup membuat Anda menikmati penerbangan kelas ekonomi sekali pun.'
Perjalanan dimulai saat dia dijemput untuk penerbangan oleh Mercedes, yang membawa mereka ke bandara di Jakarta.

Huang, yang lahir di Pasadena tapi saat ini tinggal di Taipei, menulis di blog penerbangannya: "Setibanya di sana, saya disambut dengan hangat oleh dua pendamping, yang kemudian mengurus paspor dan koper saya.'

"Setelah melewati imigrasi, kami sampai di pintu masuk Garuda Lounge dan berjalan melewati bagian kelas bisnis yang relatif ramai."

Huang dan ayahnya kemudian ditunjukkan ke lounge kelas satu, yang dilengkapi dengan piano besar Yamaha dan meja kecil yang melapisi dinding cermin berpola.

Sementara di sana ia menikmati ikan bakar, menghirup Billecart-Salmon Champagne dan kemudian menggunakan shower untuk menyegarkan diri sebelum penerbangan.

Setelah menikmati pengalaman kelas satu di ruang tunggu, Huang diarahkan ke pesawat, dengan lebih banyak kemewahan untuk dinikmati.

Dia menggambarkan bagaimana kabin kelas satu hanya terdiri dari dua baris dan empat suite yang bisa tertutup sepenuhnya.

Kursi itu sendiri, katanya, 'cukup luas dan ditutupi dengan kulit krem'.

Bahkan ada lemari untuk menjaga pakaian Anda bebas kerut.

Seperti Etihad, Garuda memiliki koki on-board - dan dia secara pribadi menerima pesanan Huang.

Dia memilih sate - yang 'fenomenal' - sandwich salmon dan kue mangga, yang 'sangat lezat'.

Suite kelas satu Garuda, seperti yang tersedia di Singapore Airlines dan Emirates, menampilkan pintu geser yang mengubah suite menjadi kabin pribadi, kata Huang.

Dia mengatakan bahwa tempat tidurnya 'cukup nyaman' dan 'bahkan lebih luas dari kabin kelas satu Emirates'.

"Saya segera tertidur selama beberapa jam," tulisnya.

Sarapan adalah yang disajikan khas Jepang yang digambarkan Huang sebagai salah satu yang paling sehat yang pernah ada di pesawat terbang.

Namun itu bukan bab terakhir dari perjalanan diskonnya.

Huang juga menggunakan poin hotel Hyatt (30.000) untuk memesannya bersama ayahnya, untuk satu malam, ke hotel Park Hyatt, yang mendadak terkenal oleh sebuah film yang dibintangi oleh Bill Murray dan Scarlett Johansson.

Dia mengatakan kepada MailOnline Travel: 'Selama 10 hari berikutnya, saya dan ayah saya berkeliling Jepang mengejar bunga sakura, menginap di berbagai hotel Hyatt dengan menggunakan poin.'

'Namun, perjalanan utama kami adalah satu malam kami menginap di Park Hyatt Tokyo. Mengingat saya hanya menggunakan poin saya dan tidak perlu membayarnya, pelayanannya luar biasa. '

Di sana ia menikmati pemandangan luar biasa di cakrawala dari kamar tidur dan menggunakan hotelnya untuk membeli koktail yang 'luar biasa' lezat.

Secara keseluruhan Huang menghabiskan hampir Rp100 juta (US$750) + 250.000 poin untuk semua hotel dan penerbangan kelas satu ke Jepang.

Ini, bagaimanapun, bukanlah perjalanan pertama Huang dimana dia berhasil mendapatkan potongan harga besar untuk penerbangan dan hotel, dengan membayar hanya dengan sejumlah poin.

Tahun lalu, misalnya, dia terbang ke Singapura di kelas satu, hanya dengan membayar Rp6,3 juta (US$480) - dari tarif normal Rp212 juta (US$ 16.000).
A FIRST CLASS ticket on a long-haul flight is normally very expensive indeed – but one savvy traveller picked one up for just $76.

It was for a flight from Jakarta to Tokyo with Garuda Indonesia airlines, which normally retails for a cool $7,000. But businessman Sam Huang used his frequent flyer points to secure a $6,924 discount.

Huang took his father along on the 10-day trip to celebrate his 60th birthday and what's more, they stayed in a $1,000 room at the prestigious Tokyo Park Hyatt Hotel - where Lost In Translation was filmed - for the grand total of nothing.

He said: 'To get to Japan I flew first class with Garuda Indonesia from Jakarta to Tokyo. The retail cost was over $7000 but I paid just $76 plus frequent flyer points.

'Garuda also had an incredible 90 per cent mileage promotion, which means I only had to use 13,500 miles for my flight. To compare, in the US the same amount of miles would barely get you an economy flight on United.'

The trip started when he was picked up for his flight by a Mercedes, which took them to Jakarta airport.

Huang, who was born in Pasadena but currently lives in Taipei, wrote on his flight-tip blog: 'Upon arrival, I was warmly greeted at the curb by two first class escorts, who proceeded to take my passport and bags.

'After breezing through immigration, we arrived at the entrance of the Garuda Lounge and walked straight past the relatively crowded business class section.'

Huang and his father were then shown to the first class lounge, which was equipped with a Yamaha grand piano and small tables lining a patterned wall of mirrors.

While there he tucked into grilled fish, sipped Billecart-Salmon Champagne and then used the shower to freshen up before the flight.

After a first class experience in the lounge Huang was directed on board, with more luxury to revel in.

He described how the first class cabin consisted of only two rows and four suites that can be fully enclosed.

The seat itself, he said, 'is quite spacious and is covered with beige leather'.

It even has a closet to keep your clothes wrinkle-free.
Like Etihad, Garuda has an on-board chef - and he personally took Huang's order.

He chose sate - which was 'phenomenal' - a salmon sandwich and mango dome cake, which was 'surprisingly delicious'.

Garuda's first-class suites, as they do on board Singapore Airlines and Emirates services, feature sliding doors that turn the suite into a private cabin, Huang explained.

He said that the bed was 'quite comfortable' and 'even more spacious than Emirates' first-class cabin'.

'I quickly dozed off for a few hours,' he wrote.

Breakfast was a traditional Japanese spread Huang described as one of the healthiest he'd ever had on a plane.

But that wasn't the last incredible chapter of his discounted trip.

Huang also used his Hyatt hotel points (30,000) to book him and his father, for one night, into the Park Hyatt hotel, made famous by a certain film starring Bill Murray and Scarlett Johansson.

He told MailOnline Travel: 'Over the next 10 days, my dad and I travelled around Japan chasing the cherry blossoms, staying at various Hyatt hotels using points.

'However, a highlight of our trip was our one night stay at the Park Hyatt Tokyo. Considering I was just using my points and hadn't paid for it the service was impeccable.'

There he soaked up the incredible view of the skyline from the bedroom and used his hotel points to buy 'extraordinary' cocktails.

Altogether Huang spent $750 + 250,000 points for all the hotels and his first-class flight to Japan.

This, however, isn't Huang's first trip where he's managed to get massive discounts on flights and hotels, by paying with just points.

Last year, for instance, he flew to Singapore in a first class suite, for just $480 - the trip should have cost him $16,000.