Sniper Kanada Tembak Mati Pengikut ISIS dari Jarak 3,5 Km
Canadian Sniper`s Killed Islamic State Jihadi from 2 Miles Away
Editor : Ismail Gani
Translator : Novita Cahyadi

PUBLISHED: Jum'at, 23 Juni 2017 , 21:13:15 WIB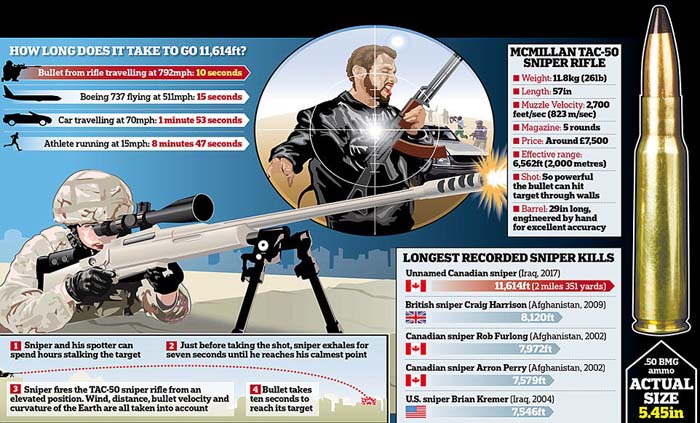 Prajurit tersebut menggunakan senapan sniper McMillan TAC-50 - sangat kuat sehingga bisa menembus dinding. Padahal senapan laras panjang dirancang efektif hanya mencapai target sejauh 1,2 mil (1,9 km) Infografis: MailOnline
SEORANG prajurit Kanada menembak mati pengikut ISIS dari gedung bertingkat berjarak lebih dua mil saat ISIS menyerang pasukan Irak. Sang penembak jitu berjarak begitu jauh sehingga peluru membutuhkan waktu hampir 10 detik sebelum mencapai sasaran dengan kecepatan peluru 792 meter per jam (mph). Keberhasilan tersebut memecahkan rekor dan tercatat dalam sejarah militer.

Seorang penembak jitu mencatat rekor penting dalam sejarah kemiliteran dengan menembak mati anggota Negara Islam (ISIS) dari jarak tembak lebih dari dua mil (3,5 km) jauhnya.

Anggota pasukan elit Kanada tersebut menembak mati pengikut ISIS dari sebuah bangunan bertingkat saat berlangsung operasi militer di Irak bulan lalu, setelah terungkap kemarin.

Jarak tembaknya begitu jauh sehingga pelurunya butuh waktu hampir 10 detik untuk mencapai target mematikan. Seorang sumber militer mengatakan tembakan tersebut dilakukan saat pasukan ISIS menyerang militer Irak.

Penembak jitu tersebut berjarak 3,5 km atau 11.614ft, jauhnya dari pengikut ISIS, mengalahkan rekor bertahan oleh prajurit Inggris sebelumnya sejauh 1,5 mil (2,4 km).

Sang penembak jitu, yang tidak disebutkan namanya karena alasan keamanan, adalah anggota dari Pasukan Khusus Kanada, membantu pasukan Irak dalam perang melawan IS.

"Tembakan tersebut benar-benar mengganggu serangan Daesh terhadap pasukan keamanan Irak," kata seorang sumber militer kepada surat kabar Globe and Mail Toronto. Sumber tersebut menambahkan: 'Alih-alih menjatuhkan bom yang berpotensi membunuh warga sipil di daerah tersebut, ini adalah aplikasi yang sangat tepat untuk serangan - dan karena jaraknya sangat jauh, pasukan ISIS jahat tidak memiliki petunjuk tentang apa yang terjadi.'

Sumber tersebut menggambarkan kesulitan tembakan, menjelaskan bahwa penembak jitu harus memperhitungkan angin, balistik dan bahkan kelengkungan Bumi.

Orang dalam militer mengatakan, "Ini adalah prestasi yang luar biasa. Ini adalah rekor dunia yang mungkin tidak pernah bisa disamai.'

Prajurit tersebut menggunakan senapan sniper McMillan TAC-50 - sangat kuat sehingga bisa menembus dinding. Senjata dirancang efektif hanya sejauh 1,2 mil (1,9 km).

Penembak jitu Kanada bekerja dengan pengintai, yang tugasnya membantu mendapatkan tembakan yang akurat. Pengintai menggunakan teropong dan dapat melihat target lebih jelas daripada sniper, yang menggunakan teropong biasa. Pengintai membawa senapan mesin jika lawan mengetahui posisinya. Pasangan ini kadang-kadang akan mengintai target selama berjam-jam sebelum menembak sasaran.

Pengintai berperan penting karena ia terus mengarahkan penembak jitu ke lokasi target didukung rincian spesifik.

Penembak jitu menembak setelah menghembuskan napas selama tujuh detik - atau sampai paru-paru mereka kosong dan dalam kondisi benar-benar tenang seperti dilansir MailOnline.
A CANADIAN soldier took out the fanatic from a tall building two miles away during an IS attack on Iraqi forces. The man was so far away that the bullet took almost ten seconds to reach its target and travelled at 792mph. The elite sniper broke a record and has earned himself a place in history after killing the Islamic State jihadi.

A sniper has earned a place in military history by killing an Islamic State jihadi from more than two miles away.

The elite Canadian soldier took out the fanatic from a high-rise building during an operation in Iraq last month, it emerged yesterday.

He was so far away that the bullet took almost ten seconds to reach its target. A military source said the shot was taken during an IS attack on Iraqi forces.

The soldier was 2.1 miles, or 11,614ft, away from the jihadi, beating the previous British-held record of 1.5 miles.

The sniper, who cannot be named for security reasons, is part of Canada's Special Forces, assisting Iraqi forces in the war against IS.

'The shot in question actually disrupted a Daesh attack on Iraqi security forces,' a military source told Toronto's Globe and Mail newspaper. The source added: 'Instead of dropping a bomb that could potentially kill civilians in the area, it is a very precise application of force – and because it was so far away, the bad guys didn't have a clue what was happening.'

The source described the difficulty of the shot, explaining that the sniper had to account for wind, ballistics and even the Earth's curvature.

A military insider said: 'This is an incredible feat. It is a world record that might never be equalled.'

The soldier used a McMillan TAC-50 sniper rifle – so powerful it can shoot through walls. It is designed to be effective only up to 1.2 miles.

The Canadian sniper worked with a spotter, whose job is to help get an accurate shot. Spotters use binoculars and can see the target more clearly than the sniper, who uses a scope. Spotters carry a machine gun in case the militants discover their position. The pair will sometimes watch their target for hours.

The spotter is essential because he keeps the sniper up to date on the location of the target and specific details.

The sniper fires after exhaling for seven seconds – or until their lungs are empty and they are at their calmest.