Helipad Paling Ekstrim di Dunia, dari Dubai Hingga Siberia
H Marks the Spot: From Jungle Clearings to Perilous Rooftop Landing Zones
Editor : Ismail Gani
Translator : Novita Cahyadi

PUBLISHED: Rabu, 03 Mei 2017 , 02:25:12 WIB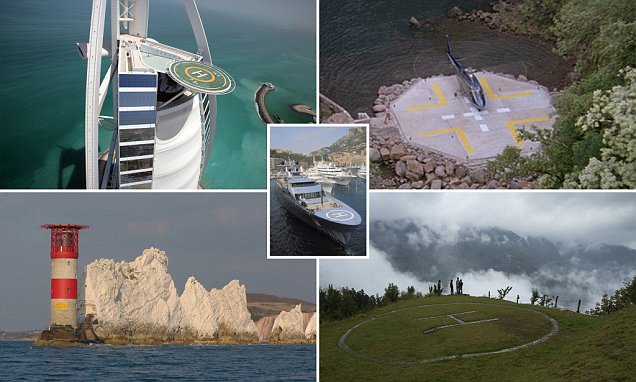 Arah jarum jam: Helipad di Hotel Burj Al Arab di Dubai, lokasi syuting Jurassic Park di Hawaii, di puncak gunung di Nepal, Mercusuar the Isle of Wight, dan di atas kapal pesiar buatan Jerman (Foto2: MailOnline)
DARI pembukaan hutan belantara hingga landasan pendaratan heli (helipad) berupa 'kotak aspal' di tepi pegunungan, foto-foto ini memperlihatkan beberapa helipad paling menakjubkan di dunia.

Mengunjungi helipad dari satu lokasi ke lokasi lain akan membuat Anda merasa seperti James Bond, dengan pilot yang bertugas untuk melakukan pendaratan di tempat yang sangat berbahaya.

Kemewahan Hotel Burj Al Arab di Dubai yang menyediakan helipad di atas gedung pencakar langit di lantai 28, menawarkan pemandangan samudera biru yang menakjubkan - sekaligus mengerikan karena berada tepat di tepi bangunan.

Upaya pendaratan helikopter tentunya memerlukan manuver udara yang berani dan sangat hati-hati dari pilot, karena akan mendarat di Mercusuar Needles di Isle of Wight. Dibangun pada 1859, kemudian ditambah dengan helipad di atap pada 1987, yang memungkinkan para pekerja melakukan pemeliharaan lebih cepat dan mudah.

Di alam bebas, ada beberapa lokasi helipad yang benar-benar menakjubkan, termasuk helipad berbentuk baskom di Sungai Shumak di Siberia timur dan tebing-tebing kepulauan Lofoten di Norwegia seperti dilansir MailOnline.
FROM clearings in rough jungle to squares of tarmac teetering on the edge of mountains, these photographs show some of the most incredible helipads in the world.

Swooping into any of these locations would definitely make you feel like James Bond, with pilots tasked with the job of landing on distinctly perilous spots.

The luxury Burj Al Arab Hotel in Dubai boasts a sky-high helipad on the 28th floor, offering stunning views of the blue ocean below - but unnervingly it's right on the edge of the building.

It would definitely require some careful manoeuvering on the part of the pilot, as would landing at the Needles Lighthouse on the Isle of Wight. Built in 1859, it was refurbished in 1987 with the addition of a rooftop helipad, allowing maintenance workers and keepers to hop to it in a jiffy.

In the wilds, there are some truly breathtaking helipad settings, including the basin of the Shumak River in eastern Siberia and the cliffs of the archipelago of Lofoten in Norway.