Suami Pukuli Istri dan Kekasih Kepergok Selingkuh
Scorned Husband Stomps on Cheating Wife and Her Lover as He Found Them Naked in Bed
Editor : Ismail Gani
Translator : Novita Cahyadi

PUBLISHED: Sabtu, 03 Juni 2017 , 02:55:43 WIB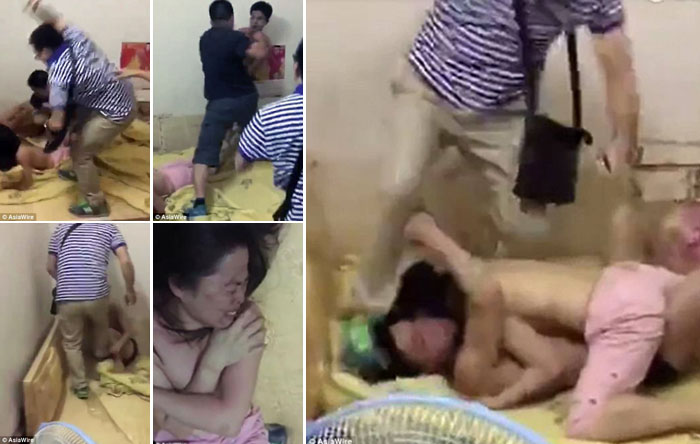 Netizens di media sosial China, seperti biasa, menjadi terbelah menanggapi video tersebut, namun umumnya menyampaikan simpati kepada sang istri (Foto2: MailOnline)
CUPLIKAN video yang mengejutkan memperlihatkan seorang pria dengan brutal menginjak istrinya dan kekasih gelapnya setelah memergoki pasangan selingkuh tersebut di kamar tidurnya.

Pasangan selingkuh tersebut tidak dikasih ampun oleh suami yang kalap, yang membawa sejumlah teman dengannya saat mereka menangkap basah pasangan selingkuh tersebut.

Video klip yang telah dilihat lebih dari satu juta kali di media sosial China diyakini direkam di Provinsi Guangdong di China Selatan, diketahui dari dialek setempat yang digunakan oleh individu-individu dalam video tersebut.

Hal yang menarik, apa pun yang terjadi, selama dipukuli oleh suaminya sang istri selingkuh terus berupaya melindungi kekasih gelapnya, bahkan pasang badan dipukuli oleh suaminya yang kalap.

Suami yang marah bahkan memukulnya dari belakang dengan sebatang tiang, dan teman-temannya bergabung dan menyerang kekasih itu juga, menyebabkan kedua korban meringis dan menangis kesakitan dan ketakutan.

Pada akhirnya, wanita itu harus sendirian menahan sakit dipukuli suaminya, yang terus-menerus menginjak kepala, wajah dan dadanya, sementara teman-temannya mendorong kamera ponsel ke arah wajahnya.

Tangisan keras wanita setengah telanjang itu berlanjut hingga video berakhir.

Netizens di media sosial China, seperti biasa, menjadi terbelah menanggapi video tersebut, namun umumnya menyampaikan simpati kepada sang istri.

Namun, sejumlah besar komentar mendukung suami tersebut dan memujinya karena menangani masalah dengan tangannya sendiri.

Perzinahan bukanlah kejahatan yang dapat dihukum di China, dengan undang-undang nikah hanya melarang seseorang menikah untuk menikahi kedua kalinya sebelum menceraikan pasangan mereka sebelumnya.

Akibatnya, suami dan istri dengan pasangan yang tidak setia sering mengatasi masalah dengan cara main hakim sendiri.

Belum diketahui apakah polisi melihat masalah ini dan apakah suami dan teman-temannya akan dikenai sanksi seperti dilansir MailOnline.
SHOCKING viral footage shows a man brutally stomping on his wife and her lover after catching the pair naked in a bedroom.

The cheating spouse is shown no mercy by the furious husband, who brings a number of friends with him as they bust the guilty couple red-handed.

The clip now viewed over a million times on Chinese social media is believed to have been filmed in Guangdong Province in South China, judging by the regional dialect spoken by the individuals in the video.

Amazingly, however, throughout the beating the wife does her best to protect her boyfriend, often putting her own body between her lover and the heavy blows from her husband.

The outraged husband even whacks her over the back with a pole, and his friends join in and attack the lover as well, causing both victims to wince and cry in pain and terror.

In the end, the poor woman is singled out by the husband, who continually stomps on her head, face and chest, all while his friends shove their phone camera in her face.

The naked woman's loud cries continue all the way until the end of the video.

Netizens on Chinese social media, as always, have been divided by the events, but generally expressed sympathy for the wife.

However, a great number of comments backed the husband and praised him for taking matters into his own hands.

Adultery is not a punishable crime in China, with marriage laws only forbidding a wedded individual from marrying a second time before divorcing their previous spouse.

As a result, husbands and wives with unfaithful partners often seek their own form of mob justice.

It is unclear if police are looking into the matter and whether or not the husband and his friends will be charged with battery.