Pecinta Lingkungan Ubah Lahan Tandus Kembali Hijau
Couple Spend 26 Years Replanting a Rainforest
Editor : Ismail Gani
Translator : Novita Cahyadi

PUBLISHED: Senin, 19 Juni 2017 , 03:27:42 WIB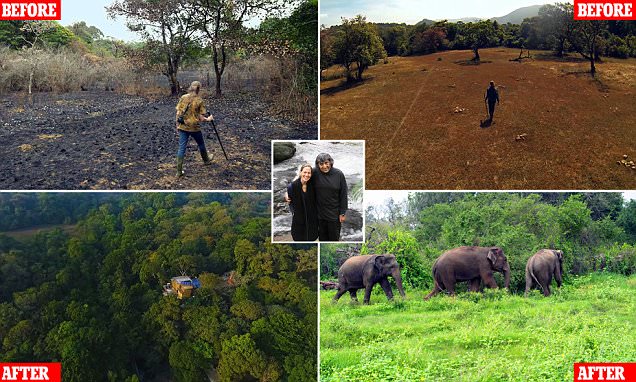 Foto2: MailOnline
TIDAK diragukan lagi bahwa pasangan ini dianugerahi 'jari hijau' karena mereka rela menghabiskan waktu selama 26 tahun untuk mengembalikan hutan hujan hijau kembali.

Pamela dan Dr Anil Malhotra membeli sekitar 55 hektar lahan pribadi di Ghat bagian barat India bagian selatan pada tahun 1991. Kawasan ini mengalami deforestasi berat setelah digunakan sebagai lahan pertanian dan hampir tanpa satwa liar.

Namun kini lansekap yang dulu tandus dan sekarang kembali hijau berkat usaha keras penghijauan dengan tanaman hijau subur yang menghiasi tanah dan kebun binatang yang bersembunyi di bawah semak belukar.

Malhotras sekarang memiliki lebih dari 300 hektar lahan yang dilindungi, yang mereka sebut SAI Sanctuary.

Mengingat apa yang mengilhami mereka untuk pindah ke alam bebas India, Pamela - yang berasal dari Amerika - mengatakan kepada Great Big Story: 'Selalu menjadi impian kami untuk memiliki tempat perlindungan hutan pribadi untuk margasatwa dimana mereka dilindungi.'

"Orang mengira kami sangat gila, tapi tidak apa-apa."

Orang-orang fanatik alam mengatakan bahwa dibutuhkan 'banyak perhatian, dan energi, dan waktu, dan tahun-tahun' untuk menghidupkan kembali tanah ini.

Berkat bantuan penduduk setempat dan relawan, semua penyekaman dan penyemaian secara bertahap mulai membuahkan hasil.

Saat ini beragam ragam flora tempat suci mencakup ratusan pohon dan tanaman asli yang berbeda - sebagian besar tanaman herbal.

Ada juga banyak spesies satwa yang terancam punah di taman ini, termasuk berang-berang sungai, kucing luwak, macan tutul, king kobra India, harimau Bengal dan gajah Asia.

Menggambarkan bagaimana lingkungan telah berubah, Pamela berkata: "Saya ingat berjalan melalui hutan Anda tidak akan mendengar apapun kecuali suara kaki Anda sendiri. Sekarang tempat itu hidup dengan suara.

"Salah satu pembuat suara utama kami adalah jangkrik."

Malhotras mengatakan sebagian besar tanah yang mereka beli lebih dari dua dekade yang lalu merupakan bekas lahan sawah, perkebunan kopi dan peternakan kapulaga dibiarkan tandus.

Melihat ke masa depan, tim suami dan istri berharap agar hutan tetap terlindung dan berkembang seperti dilansir MailOnline.
THERE can be no doubt that this couple have green fingers - because they spent 26 years bringing a rainforest back to life.

Pamela and Dr Anil Malhotra purchased around 55 acres of private land in the western Ghats of southern India in 1991. The area was suffering from heavy deforestation after being used as farmland and practically devoid of wildlife.

But now the once-barren landscape is barely recognisable thanks to major replanting efforts, with lush greenery carpeting the land and a menagerie of wildlife lurking in the undergrowth.

The Malhotras now own more than 300 acres of protected land, which they call SAI Sanctuary.

Recalling what inspired them to relocate to the wilds of India, Pamela - who is originally from America - told Great Big Story: 'It had always been our dream to have a private forest sanctuary for wildlife where they would be protected.

'People thought we were quite crazy, but that's OK.'

The nature fanatics said that it took 'a lot of care, and energy, and time, and years' to bring the land back to life.

Thanks to the help of locals and volunteers, all the shovelling and seeding gradually came to fruition.

Today the sanctuary's rich variety of flora includes hundreds of different indigenous trees and plants - many of medicinal value.

There are also many threatened species of animal living in the park, including river otters, civet cats, leopards, Indian king cobras, Bengal tigers and Asian elephants.

Describing how the environment has changed, Pamela said: 'I remember walking through the forest you wouldn't hear anything but the sound of your own feet. Now the place is alive with sound.

'One of our main sound-makers are the cicadas.'

The Malhotras said most of the land they bought more than two decades ago was abandoned with former rice fields, coffee plantations and cardamom farms left to unravel.

Looking to the future, the husband and wife team hope that the forest will continue to be protected and expanded.