Ini Dia Wajah-wajah yang Mendadak Viral di Jagat Maya
Their Face Says it All, People Whose Expressions were Simply Priceless
Editor : Ismail Gani
Translator : Novita Cahyadi

PUBLISHED: Rabu, 16 Agustus 2017 , 06:27:00 WIB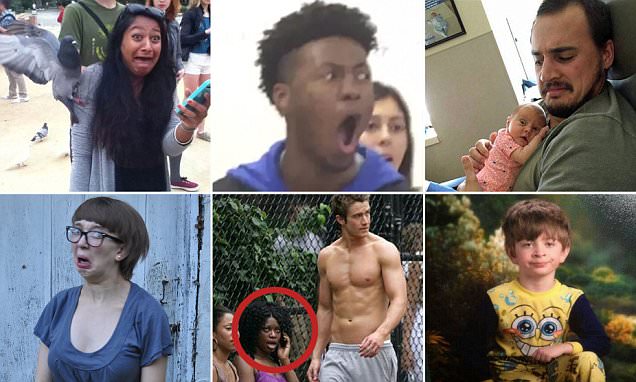 Foto2: MailOnline
TIDAK sering terjadi sesuatu yang menimbulkan reaksi mengejutkan seperti itu.

Namun ketika seekor ular piton muncul di sekolah, misalnya, ini dijamin bakal bikin heboh seisi sekolah.

Jalen Brooks, seorang siswa SMA berusia 17 tahun dari Riverside, Illinois, tampak sangat terkejut kaget saat mendapati seekor ular piton muncul di hadapannya - dan ekspresinya pun langsung menjadi viral.

Situasi lucu lainnya yang ditampilkan di sini mencakup cuplikan yang sangat bisa diandalkan dari seorang ayah yang terpesona yang memeluk anaknya yang baru lahir. Kemudian menjadi menarik, mimik sang bayi memberi sejuta makna.

Lalu ada wanita yang berpose bahagia untuk foto di kebun, namun dia tidak menyangka kalau dia berada di di bawah sarang tawon. Foto sebelum dan sesudahnya sekali lagi, tak ternilai harganya.

Di sini, tampil sejumlah foto yang menampilkan ekspresi manusia yang universal, MailOnline mengumpulkan sejumlah foto yang terabadikan pada saat-saat paling lucu.
IT'S NOT not often that something happens to elicit such a strong reaction.

But when a python shows up to school, for example, it's guaranteed to shake things up.

Jalen Brooks, a 17-year-old high school senior from Riverside, Illinois, was photographed in utter shock upon being treated to a visit from a snake during an educational presentation - and his priceless expression swiftly went viral.

Another comical situation presented here includes the highly relatable snap of a bemused father cradling his newborn. Amusingly, the infant looks even more alarmed.

Then there's the woman who was posing happily for a photo in the garden, only to suddenly discover she was standing under an angry wasp's nest. The before and after images are once again, priceless.

Here, in celebration of the universal plethora of human expressions, MailOnline rounds-up a gallery of snaps caught at the funniest possible moments.