Kuasai Pasar 50%, Benih Jagung Bisi Dukung Penyediaan 7 Juta Hektar
The Corn Seed of Bisi International Holds 50% of Indonesia`s Market Share
Reporter : Gusmiati Waris
Editor : Cahyani Harzi
Translator : Dhelia Gani

PUBLISHED: Jum'at, 04 Mei 2018 , 00:10:00 WIB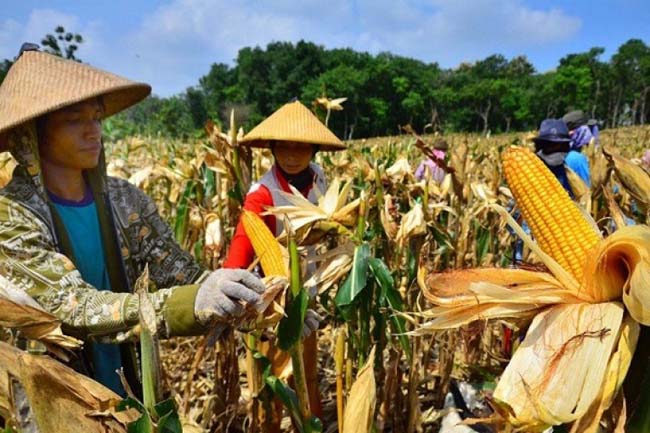 Foto: istimewa
Jakarta (B2B) - Luas lahan penanaman jagung di seluruh Indonesia mencapai tujuh juta hektar, dan kebutuhan benih 105 ribu ton pe tahun mengindikasikan peluang bisnis besar ke depan, dan saat ini PT Bisi Internasional Tbk menguasai 50% pangsa pasar domestik didukung kapasitas produksi hingga 80 ribu ton per tahun sehingga melampauipesaing utamanya seperti Pioneer, Syngenta, dan Asian Hibride.
"Benih jagung Bisi kuasai 50 persen dari kebutuhan nasional, sisanya diperebutkan produsen lain seperti Pioneer, Syngenta, dan Asian Hibride," kata Manager Pemasaran Wilayah Barat PT Bisi, Hari Prabowo kepada pers di Jakarta, Kamis (3/5).
Dia menambahkan, kapasitas produksi Bisi maksimal 80 ribu ton per tahun, sebagian besar untuk memenuhi kebutuhan jagung program Upsus jagung dari Kementerian Pertanian RI dan sisanya masuk pasar bebas.
Hari menambahkan, Bisi masih mengandalkan penjualan benih jagung dengan raihan pendapatan Rp290 miliar, benih sayuran dan buah-buahan Rp141,1 miliar, dan benih padi Rp8,37 miliar, pestisida dan pupuk Rp409,6 miliar dan produk lain Rp3,51 miliar.
Dari sisi laba usaha, pada semester pertama 2017, Bisi hanya meraih laba berjalan Rp87,85 miliar atau melorot 36,3% ketimbang periode sama 2016 sebesar Rp138,03 miliar. Penurunan laba akibat beban pokok penjualan pada semester pertama 2017 mencapai Rp601,24 miliar atau lebih tinggi dari beban pokok 2016 sebesar Rp440,5 miliar.
Provitas
Saat ini produktivitas rata-rata benih jagung Bisi maksimal 13 ton per hektar, misalnya Bisi-18 di lahan pasang surut Sumatera Selatan produksinya 8,3 ton per hektar padahal biasanya hanya 6,4 ton per hektar jagung pipil kering.
"Provitas tinggi membuat petani makin antusias membeli benih jagung Bisi-18, unggul pada rendemen panen bagus hingga 85%, yang dijual oleh Bisi melalui pola kemitraan dengan petani binaan didukung kegiatan pendampingan selama proses tanam," kata Marketing Eksekutif PT Bisi Internasional Tbk, Agus Purwanto.
Petani binaan Bisi, katanya lagi, baru membayar harga benih setelah panen jagung atau memberikan modal awal sehingga memudahkan petani meningkatkan produksi jagung, untuk mendukung target surplus jagung 2018.
Jakarta (B2B) - Cornfields across Indonesia reach seven million hectares, and seed requirement of 105 thousand tons per year indicates a big business opportunity in the future, and currently a public company, Bisi Internasional owns 50% of Indonesia´s market share supported by production capacity of 80 thousand tons per year, or surpassed major competitors such as Pioneer, Syngenta and Asian Hibride.
"The corn seed of Bisi holds 50 percent of the national need, the rest is shared by other producers such as Pioneer, Syngenta, and Asian Hibride," said West Indonesia´s Marketing Manager of Bisi, Hari Prabowo told reporters here on Thursday (May 3).
He added that Bisi´s production capacity is up to 80 thousand tons per year, mostly for the needs of maize self-sufficiency program from the Indonesian government through the ministry of agriculture, and the rest into the free market.
Mr Prabowo added that Bisi still relies on corn seed sales with revenue of 290 billion rupiah, vegetable and fruit seeds 141.1 billion rupiah, and paddy seed 8.37 billion rupiah, pesticides and fertilizer 409.6 billion rupiah and other products 3, 51 billion rupiah.
In terms of operating profit, in the first half of 2017, BIS only achieved net profit of 87.85 billion rupiah or 36.3% decrease compared to the same period of 2016 of 138.03 billion rupiah. The decrease in earnings due to cost of goods sold in the first half of 2017 reached 601.24 billion rupiah or higher than the cost of 2016 of 440.5 billion rupiah.
Productivity
Currently, the average productivity of corn seeds of Bisi maximum 13 tons per hectare, for example Bisi-18 in tidal area of South Sumatera produces 8.3 tons per hectare when usually only 6.4 tons per hectare.
"High productivity makes farmers enthusiastic to buy corn seeds Bisi-18, good yield up to 85%, which is marketed by Bisi through a partnership with the farmers supported by assistance during the planting process," said Marketing Executive Agus Purwanto.
Farmers pay off the purchase of corn seeds after harvest as initial capital, making it easier for farmers to increase maize production to support the 2018 surplus target.