Tukar Pengalaman Kelola UPJA, STPP Magelang Inisiasi Pelatihan Alsintan Kebumen
Indonesian`s Local Govt Support the Farmers Optimized Agricultural Machinery
Editor : M. Achsan Atjo
Translator : Dhelia Gani

PUBLISHED: Senin, 18 Juni 2018 , 00:27:00 WIB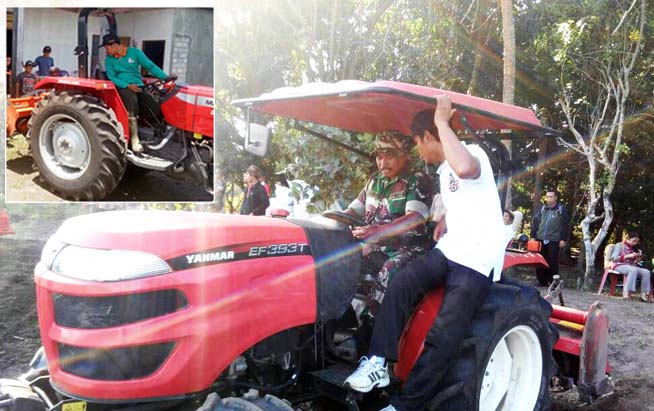 Puluhan peserta pelatihan datang dari lima kecamatan di Kebumen, yakni Mirit, Prembun, Ambal, Buluspesantren dan Puring (Foto2: Humas STPP Jurluhtan Yogyakarta)
IBADAH puasa Ramadhan tak menghalangi minat dan perhatian peserta pelatihan pemanfaatan Alsintan yang diinisiasi oleh Sekolah Tinggi Penyuluhan Pertanian - STPP Magelang jurusan penyuluhan pertanian (Jurluhtan) Yogyakarta selama dua hari pada awal Juni lalu di Balai Penyuluhan Pertanian (BPP) di Kecamatan Mirit, Kabupaten Kebumen, Provinsi Jawa Tengah, sebagai ajang tukar pengalaman .

Kegiatan pelatihan dipimpin oleh Penanggung Jawab Optimalisasi Pemanfaatan Alsintan dan Luas Tambah Tanam - PJ Opsin dan LTT Kebumen, Ali Rachman.

Puluhan peserta pelatihan datang dari lima kecamatan di Kebumen, yakni Mirit, Prembun, Ambal, Buluspesantren dan Puring. Peserta pelatihan beragam: operator Alsintan, pengurus usaha pelayanan jasa Alsintan (UPJA), anggota kelompok tani (Poktan), penyuluh pertanian lapangan (PPL), dan bintara pembina desa TNI AD dari lima komando rayon militer (Koramil) yang mendukung pendampingan dan pengawalan Opsin di Kebumen.

Selama dua hari peserta pelatihan mendapat materi pelatihan berupa penumbuhan motivasi petani dalam pengoperasian dan pengelolaan TR4 dan combine harvester, manajemen bisnis UPJA. Peserta juga berkesempatan untuk praktek mengendarai dan merawat Alsintan di Desa Mirit Petikusan, Kecamatan Mirit.

"Kegiatan pelatihan Alsintan bertujuan meningkatkan keterampilan peserta mengoperasikan dan merawat Alsintan bantuan pemerintah, khususnya traktor roda empat atau TR4 dan mesin panen combine harvester untuk mendukung pengembangan UPJA," kata Ali Rachman, yang juga menjabat Ketua STPP Magelang dalam arahannya saat membuka pelatihan Alsintan.

Menurutnya, pelatihan merupakan bagian dari inisiasi pembentukan UPJA di tingkat kecamatan, yang kelak akan bergerak sebagai kelompok ekonomi bersama pertanian (KEBP).

"Bukan sekadar meningkatkan ketrampilan dan pengetahuan peserta dalam mengoperasikan dan merawat traktor roda empat dan combine harvester, namun juga sebagai ajang tukar pengalaman dalam mengelola bisnis UPJA," kata Ali Rachman.

Sistem Produksi
Dalam kesempatan terpisah, Koordinator Tim Alsintan STPP Yogyakarta, Irwan Johan Sumarno menegaskan bahwa Alsintan merupakan salah satu komponen sistem produksi yang sangat vital dalam peningkatan produktivitas untuk menekan biaya produksi, meningkatkan kualitas produksi, dan menyejahterakan para petani. Namun banyak petani tidak memahami secara detail perawatan alsintan yang harus dipelihara agar dapat digunakan untuk jangka panjang sebagaimana halnya barang modal.

"Harus ada manajemen bisnis, nanti labanya nggak jelas ke mana, dan keuntungan usaha bermanfaat perawatan, membeli bahan bakar, upah operator, dan membeli mesin baru. Kalau tidak dikelola secara profesional dengan pendekatan bisnis maka begitu mesinnya rusak, mereka tidak bisa memperbaiki apalagi membeli mesin baru," kata Irwan JS yang juga menjabat Kabag Administrasi Umum STPP Yogyakarta.

Menurutnya, modernisasi pertanian melalui pengembangan mekanisasi pertanian dari pra panen, panen, pasca panen, pengolahan hasil sudah menjadi tuntutan dalam pembangunan pertanian, dan meningkatkan kesejahteraan petani. Pemerintah daerah diharapkan dapat menginisiasi terwujudnya konsolidasi lahan sebagai prasarana untuk mekanisasi pertanian.

"Di dalam UPJA ada operator yang mengoperasikan alsintan. Tidak semua petani mengoperasikan alsin seperti halnya tidak semua masyarakat menjadi supir angkot. Kita cukup naik angkot dan membayar, begitu pula dengan peranan UPJA untuk memfasilitasi kebutuhan petani terhadap alsintan," kata Irwan yang akrab disapa IJS.
RAMADAN fasting does not impede the interest and attention of trainees of agricultural machinery utilization
initiated by Magelang's Agriculture Extention College or the STPP Magelang for two days in early June at the agricultural extension office of Mirit subdistrict, Kebumen district ot Central Java province.

The training activities are led by Person in Charge of Program Optimizing the Utilization of Agricultural Machinery or PJ Opsin for Kebumen district, Ali Rachman.

Dozens of trainees came from five districts in Kebumen, namely Mirit, Prembun, Ambal, Buluspesantren and Puring. Training participants are diverse among others, operators of agricultural machinery, business management of agricultural machinery rental or the UPJA, farmers, agricultural extensionist, and the army's the village counselor.

For two days, trainees were given training such as improving motivation, operate and maintain the engine of four-wheel tractor and combine harvester, business management of agricultural machinery rental.

"Agricultural machinery training activities aim to improve the skills of participants," said Mr Rachman who was served as the Rector of STPP Magelang in his speech while opened the training here.

According to him, training is part of the UPJA development initiative at the sub-district level, which will later become a group of agricultural economies.

"It's not just improving the participants' skills and knowledge in operating and maintaining tractor and combine harvester trucks, but also as an experience of managing UPJA business," Mr Rachman said.

Production Systems
On separate occasions, the Alsintan's Team Coordinator of STPP Yogyakarta, Irwan Johan Sumarno said mechanization of agriculture for Indonesia has become a vital component to reduce production costs, improve the quality of production, and welfare of the farmers. However, many farmers do not comprehend treatment, which must be maintained for long-term use as well as capital goods.

"It must be managed professionally so that business profits could be used for treatment, provide fuel, to pay wages, and to buy a new machine. If it is not managed by a business approach so that the engine was broken, they can not improve, and incapable to buy a new machine," said Mr Sumarno who was served as the Head of General Affairs of STPP Magelang.

According to him, modernization of agriculture through the development of agricultural mechanization of pre-harvest, harvest, post-harvest and processing of agricultural production into demands in agricultural development, and improve the welfare of farmers. The local government is expected to initiate the consolidation of land as an infrastructure for agricultural mechanization.

"The role of special units hinted that not all farmers have to operate agricultural machinery, as well as not all people become drivers of public transport. For example bus passenger shall pay the fare, as well as the role of a special unit to facilitate the needs of farmers to agricultural machinery," Mr Sumarno said.