Aplikasi Simwas, Itjen Kementan Gelar Bimtek Penuhi IACM Level Tiga
Indonesian Govt Apply the Supervision Management Information System
Editor : M. Achsan Atjo
Translator : Dhelia Gani

PUBLISHED: Kamis, 12 Juli 2018 , 00:28:00 WIB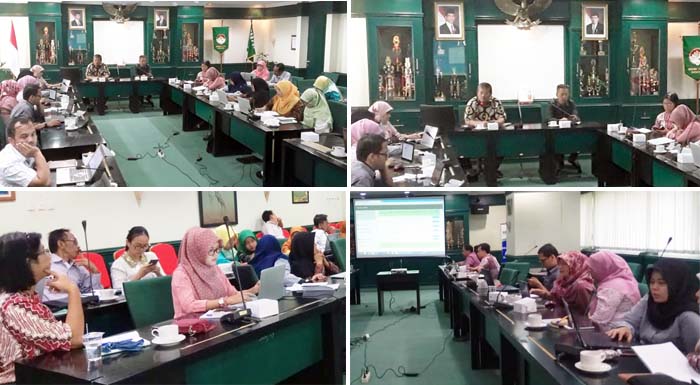 Sekretaris Itjentan, Suprojo Wibowo mengatakan saat ini Itjentan terus meningkatkan kinerja pengawasan melalui pemanfaatan teknologi informasi mengarah pada pemenuhan syarat IACM level tiga (Foto2: Itjentan)
Jakarta (B2B) - Inspektorat Jenderal di Kementerian Pertanian RI (Itjentan) berupaya meningkatkan kapabilitas dan pemenuhan syarat Internal Audit Capability Model (IACM) level tiga, dengan mengembangkan aplikasi online Sistem Informasi Manajemen Pengawasan atau SimWas, untuk mendukung kegiatan pengawasan Itjentan sebagai bagian dari inovasi teknologi informasi.
Sekretaris Itjentan, Suprojo Wibowo mengatakan saat ini Itjentan terus meningkatkan kinerja pengawasan melalui pemanfaatan teknologi informasi yang mengarah pada pemenuhan syarat IACM level tiga. SimWas dapat diakses dengan cepat melalui komputer, laptop dan smartphone yang terkoneksi internet.
"Ke depan, Itjentan akan fokus pada elemen-elemen yang belum terpenuhi sesuai dengan area of improvement sehingga mampu mencapai level kapabilitas yang lebih tinggi," kata Suprojo Wibowo dalam arahannya saat membuka Bimtek Simwas di Jakarta, Rabu (11/7).
Dia mengharapkan para penanggung jawab aplikasi SimWas mampu meningkatkan pemahaman dan kemampuan operasional, karena mempercepat proses tindak lanjut hasil pengawasan sekaligus menjadi acuan para pengambil keputusan di Itjentan.
"SimWas juga bermanfaat untuk sarana pengendalian internal atas pelaksanaan kegiatan di lingkup Itjentan. Goal kita, semua penanggung jawab SimWas harus meningkatkan pengetehuan dan pemahaman aplikasi SimWas," kata Suprojo.
Jakarta (B2B) - The Inspectorate General of Indonesian Agriculture Ministry or Itjentan seeks to improve the capability and qualification of Internal Audit Capability Model or IACM level three, by developing online applications of Supervision Management Information System or SimWas, to support the Itjentan performance through the utilization of information technology innovation.
Secretary of Itjentan, Suprojo Wibowo said his side improve supervisory performance through information technology to qualify for IACM level three. The SimWas can be accessed via computer, laptop and smartphone which is connected to the internet.
"In the future, Itjentan will focus on the area of improvement so as to achieve a higher level of capability," said Mr Wibowo in his direction while opened technical guidance of the Simwas here on Wednesday (July 11).
He expects the SimWas applications person in charge to improve understanding and operational capability, to support the process of follow-up supervision activities as well as a reference of decision makers in the Itjentan.
"SimWas is also useful for internal control facilities for the implementation of activities in Itjentan. The target is that all SimWas person in charge should improve their knowledge and understanding of SimWas application," Mr Wibowo said.