BBPP Ketindan Implementasikan GPPT yang Dicanangkan BPPSDMP Kementan
Indonesia`s Agricultural Training Center Supports Empowerment of Farmers
Reporter : Gusmiati Waris
Editor : Cahyani Harzi
Translator : Dhelia Gani

PUBLISHED: Kamis, 27 Juli 2017 , 00:10:00 WIB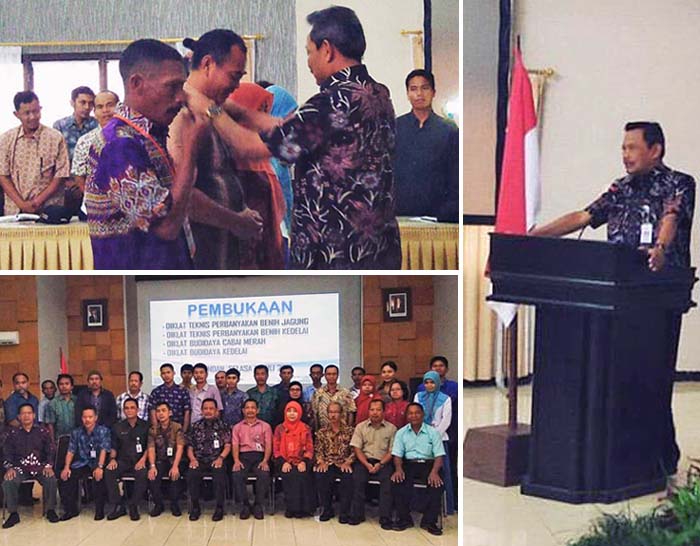 Langkah BBPP Ketindan sejalan dengan komitmen Kepala BPPSDMP Kementan, Momon Rusmono yang akan melakukan revolusi mental di bidang pendidikan, penyuluhan dan pelatihan (Foto2: Humas BBPP Ketindan)
Jakarta (B2B) - Kementerian Pertanian RI sejak 2016 mencanangkan program gerakan pemberdayaan petani terpadu (GPPT) dipadu dengan pengembangan minat dan kemampuan generasi muda pada pertanian, dengan memadukan kegiatan penyuluhan, pelatihan dan pendidikan pertanian, untuk mendukung peningkatan produksi dan produktivitas komoditas prioritas yakni padi, jagung, kedelai, bawang merah, cabai, gula, dan daging sapi.

Program GPPT yang dicanangkan oleh Badan Penyuluhan dan Pengembangan Sumber Daya Manusia Pertanian (BPPSDMP) diimplementasikan oleh Balai Besar Pelatihan Pertanian (BBPP) Ketindan - Malang, Jawa Timur yang diikuti 120 orang peserta dari enam provinsi wilayah binaan yakni DI Yogyakarta, Jawa Tengah, Jawa Timur, Bali, Nusa Tenggara Barat (NTB), dan Nusa Tenggara Timur (NTT).

Program GPPT yang berlangsung tujuh hari, 11 - 17 Juli 2017 dibagi menjadi empat pendidikan dan pelatihan (Diklat) tentang teknis perbanyakan benih jagung bagi aparatur sipill negara (ASN), teknis perbanyakan benih kedelai bagi ASN, budidaya kedelai dan budidaya cabai bagi petani, dan setiap pelatihan diikuti oleh 30 orang.

"Target pelatihan adalah meningkatkan kualitas dan peran serta SDM pertanian, khususnya penyuluh pertanian dan para petani mendukung pencapaian sasaran upaya khusus peningkatan produksi dan produktivitas tujuh komoditas prioritas," kata Kepala BBPP Ketindan Djajadi Gunawan dalam arahannya saat membuka keempat diklat di BBPP Ketindan.

Langkah BBPP Ketindan sejalan dengan komitmen Kepala BPPSDMP Kementan, Momon Rusmono yang akan melakukan revolusi mental di bidang pendidikan, penyuluhan dan pelatihan, yang dikemukakan kepada pers setelah dilantik oleh Menteri Pertanian RI Andi Amran Sulaiman pada Selasa pekan lalu (25/6).

Djajadi Gunawan menambahkan, pelatihan juga bertujuan mewujudkan kembali kejayaan sektor pertanian Indonesia mencapai kedaulatan dan kemandirian pangan yang didukung oleh penyuluh pertanian, mahasiswa, perguruan tinggi, prajurit TNI AD, dan pemangku kepentingan lainnya untuk meningkatkan martabat dan kesejahteraan petani sebagai pelaku utama mewujudkan kedaulatan pangan.

"Sasaran akhir pelatihan memberdayakan SDM pertanian secara terpadu untuk menumbuhkan dan mengembangkan kelembagaan petani sebagai anggota kelompok tani (Poktan) dan gabungan kelompok tani (Gapoktan) menjadi kelembagaan ekonomi petani yang berbadan hukum seperti badan usaha milik petani, commmanditaire vennootschaap (CV), perusahaan terbatas (PT) dan koperasi pertanian," kata Djajadi.
Jakarta (B2B) - The Indonesian Agriculture Ministry since 2016 has launched an integrated farmers empowerment program combined by development of young people's interests and abilities through the extension, training and agricultural education support increased production and productivity of priority commodities such as rice, corn, soybeans, shallots, chili, sugar, and beef, according to senior official.

The training program proclaimed by Agency for Agricultural Extension and Human Resources Development (BPPSDMP) was implemented by East Java's Ketindan Training Center for Agriculture with 120 participants from six provinces: Yogyakarta, Central Java, East Java, Bali, West Nusa Tenggara and East Nusa Tenggara.

The training in Ketindan lasted seven days, 11 - 17 July, 2017. divided into four technical training of corn seed cultivation for the civil servant, technical cultivation of soybean seed for civil servants, soybean cultivation and pepper cultivation for farmers, and each training followed by 30 people.

"The training targets to improve the quality of agricultural human resources, especially agricultural extension workers, and the farmers support the achievement of specific targets to increase production and productivity of seven priority commodities," said Director of BBPP Ketindan, Djajadi Gunawan in a speech delivered while opened the trainings.

The training in Ketindan is in line with Director General of of Agency for Agricultural Extension and Human Resources Development (BPPSDMP) targets mental revolution in education, counseling and training as instructed by Agriculture Minister Andi Amran Sulaiman supports the achievement of national food sovereignty.

The training aims to support the achievement of sovereignty and food self-sufficiency supported by agricultural extension workers, students, colleges, army soldiers, and stakeholders, he added.

"The ultimate goal of training to empower human resources of agriculture in an integrated way, by developing farmer institution as a member of farmer groups and combined farmer groups into economic institutions of farmers with legal entities such as farmer-owned enterprises, company limited and agricultural cooperatives," Mr Gunawan said.