Corn Planter, Alat Tanam Jagung Modern Sita Perhatian Wakil Rakyat
Indonesian Govt Push Farmers to Utilize Agricultural Mechanization
Editor : M. Achsan Atjo
Translator : Dhelia Gani

PUBLISHED: Minggu, 29 April 2018 , 01:03:00 WIB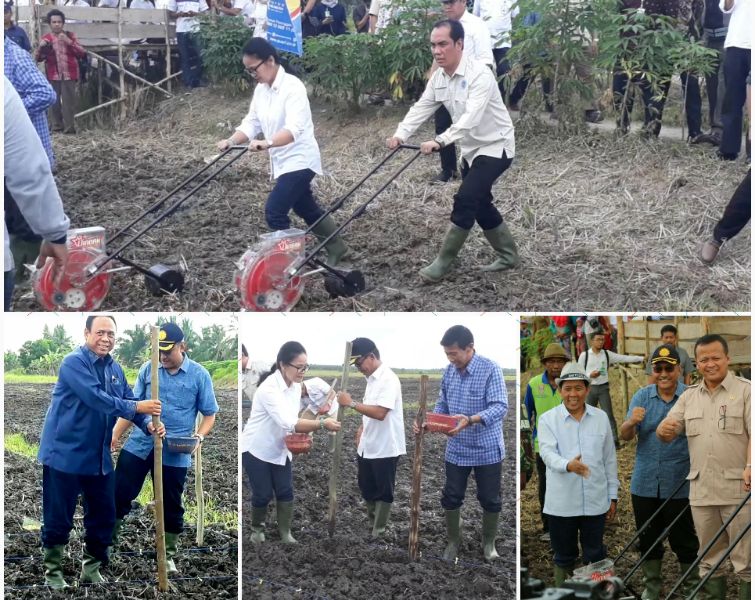 Dirjen Dadih pun mengajak koleganya yang berkantor di Senayan untuk menanam jagung secara manual, ditugel. Tanah dilubangi menggunakan tongkat atau kayu sesuai dengan jarak yang diatur. (Foto2: B2B/Mac & Humas Ditjen PSP/Unggul)
KEGIATAN tanam jagung bukan hal baru bagi Komisi IV DPR namun penggunaan alat tanam jagung modern, corn planter (CP) dan cara tanam manual yang disebut ´ditugel´ menarik perhatian Ketua Komisi IV DPR RI, Edhy Prabowo dan rombongan pada kunjungan reses DPR ke Provinsi Sumatera Selatan, untuk meninjau pemanfaatan APBN oleh mitra kerjanya, Kementerian Pertanian; Lingkungan Hidup dan Kehutanan; Kelautan dan Perikanan.
Ketika mendapati alat modern tersebut Edhy Prabowo dkk langsung ingin beraksi menanam jagung sehingga ada 2-3 wakil rakyat di Senayan tidak kebagian CP. Namun sayangnya niat teraebut harus diurungkan.
"Kondisi tanah di lahan rawa ini masih basah karena hujan, sehingga tidak efektif digunakan hari ini, kecuali tanahnya sudah mengering," kata Dirjen Prasarana dan Sarana Pertanian, Pending Dadih Permana yang mendampingi wakil rakyat dari komisi pangan dan lingkungan kunjungan reses ke Sumsel.
Dirjen Dadih menambahkan CP merupakan teknologi modern untuk memudahkan petani menanam jagung. Tanpa harus repot dan bingung untuk pemupukan karena dengan CP maka jagung dan pupuk akan langsung keluar dengan sekali dorong.
Dia menguraikan spesifikasi dan efektifitas CP yang berbobot 13 kg dengan kapasitas tabung lima kg maka jarak tanam diatur 22 - 23 cm untuk jarak tanam biji jagung dan pupuk sementara jarak samping lima cm.
"DPR mendukung kebijakan Ditjen PSP oleh Pak Pending untuk modernisasi pertanian khususnya corn planter ini akan membuat petani lebih bergairah bercocok tanam jagung. Saya baru lihat alat tanam jagung ini dan sangat tepat diterapkan untuk mendukung swasembada jagung," kata Edhy.
Dirjen Dadih pun mengajak koleganya yang berkantor di Senayan untuk menanam jagung secara manual, ditugel. Tanah dilubangi menggunakan tongkat atau kayu sesuai dengan jarak yang diatur.
Cara menanam tugal harus dilakukan dua orang atau berpasangan. Satu orang membuat lubang kemudian rekannya memasukkan benih ke dalam tanah kemudian menutup lubang dan demikian seterusnya.
ACTIVITY of corn planting is not an extraordinary thing for Indonesian parliamentarians but modern corn planting tools, and manual planting methods called ditugel attracted attention of Indonesian politician Edhy Prabowo and his colleagues during a visit of the parliamentary recess in South Sumatra province.
When found the modern tools Mr Prabowo cs very interested in planting corn so not all MPs got corn planter. But unfortunately the intention must be undone.
The soil is still wet by the rain, so it is not effective today, unless the soil has dried up," said Director General of Infrastructure and Agricultural Facility, Pending Dadih Permana.
Mr. Permana said corn planter is a modern technology to facilitate farmers to grow corn as well as fertilizing, because the great and fertilizer will come out immediately by pushing it.
He outlines the specifications and effectiveness of a 13 kg corn planter with a five kg tube capacity, plant spacing arranged 22-23 cm for planting spacing and fertilizer, while a side distance of 5 cm.
Parliament supports Mr Permana´s policy of agricultural modernization, especially corn planter will make farmers more passionate about planting corn." Mr Prabowo said.
Mr. Permana also invited his colleagues based in Senayan, Jakarta to plant corn manually or called ditugel. The ground is perforated using a stick or wood according to the regulated distance.
How to plant cultivation should be done by two people or in pairs. One man made a hole then his partner put the seed into the ground and then closed the hole and so on.