Prasarana dan Sarana Pertanian Penentu Swasembada Pangan Berkelanjutan
Agricultural Infrastructure Determines Indonesia´s Food Self-sufficiency
Editor : M. Achsan Atjo
Translator : Dhelia Gani

PUBLISHED: Kamis, 12 Oktober 2017 , 01:04:00 WIB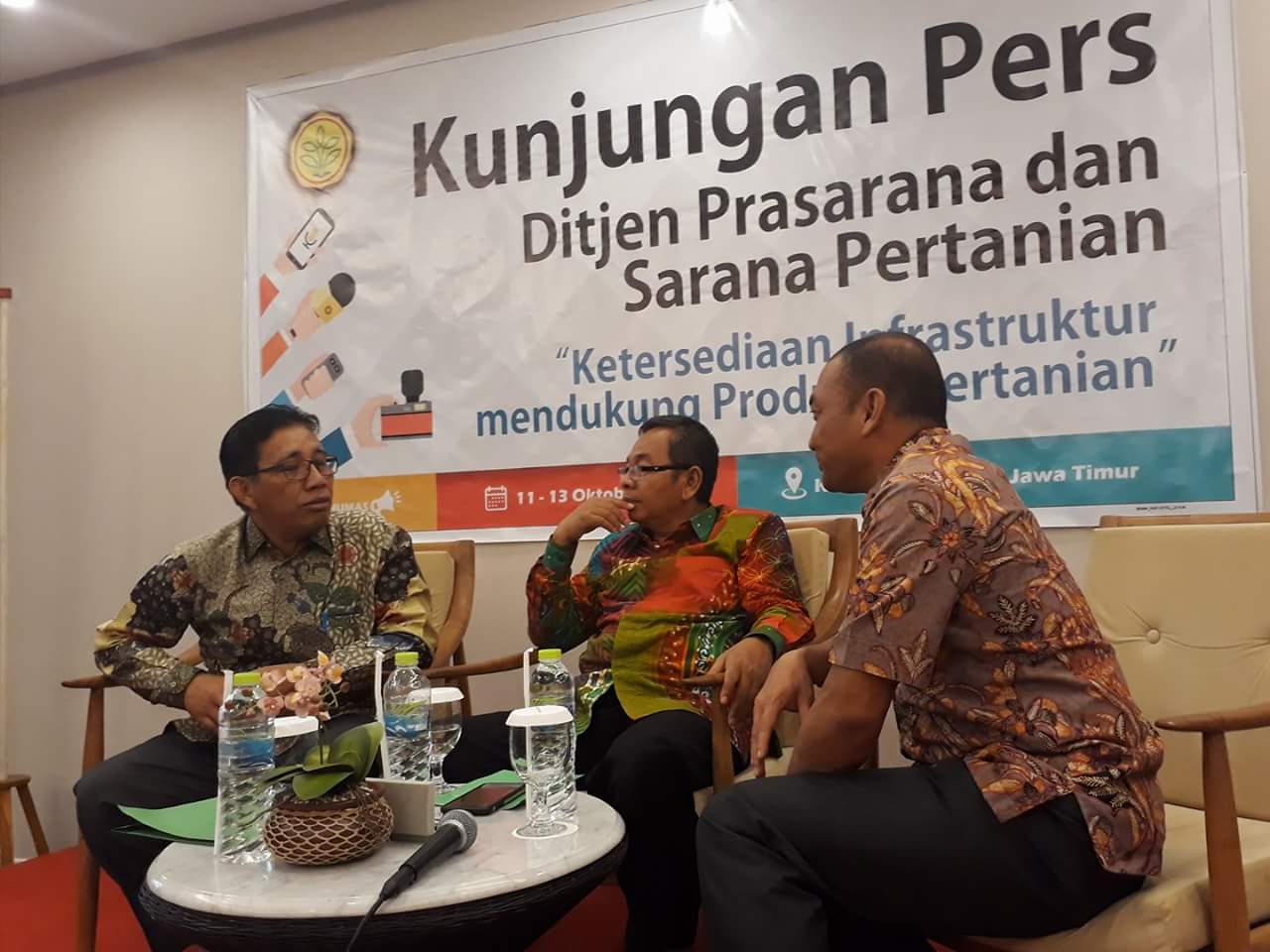 KEPENTINGAN PETANI: Sesditjen PSP Kementan, Abdul Madjid (kiri) berbincang dengan Kadis Pertanian Tuban, Murtadji; dan Dandim 0811/Tuban, Letkol Inf Sarwo Supriyo (Foto: B2B/Mac)
Tuban, Jawa Timur (B2B) - Kementerian Pertanian menargetkan produksi pangan lokal dapat memenuhi kebutuhan dalam negeri atau zero impor melalui pengembangan mekanisasi pertanian sebagai trigger transformasi teknologi bagi petani dan kelompok tani menuju pertanian modern yang efisien, efektif, dan ramah lingkungan.

"Filosofinya, pengembangan mekanisasi pertanian diarahkan untuk meningkatkan produksi, mutu hasil pertanian yang berdaya saing tinggi, untuk mewujudkan peningkatan ketahanan pangan, dan kesejahteraan petani," kata Dirjen Prasarana dan Sarana (PSP) Kementan, Pending Dadih Permana saat membuka kegiatan 'Press Tour Ditjen PSP Kementan' di Kabupaten Tuban, Jatim, Rabu malam (12/10) dalam pidato arahannya yang dibacakan Sekditjen PSP Abdul Madjid.

Dirjen Pending menambahkan swasembada pangan berkelanjutan untuk komoditas utama yakni padi, jagung, kedelai, cabe, bawang merah, sapi, dan tebu pada 2015 - 2019 secara nyata dihadapkan pada berbagai permasalahan antara lain ketersediaan lahan dan air, infrastruktur, benih, pupuk, SDM dan alat mesin pertanian (Alsintan).

"Penerapan mekanisasi pertanian dapat menghasilkan percepatan peningkatan mutu pengolahan tanah, peningkatan intensitas pertanaman, efisiensi biaya produksi, penyelematan kehilangan hasil, peningkatan mutu hasil, dan peningkatan pendapatan petani," kata Abdul Madjid mengutip arahan Dirjen Pending DP.

Tampak hadir Kepala Dinas Pertanian Kabupaten Tuban, Murtadji; dan Komandan Kodim (Dandim) 0811/Tuban, Letkol Inf Sarwo Supriyo.

Menurut Pending DP seperti dikutip Abdul Madjid bahwa bantuan Alsintan diharapkan dikelola secara bisnis oleh Poktan atau Gapoktan untuk pemberdayaan masyarakat tani mandiri dalam pengadaan Alsintan. Hal itu juga bertujuan menumbuhkembangkan industri Alsintan yang berdaya tinggi termasuk industri usaha kecil dan menengah (UKM) dalam penguatan perbengkelan dan penyediaan suku cadang Alsintan.

Dia menambahkan, tidak hanya memberikan bantuan Alsintan melalui rekrutmen SDM pengawas Alsintan, penguatan laboratorium uji mutu Alsintan dan kemampuan sertifikasi Alsintan oleh laboratorium atau unit kerja yang terakreditasi di pusat dan daerah.

Kegiatan Press Tour Ditjen PSP Kementan diikuti oleh 50 peserta terdiri atas wartawan, pranata Humas dari seluruh eselon satu Kementan, dan pejabat eselon dua dan tiga Ditjen PSP Kementan setingkat direktur dan kepala bagian.
Tuban of East Java (B2B) - Indonesian Agriculture Ministry targets national food production to meet domestic demand or zero imports, through the agricultural mechanization development into a technological transformation tzrigger for farmers and farmer groups into a technological transformation tzrigger for farmers and farmer groups to modern agriculture.

"The philosophy of agricultural mechanization development is directed to increase the production, quality of competitive agricultural products for food security and farmers' welfare," "said Director General of Infrastructure and Facilities (PSP) Pending Dadih Permana while he opened the press tour event in Tuban district of East Java province on Wednesday night (October 12) in his speech delivered by Secretary General of the PSP Abdul Madjid.

Mr Permana added sustainable food self-sufficiency for key commodities such as rice, corn, soybeans, chilli, shallots, beef and sugar cane in 2015 - 2019 are really faced with various problems such as land and water availability, infrastructure, seeds, fertilizer, agricultural machine tools.

"Mechanization of agriculture supports the acceleration of land quality improvement, increasing the intensity of planting, production cost efficiency, losses, crop quality, and increased farmers' income," Mr Madjid quoted Mr. Permana as saying.

It was attended by Head of Tuban's Agriculture Office, Murtadji; and Tuban District Military Commander of Kodim Lieutenant Colonel Sarwo Supriyo.

Mr Permana was quoted as saying Mr Madjid that agricultural machinery assistance could be a business opportunity managed by the farmer group. The main objective is to develop a high-tech agricultural machinery industry including small and medium enterprises.

He said not only providing agricultural machinery through recruitment of human resources supervisors, strengthening agricultural machinery quality testing laboratories, and certification capabilities of laboratories or work units accredited at the central and regional levels.

The press tour was attended by 50 participants consisting of journalists, public relations officers at the ministry, and senior officials of the directorate general.