Mentan Pantau Kesiapan `Relaunching` Sawit Rakyat oleh Presiden Jokowi
President Widodo is Scheduled Visit the North Sumatera Palm Oil Plantation
Editor : M. Achsan Atjo
Translator : Dhelia Gani

PUBLISHED: Senin, 27 November 2017 , 01:17:00 WIB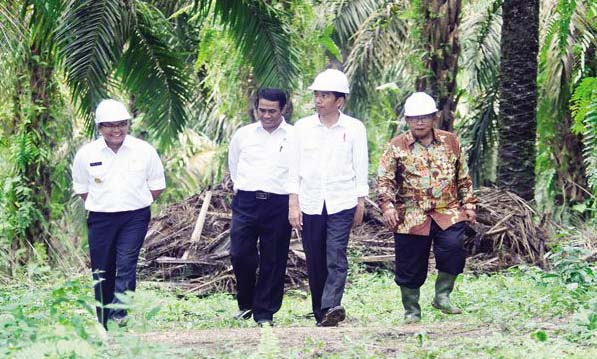 Presiden RI Joko Widodo usai meresmikan `relaunching` perkebunan kelapa sawit rakyat di Sumsel didampingi Mentan Andi Amran Sulaiman (ke-2 kiri) Foto: istimewa
Jakarta (B2B) - Presiden RI Joko Widodo dijadwalkan melakukan peluncuran peremajaan kelapa sawit rakyat hari ini, Senin (27/11) di Kabupaten Serdang Bedagai, Provinsi Sumatera Utara, dan Menteri Pertanian Andi Amran Sulaiman memantau kesiapan tim teknis replanting sawit rakyat di lokasi peluncuran, Desa Kota Tengah, Kecamatan Dolok Masihul pada Minggu (26/11).

Mentan Amran Sulaiman mengatakan Serdang Bedagai mendapat bantuan peremajaan kelapa sawit untuk perkebunan rakyat seluas 1.200 hektar tahun ini, dan terus meningkat hingga 9.000 hektar menyusul kemudian ke kabupaten lain di Sumatera Utara.

"Pemerintah sesuai arahan presiden, mulai tahun ini memprioritaskan tanaman perkebunan, bukan hanya kelapa sawit tapi juga tanaman rempah dan hortikultura," kata Mentan kepada pers di sela kegiatan peninjauan tersebut.

Dia mengharapkan petani kelapa sawit yang berkontribusi besar pada ekspor minyak nabati ke mancanegara untuk bekerja keras mempertahankan produktivitas 35 ton per hektar, yang menghasilkan sembilan ton minyak sawit (CPO).

"Jangan semua diserahkan kepada Tuhan ... lalu kita hanya menantikan hasilnya. Kita harus kerja keras untuk kepentingan keluarga dan bangsa," kata Mentan.
Jakarta (B2B) - Indonesian President Joko Widodo today was scheduled to launch palm oil replanting for smallholder plantations in Serdang Bedagai district of North Sumatra province, and Agriculture Minister Andi Amran Sulaiman monitored replanting preparations in Kota Tengah village of Dolok Masihul subdistrict on Sunday (November 26).

Minister Sulaiman said Serdang Bedagai received replanting seeds of 1,200 hectares this year, and continues to increase to 9,000 hectares, as do other districts in North Sumatra.

"The government, according to the president´s instruction, will prioritize plantation crops this year, not only palm oil but also herbs and horticulture crops," he told reporters.

He expects palm oil growers work hard to maintain 35 tonnes per hectare productivity, and produce nine tonnes of crude palm oil.

"Do not just depend on God ... then we just wait for the harvest time. We must work hard for the interests of family and nation," Minister Sulaiman said.