Barantan Gandeng Batan, Iradiasi Komoditas Pertanian Tujuan Ekspor
Indonesian Atomic Energy Agency Supports Agricultural Export Commodities
Reporter : Gusmiati Waris
Editor : Cahyani Harzi
Translator : Dhelia Gani

PUBLISHED: Senin, 07 Mei 2018 , 01:24:00 WIB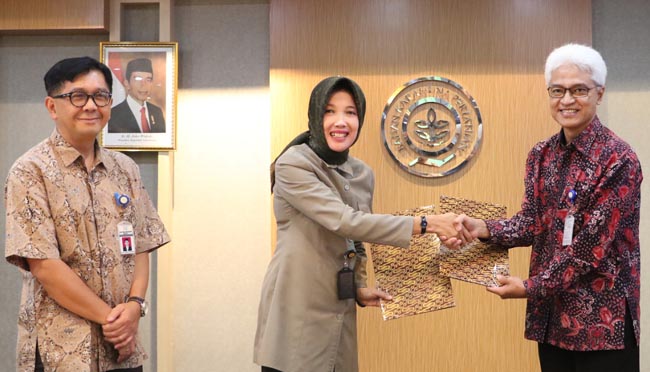 Kepala Barantan Kementa, Banun Harpini (tengah) usai menandatangani MoU dengan Kepala Batan, Djarot Sulistio Wisnubroto (kiri) terkait kerjasama dengan Pusat Aplikasi Isotop dan Radiasi (PAIR) milik Batan (Foto: Humas Barantan)
Jakarta (B2B) - Iradiasi menjadi alternatif efektif untuk melindungi pangan dari kerusakan akibat serangga dan sebagai tindakan karantina untuk produk pangan segar ekspor, menyikapi kian ketatnya larangan pemakaian insektisida kimia oleh beberapa negara tujuan ekspor seperti AS, India, Vietnam, dan Pakistan yang mempersyaratkan teknik iradiasi untuk komoditas pertanian.
"Sistem iradiasi untuk memenuhi persyaratan phytosanitary dari negara tujuan ekspor memiliki empat keunggulan dibandingkan dengan teknik lain seperti waktu aplikasi cepat, tidak meninggalkan residu kimia, dapat diaplikasikan pada komoditas yang telah dikemas dan tidak merusak kualitas komoditas pertanian," kata Badan Karantina Pertanian - Kementerian Pertanian RI (Barantan) Banun Harpini di Jakarta, belum lama ini.
Hal itu dikemukakan Banun Harpini usai meneken memoranda kesepahaman dengan Kepala Badan Tenaga Nuklir Nasional (Batan) Djarot Sulistio Wisnubroto terkait kerjasama dengan Pusat Aplikasi Isotop dan Radiasi (PAIR) dalam pemanfaatan iradiasi dibidang karantina untuk memacu ekspor produk pertanian Indonesia.
"Beberapa negara tujuan ekspor seperti Amerika, India, Vietnam dan Pakistan sudah mempersyaratkan teknik iradiasi untuk komoditas pertanian yang akan masuk ke negaranya," kata Banun Harpini.
Kepala Batan, Djarot Sulistio Wisnubroto mengatakan bahwa teknik iradiasi tergolong aman dan sudah diuji oleh ementerian Kesehatan, dan saat ini Indonesia memiliki tiga radiator Isotop di Cikarang, Bekasi, Pasar Jumat dan Serpong (Tangerang).
"Tekniknya mudah, buah-buahan dimasukkan ke dalam iradiator, kemudian sinar gamma yang ada di bawah air akan muncul dan menyinari buah-buahan, waktunya sesuai jenis buahnya, setelah selesai kemudian masuk lagi, begitu seterusnya," kata Djarot.
Menurutnya, MoU tersebut merupakan kepentingan bersama kedua lembaga, untuk meningkatkan akselerasi ekspor dan daya saing produk pangan ekspor Indonesia yang memenuhi persyaratan keamanan pangan
Banun berharap melalui kerjasama tersebut, Batan dapat memberikan keringanan biaya perlakuan untuk eksportir demi mendorong dan menunjang akselerasi ekspor produk pangan dan pertanian Indonesia di pasar internasional.
Jakarta (B2B) - Irradiation is an effective alternative to protect food from insect damage and as a quarantine action for fresh exported food products, to address the ban on the use of chemical insecticides by export destinations such as the US, India, Vietnam and Pakistan that require irradiation techniques for agricultural commodities, according to Indonesian senior officials.
"Irradiation systems to meet the phytosanitary requirements of export destination countries, are better than other techniques because the process is fast, without chemical residues, can be done on packaged commodities, and do not damage the quality of agricultural commodities," said Indonesian Agricultural Quarantine Agency or Barantan, Banun Harpini here, recently.
It was stated by Banun Harpini after signing a memorandum of understanding with Director General of Indonesia Nuclear Energy Agency or Batan, Djarot Sulistio Wisnubroto.
"Several export destination countries such as America, India, Vietnam and Pakistan have required irradiation techniques for agricultural commodities," Mrs Harpini said.
Mr Wisnubroto said that irradiation technique is safe and has been tested by the Indonesian Health Ministry and currently Indonesia has three Isotope radiators in Cikarang, Bekasi, Pasar Jumat and Serpong (Tangerang).
"The technique is easy, the fruits are put into the irradiator, then the underwater gamma rays will appear and illuminate the fruits, timing according to the type of fruit, after it is finished and then reentered, and so on," he said.
According to him, the MoU is a mutual interest of both institutions, to increase export acceleration and competitiveness of Indonesian exported food products that meet food safety requirements.
Mrs Harpini hopes from the cooperation, the office that she leads can provide cost relief for exporters to encourage and support the acceleration of Indonesian food and agricultural products exports in the international market.