Momon Rusmono Ingatkan Korelasi Positif Target LTT dengan Optimalisasi Alsintan
Indonesian Agriculture Ministry Push the Optimization of Agricultural Machinery
Editor : M. Achsan Atjo
Translator : Dhelia Gani

PUBLISHED: Senin, 21 Mei 2018 , 01:26:00 WIB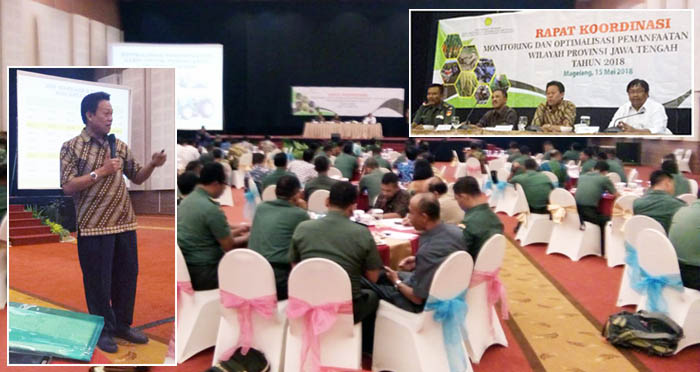 PJ OPA Nasional, Momon Rusmono memimpin rapat koordinasi ´monitoring dan optimalisasi pemanfaatan Alsintan Jawa Tengah 2018 (Foto2: Humas STPP Yogyakarta)
Magelang, Jawa Tengah (B2B) - Kementerian Pertanian RI mengingatkan para penanggung jawab upaya khusus padi, jagung, dan kedelai - PJ Upsus Pajale Provinsi Jawa Tengah tentang hasil evaluasi dari luas tambah tanam (LTT) pada Mei 2018 masih 48% dari target, sehingga diperlukan strategi khusus dan usaha untuk mendorong petani melakukan percepatan tanam musim tanam April - September 2018, dengan mengoptimalkan alat dan mesin pertanian (Alsintan) yang berkorelasi positif dengan pencapaian target LTT.
Hal itu dikemukakan Penanggung Jawab Optimalisasi Alsintan - PJ OPA Nasional, Momon Rusmono pada rapat koordinasi ´monitoring dan optimalisasi pemanfaatan Alsintan Jawa Tengah 2018 di Magelang, belum lama ini.
"LTT Jateng untuk Mei 2018 masih di bawah target, baru mencapai 48 persen maka peran Alsintan sangat vital mendorong pencapaian target LTT, karena optimalisasi pemanfaatan Alsintan berkorelasi positif mendukung LTT," kata Momon Rusmono, yang juga menjabat Kepala Badan Penyuluhan dan SDM Pertanian (BPPSDMP) di Kementerian Pertanian RI.
Tampak hadir PJ OPA Jawa Tengah wilayah Korem 072 Pamungkas, Ali Rachman; Kepala Balai Alsin Pemprov Jawa Tengah, Bimo Santoso MP; Pasiter Kasdam IV Diponegoro; dan Kabag Administrasi Umum STPP Magelang Jurluhtan Yogyakarta, Irwan Johan Sumarno.
Hasil pemetaan bantuan Alsintan 2014 -2017 dari Kementan diketahui bahwa Provinsi Jawa Tengah mendapat 12.550 unit traktor roda dua (TR2), 497 unit TR4, 1.292 unit combine harvester kecil (CHK), 547 unit CH sedang (CHS), dan 62 unit CH besar (CHB).
Sementara dari sisi kapasitas kerja Alsintan per hari, diketahui untuk TR2 sekitar 0,3 hektar, TR4 2 hektar, CHK 0,6 hektar, CHS 1,2 hektar, dan CHB 2 hektar.
Momon Rusmono mengingatkan tentang pencapaian target LTT didukung Alsintan dengan penguatan unit pelayanan jasa Alsintan (UPJA) secara kolektif mulai dari pengolahan tanah, penanaman, dan panen.
"UPJA dapat memberikan layanan dalam bentuk paket, misalnya olah tanah dan penanaman sekaligus menyediakan benih padi. UPJA juga dapat menjadi tempat pelatihan dan perawatan Alsintan bagi operator, petani, maupun Babinsa di tingkat kecamatan," kata Momon Rusmono.
Magelang of Central Java (B2B) - The Indonesian Agriculture Ministry reminded the person in charge of increased production of strategic food called the PJ Upsus Pajale about evaluation of of extensification of paddy cropland or the LTT is still 48% of the target, so special strategies are needed by optimizing agricultural machinery or Alsintan to support the achievement of LTT targets.
It was stated by the Person in Charge of Optimizing Agricultural Machinery or Alsintan, Momon Rusmono at the coordination meeting here recently.
"The LTT in Central Java province or May 2018 is still below target, it only reaches 48 percent so Alsintan role is vital to drive the achievement of LTT target, because optimization of utilization of Alsintan positively correlates to the LTT," said Mr Rusmono who also served as the Director General of Agency for Agricultural Extension and Human Resources Development or BPPSDMP.
It was attended by Person in Charge of Optimizing Agricultural Machinery for Kebumen surrounding area, Ali Rachman; and Director of Agricultural Machinery Development Center of Central Java, Bimo Santoso and the Head of General Affairs of STPP Yogyakarta, Irwan Johan Sumarno.
The mapping results of 2014 -2017 from the ministry found that Central Java Province received government assistance of 12,550 units of two-wheeled tractors, 497 units of four-wheeled tractors, 1,292 units of small combine harvester, 547 units of combine harvester medium, and 62 units of big combine harvester.
While working capacity per day, it is known for two-wheeled tractors of about 0.3 hectares, four-wheeled tractor 2 hectares, 0.6 hectares for small combine harvester, 1.2 hectares for medium combine harvester, and 2 hectare for big combine harvester.
Mr Rusmono expects the active role of the agricultural service office and military regional command or Kodam IV Diponegoro of the province by strengthening the capability of Alsintan service units or UPJA at the subdistrict level.
"Optimize daily reporting on the utilization of Alsintan from subdistrict level to province then make efforts to relocate and modify Alsintan to adjust the condition of paddy field," he said.