Kudus Surplus Beras, Harga Gabah Turun di Kisaran Rp5.500 per kg
Indonesia`s Kudus District in Central Java Province is Rice Surplus
Reporter : Gusmiati Waris
Editor : Cahyani Harzi
Translator : Dhelia Gani

PUBLISHED: Rabu, 24 Januari 2018 , 01:27:00 WIB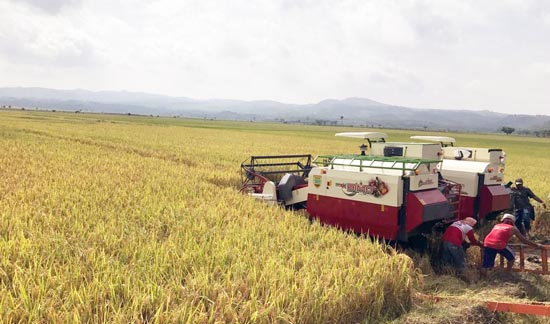 Mesin panen combine harvester (Foto: Humas Kementan)
Jakarta (B2B) - Kabupaten Kudus di Provinsi Jawa Tengah diperkirakan surplus beras 19.267 ton pada Februari 2018 dan Maret sekitar 1.738 ton, mengacu pada produktivitas tujuh hingga delapan ton per hektar dari luasan panen Januari seluas 1.730 hektar diperoleh 6.228 ton beras dan harga gabah kering panen (GKP) turun dari Rp6.300 ke Rp5.500 per kg.

"Luas panen Februari sekitar 7.163 hektar setara 25.780 ton beras dan 8.251 ton beras pada Maret dari hasil luas panen 2.293 hektar di seluruh Kudus," kata Kepala Dinas Pertanian dan Pangan Kabupaten Kudus Catur Sulistyanto usai panen di Desa Berugenjang, Kecamatan Undaan pada Selasa (23/1).

Catur menambahkan, Kudus surplus beras setelah dibandingkan dengan konsumsi 841.499 jiwa membutuhkan 6.513 ton, sehingga Februari diperoleh surplus 19.267 ton dan Maret surplus 1.738 ton.

Menurutnya, harga GKP di awal Januari 2018 melambung ke Rp6.000 hingga Rp6.300 per kg tapi kini turun ke Rp5.900 apabila dipanen dengan mesin panen combine harvester dan Rp5.500 per kg dengan cara manual.
Jakarta (B2B) - Indonesia´s Kudus district in Central Java province rice surplus of 19,267 tons in February 2018 and March about 1,738 tons, refers to the productivity of seven to eight tons per hectare of January harvest area of 1,730 hectares produce 6,228 tons of rice, and the price of unhusked rice harvest fell from 6,300 to 5,500 rupiah per kg.

"The February harvested area of about 7,163 hectares is equivalent to 25,780 tons of rice and 8,251 tons of rice in March from the harvest of 2,293 hectares across the district," said head of Kudus agriculture office, Catur Sulistyanto after conduct rice harvest in Berugenjang village of Undaan subdistrict on Tuesday (January 23).

Mr Sulistyanto said the rice surplus due to consumption of 841,499 Kudus residents requires only 6,513 tons, and rice surplus in February 19,267 tons and March 1,738 tons.

According to him, the price of grain in early January 2018 hike of 6,000 to 6,300 rupiah per kg, but now fell to 5,900 rupiahs with combine harvester and manual 5,500 rupiah per kg.