BKP Kementan Pantau Manado, Stok dan Harga Pangan Aman Jelang Akhir Tahun
Indonesia`s Manado Ensure Stocks and Food Prices is Under Control
Editor : M. Achsan Atjo
Translator : Dhelia Gani

PUBLISHED: Jum'at, 29 Desember 2017 , 01:32:00 WIB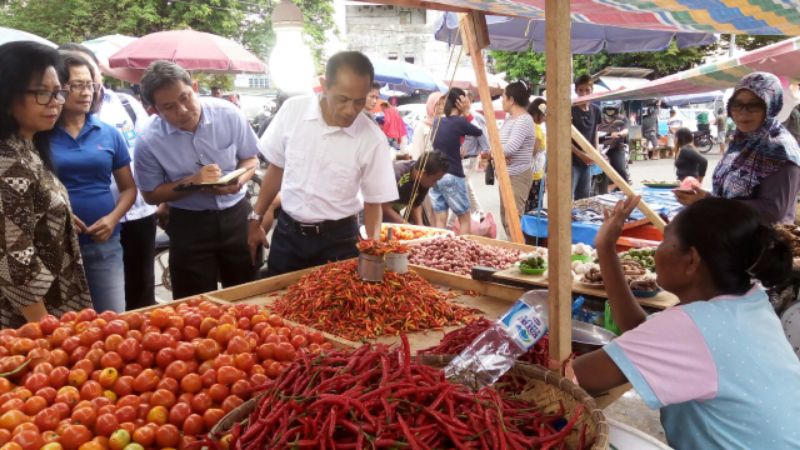 MANADO JELANG HBKN: Kepala BKP Kementan Agung Hendriadi (kaos putih) dialog dengan pedagang cabai merah di pasar tradisional Manado. (Foto: Humas BKP)
Manado, Sulut (B2B) - Kementerian Pertanian RI memastikan beberapa hari jelang Tahun Baru 2018, stok dan harga pangan di Manado aman dan terkendali, sehingga memudahkan masyarakat untuk memenuhi kebutuhan pangan pokok.
Kepala Badan Ketahanan Pangan (BKP) Agung Hendriadi mengatakan tersebut harus terus dijaga, dan fluktuasi harga pangan di akhir tahun tetap menjadi perhatian pemerintah pusat dan daerah terkait pengendalian stok dan harga pangan pokok di seluruh negeri.
"Meskipun berlangsung rutin setiap tahun, harus diantisipasi sekecil apa pun kemungkinan anomali stok dan harga pangan jelang tahun baru, karena dampak cuaca ekstrim dan bencana alam di beberapa daerah," kata Agung usai memantau sejumlah pasar tradisional di Manado, Rabu (27/12).
Dia mengungkap hasil pantauan ke sejumlah pedagang eceran di Pasar Bersehati dan Karombasan di Manado, stok dan harga pangan pokok jelang 2018 tergolong stabil.
Di tempat yang sama, Ketua Asosiasi Pemotongan Sapi Manado, Oppe Muhammad mengatakan bahwa harga daging sapi sejak 1 Oktober 2017 hingga saat ini tergolong stabil di kisaran Rp 105.000 per kg.
Sementara harga eceran per kg untuk cabe rawit merah Rp40.000 hingga Rp50.000, bawang merah Rp20.000 sampai Rp24.000, beras Rp 9.200 sampai 12.300, daging sapi Rp105.000 sampai Rp110.000, dan harga per butir telur ayam Rp2.000.
"Stok pangan di wilayah tertentu sangat mempengaruhi harga pangan, terutama jelang hari besar keagamaan nasional, cenderung naik dibandingkan situasi normal," kata Agung.
Begitu juga menjelang Tahun Baru meskipun kenaikan harga pangan tidak terlalu signifikan, pemerintah perlu mewaspadai ketersediaan dan stabilitasi harga, sehingga jika ada kekurangan stok atau harga tinggi bisa segera diintervensi oleh pemerintah daerah.
Manado, North Sulawesi (B2B) - A few days ahead of the new year, food and stock prices in Manado, capital of the North Sulawesi province are safe and under control, making it easier for people to meet basic food needs, according to Indonesian senior official.
The ministry´s Head of Food Security Agency Agung Hendriadi said the condition must be maintained, food price fluctuations at the end of the year are of concern to the central and local governments related to stock control and staple food prices across the country.
"Despite routine every year should be anticipated anomalies of stock and food prices ahead of the new year, because impact of extreme weather and natural disasters in some regions," said Mr Hendriadi after visited traditional markets here on Wednesday (December 27).
He revealed the results of monitoring to the retailers in Bersehati and Karombasan traditional market in Manado, stock and food prices staple food ahead of 2018 is quite stable.
In the same place, Chairman of the Manado Slaughterhouse Association, Oppe Muhammad said the beef prices since October 1, 2017 until now is relatively stable in the range of 105,000 rupiah per kg.
While the retail price per kg in rupiah currency for red chilli 40.000 to 50.000, shallot 20.000 to 24.000, rice 9,200 to 12,300, beef 105.000 to 110.000, and price of one chicken egg 2.000.
Food stocks in certain regions affect food prices, especially ahead of national religious holidays, tend to rise compared to normal situations.
Likewise ahead of new year despite insignificant increase in food prices, the central government is wary of stocks and turmoil can be anticipated early by local government.