Peserta Lokakarya P3L BKP Kementan Kunjungi Usaha Pangan Lokal di Bogor
Indonesian Govt Support Home Industry of Local Processed Food in Bogor
Reporter : Gusmiati Waris
Editor : Cahyani Harzi
Translator : Dhelia Gani

PUBLISHED: Jum'at, 23 Maret 2018 , 01:48:00 WIB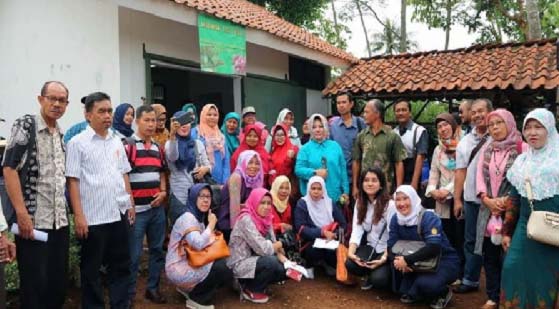 Foto: Humas BKP Kementan
Bogor, Jabar (B2B) - Para peserta lokakarya Pengembangan Pangan Pokok Lokal (P3L) di Bogor yang digelar oleh Badan Ketahanan Pangan (BKP) Kementerian Pertanian RI meninjau kelompok tani Setia yang mengembangkan tepung mocaf olahan 100 kg setiap pekan, kemudian ke Komunitas Singkong Bogor (Kosibo) dan perusahaan cake and pastry PT Agrinesia yang ketiganya berlokasi di Kabupaten Bogor.

Kegiatan kunjungan dipimpin oleh Kepala Pusat Penganekaragaman Konsumsi dan Keamanan Pangan, Tri Agustin Satriani untuk melihat langsung keberhasilan pengelolaan ragam bahan pangan lokal dalam kemasan dan sajian menarik sehingga memiliki nilai jual, sebagai bukti sukses dari program diversifikasi pangan untuk meningkatkan nilai tambah hasil pertanian.

"Untuk menimbulkan ketertarikan, strategi utama yang perlu dilakukan adalah kita perbaiki olahannya, dan bagaimana mengolah bahan baku pangan lokal yang kita miliki agar mempunyai daya saing baik dari segi tampilannya yang menarik, rasa yang digemari dan harga yang bersaing" kata Agung Hendriadi saat membuka lokakarya ´Pengembangan Pangan Lokal 2018´ di Bogor, Selasa malam (20/3).

Ujang, pengusaha UKM pengolahan mocaf dari kelompok Tani Setia di Desa Cikarawang, Kecamatan Dramaga mengaku sanggup menjual tepung mocaf hasil olahannya sebanyak 100 kg setiap pekan, sedangkan bahan baku singkong diperoleh dari kelompok tani di sekitarnya yang mengelola budidaya singkong seluas 25 hektar.

Sebagaimana diketahui, tepung mocaf merupakan salah satu sumber pangan lokal yang diolah sebagai substitusi tepung terigu, dan mocaf dari singkatan modified cassava flour merupakan tepung dari bahan baku singkong yang dimodifikasi dengan fermentasi.

Kunjungan berikutnya ke Kosibo di Kampung Ciranjang, Desa Pamoyanan, Kecamatan Bogor Selatan, yang diterima Ketua Kosibo Muhammad Gozali mengatakan bahwa Kosibo merupakan pelaku usaha skala rumah tangga (home industry) yang menjual berbagai olahan pangan berbahan baku singkong.

Gozali memiliki 127 olahan pangan berbahan baku singkong antara lain nugget singkong, combro, getuk, lumpia singkong, risol singkong, lemper singkong, bola salju singkong dan banyak lagi.

"Bahkan beberapa olahan singkong ini sudah dipasok ke hotel-hotel di sekitar Bogor," katanya.

Gozali berharap dapat meningkatkan kesejahteraan petani di desanya, dan memberikan penghasilan tambahan bagi warga desanya, khususnya ibu-ibu pengolah pangan singkong yang tergabung dalam komunitas binaannya.

Kunjungan terakhir dilakukan ke PT Agrinesia Raya, perusahaan cake and pastry di kawasan industri Sentul, perusahaan ini memproduksi olahan pangan lokal yang terkenal, lapis Bogor Sangkuriang.

"Kunci dari brand product adalah memiliki ciri khas kesesuaian bahan baku seperti talas yang merupakan komoditas iconic di Bogor," kata Agung Hendriadi.
Bogor of West Java (B2B) - Indonesia's Directorate General of Food Security Agency at the agriculture ministry invited participants of workshop of in the Local Food Development or P3L in Bogor to review the Setia farmer group who developed mocaf processed flour 100 kg per week, then to the Bogor Cassava Community or Kosibo and cake and pastry company of Agrinesia, all located in Bogor district.
The visit was led by Director for Food Consumption and Safety Diversification, Tri Agustin Satriani to review local food processing in attractive packaging so it has a selling point, as a proof of the success of the food diversification program to increase the value added of agricultural products.
"To generate interest, the main strategy that needs to be done is we improve the processed, and how to process local food raw materials of Indonesia in order to have a good competitiveness in terms of looks interesting, taste of interest and competitive price," said Mr Hendriadi while opened workshop of 'Local Food Development 2018' on Tuesday night (March 20).
Ujang, a mocaf processing entrepreneur of the Tani Setia group in Cikarawang village of Dramaga subdistrict claimed able to sell 100 mocaf flour per week, while cassava is supplied by the surrounding farmer group that manages cassava cultivation of 25 hectares.
As is known, mocaf flour is one of the local food sources that are processed as substitution of wheat flour, and mocaf of the modified cassava flour stands is a flour of cassava raw materials modified by fermentation.
The next visit to Kosibo in Ciranjang in Pamoyanan village, South Bogor district and accepted by Muhammad Gozali, Kosibo chairman who said that Kosibo is home industry that produces various processed food from cassava.
Gozali has 127 processed foods from cassava such as nuggets, spring rolls, and snowballs.
"Even some processed cassava food has been supplied to hotels around Bogor," he said.
Gozali hopes that cassava processed foods can provide additional income to improve the welfare of their villagers, especially the women who process food cassava that works with them.
The last visit was made to the Agrinesia Raya company, a cake and pastry manufacturer in Sentul industrial area, which produces locally famous food processing. cake layer Sangkuriang.
"The key of brand product is the characteristics of raw materials such as taro which is an iconic commodity in Bogor," Mr Hendriadi said.