Trend Positif LTT Sambas, Pemanfaatan Lahan Kering dan Suboptimal Hampir 23 Ribu Ha
Positive Trend of Increasing Rice Production in Indonesian`s West Borneo
Editor : M. Achsan Atjo
Translator : Dhelia Gani

PUBLISHED: Minggu, 15 April 2018 , 02:01:00 WIB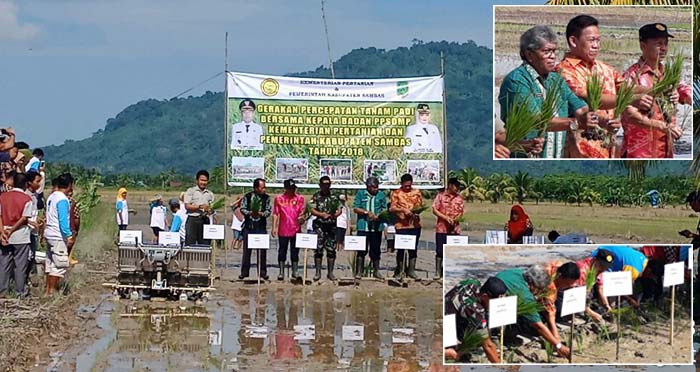 PJ Upsus Kalbar, Momon Rusmono (ke-3 kiri) memimpin kegiatan percepatan tanam di Kabupaten Sambas, Provinsi Kalimantan Barat (Foto: B2B/M. Achsan Atjo)
Sambas, Kalbar (B2B) - Program luas tambah tanam (LTT) di Provinsi Kalimantan Barat, khususnya Kabupaten Sambas menunjukkan trend positif dari potensi 15.000 ha lahan suboptimal dan 6.755 ha lahan kering untuk penanaman padi gogo, sementara realisasi LTT Sambas per April 2018 mencapai 21 ribu hektar atau separuh dari capaian LTT Kalbar sekitar 41 ribu hektar.

Penanggung Jawab Upsus Kalbar, Momon Rusmono mengatakan indikator trend positif mengacu pada realisasi LTT pada Maret di seluruh Kalbar mencapai 37 ribu ha, 21 ribu ha berada di Sambas, namun ada potensi besar dari LTT Sambas adalah 21.655 hektar lahan suboptimal dan lahan kering yang akan ditanami padi gogo.

https://www.instagram.com/p/BhdnqvuDPy1/

"Kalbar juga punya potensi lain, selain 10.500 LTT padi reguler, ada lahan suboptimal dulu dikenal sebagai teknologi Hazton, dan diharapkan Sambas berkontribusi minimal 15 ribu hektar. Diharapkan segera merealisasikan calon lahan calon lokasi atau CPCL, sehingga pemberkasannya bisa segera diselesaikan," kata Momon Rusmono yg juga menjabat Kepala Badan Penyuluhan dan Pengembangan SDM Pertanian (BPPSDMP) Kementerian Pertanian RI.

Hal itu dikemukakan Momon Rusmono usai memimpin ´Gerakan Percepatan Tanam Padi´ di Dusun Sungai Palai, Desa Prapakan, Kecamatan Pemangkat, Kamis (12/4) bersama pejabat dinas pertanian, petani dan warga setempat. Momon Rusmono hadir di Sambas didampingi PJ Upsus Sambas - Bengkayang, Yudhistira Nugraha dan Tim Upsus Kalbar BPPSDMP Septalina Pradini.

https://www.instagram.com/p/BheGOEijHSX/?r=wa1

Menurutnya, ada potensi lahan kering 6.755 ha di Sambas, dan Kabid Tanaman Pangan Dinas Pertanian Sambas, Iswanandi diminta mendorong penyelesaian pemberkasan calon petani calon lokasi (CPCL) melalui rapat koordinasi dengan unsur-unsur terkait yang dipimpin langsung oleh Momon Rusmono di Sambas di hari yang sama.

"Selesai di sini, saya minta dinas menyelesaikan CPCL untuk lahan suboptimal yang 15 ribu dan lahan kering 6.775 hektar untuk padi gogo. Itu dampaknya hampir 23 ribu hektar. Pemerintah pusat minta semua segera rampung," kata Momon.

Menurutnya potensi kedua tipe lahan akan memberikan kontribusi pada ´lahan reguler´ April seluas 21 ribu hektar, untuk peningkatan produksi padi di Kalbar.

https://www.instagram.com/p/BhdvfXJjomf/?r=wa1

Tim Upsus Kalbar
Momon Rusmono menegaskan komitmennya bersama Tim Upsus Kalbar untuk terus bekerja keras dengan mengusung tekad ´the winning team´, "di dalam, saya dorong koordinasi tim kementerian dengan tim kabupaten dan provinsi, dan keluar, saya jaga betul provinsi ini."

"Nasib petani di masa depan, ditentukan oleh komitmen kita hari ini, dan hal itu pula membuat kami tidak pernah lelah melakukan koordinasi dengan kantor dinas pertanian di Kalbar," katanya.
https://www.instagram.com/p/Bhe2cCrDMAa/?r=wa1
Menurutnya, Tim Upsus Pajale di BPPSDMP Kementan hampir tiap pekan melakukan koordinasi dan pertemuan dengan pihak-pihak terkait, bahkan khusus datang dari Jakarta menyambangi, silaturahim, dan koordinasi dengan pihak-pihak terkait di provinsi/kabupaten/kota.

"Saya mewakili tim mengucapkan terima kasih atas dukungan semua pihak untuk mendukung kegiatan update data LTT 24 jam, dengan koordinasi harian melalui grup WA diikuti update setiap petang hingga malam hari. Bahkan hampir tiap pekan menyambangi Pontianak, ibukota Kalbar, dilanjutkan ke kantor dinas di seluruh kabupaten," kata Momon Rusmono.
Selengkapnya: https://www.youtube.com/watch?v=6tf3TKszmLI

Sambas of West Borneo (B2B) - Extensive program of planting or LTT in West Borneo province, especially Sambas Regency showed a positive trend of 15,000 ha of suboptimal land and 6,755 ha of dry land for upland rice planting, while realization of Sambas per April 2018 reached 21 thousand hectares or half of 41 thousand hectares of by the province, according to senior ministry official.

Person in Charge of West Borne province Momon Rusmono said positive trend indicator refers to the realization of LTT in March across the province reached 37 thousand hectares, 21 thousand hectares in Sambas, but the highest potential is 21,655 hectares of suboptimal land and dry land for upland rice.

"The province also has other potential, besides 10,500 LTT of regular rice, there is suboptimal land used to be known as Hazton technology," said Mr Rusmono who also serves as the Director General of Agricultural Extension and Human Resource Development in the Indonesian Agriculture Ministry.

The activity took place in Sungai Lalai village of Pemangkat subdistrict, and Mr Rusmono arrived at 08:45 am with his team from the Indonesian Agriculture Minister such as Yudhistira Nugraha and Septalina Pradini and welcomed by the Head of Sambas Agriculture Office, Iswanandi.

According to him, there is a dry land potential of 6,755 ha in Sambas, and Sambas agriculture official, Iswanandi asked to push the completion of filing of prospective farmers and their land or CPCL through coordination meetings with related parties led by Momon Rusmono in Sambas on the same day.

"I asked the district official to finish CPCL for the 15 thousand sub-optimal land and 6,775 hectares of dry land for upland rice, which impacts almost 23 thousand hectares.The central government wants to be completed soon," Mr Rusmono said.

According to him the potential of both types of land will contribute to ´regular land´ April reaches 21 thousand hectares, to increase rice production in West Borneo.

Teamwork
Mr Rusmono claimed to be working hard with the team of West Kalimantan Upsus with the determination of ´the winning team´, inside, I encourage coordination of ministry teams with district and provincial teams, and on the outside, I take care of the interests of the province."

"The fate of the farmers in the future, determined by our commitment today, and it also makes us never tired of coordinating with agricultural offices in West Borneo," he said.

According to him, Upsus Pajale Team in his Jakarta´s office almost every week to coordinate and meetings with related parties, especially from Jakarta, and coordination with related parties in the province/districts/municipal.

"I represent the team expressed gratitude for the support of all parties to support 24 hour data update, with daily coordination via short message group. Even almost every week visited Pontianak, the provincial capital, continued to the office of agriculture in 14 districts and cities," he said.