Sekjen Kementan Ingatkan Laporan Pemeriksaan BPK atas Tata Kelola PNBP
Non-tax State Revenue Management must Follow the Rules
Reporter : Gusmiati Waris
Editor : Cahyani Harzi
Translator : Dhelia Gani

PUBLISHED: Kamis, 22 Februari 2018 , 02:02:00 WIB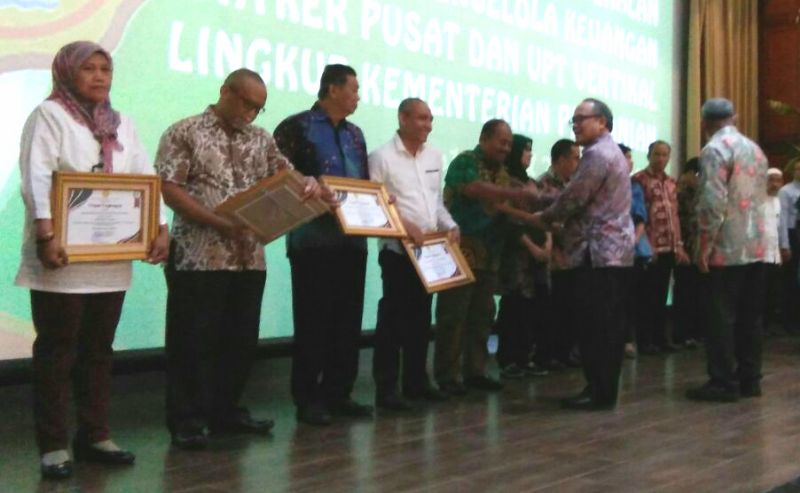 SATKER KEUANGAN KEMENTAN: Plt Biro Keuangan dan Perlengkapan Kementan, Kasdi Subagyoni mewakili Sekjen Kementan Hari Priyono menyerahkan penghargaan kepada Satker dengan kinerja memuaskan (Foto: Humas Kementan)
Jakarta (B2B) - Hasil pemeriksaan Badan Pemeriksa Keuangan (BPK) menyebut masih ada atau mungkin banyak satuan kerja (Satker) keuangan di Kementerian Pertanian RI yang belum melakukan pengelolaan penerimaan negara bukan pajak (PNBP) secara baik, setelah BPK RI masih menemukan PNBP digunakan secara langsung, PNBP terlambat disetor, jenis dan tarif PNPB dipungut tanpa dasar hukum.
"Saya ingin menyampaikan bahwa selain permasalahan kinerja pelaksanaan anggaran, pengelolaan aset atau arang milik negara, saya berharap pemimpin Satker juga wajib memperhatikan pengelolaan PNBP mengacu pada laporan hasil pemeriksaan BPK," kata Sekjen Kementan, Hari Priyono di Jakarta, Rabu (21/2).
Hari Priyono dalam arahannya yang disampaikan oleh Pelaksana Tugas (Plt) Biro Keuangan dan Perlengkapan Kementan, Kasdi Subagyoni mengharapkan kepala Satker juga hati-hati terhadap rekening pemerintah yang sudah tidak digunakan lagi harus segera ditutup.
"Kepala Satker keuangan harus mengusulkan kepada bank tempat dimana rekening dibuka untuk dilakukan penutupan. Hal ini wajib dilakukan oleh kepala Satker untuk menghindari terjadinya penyalahgunaan rekening pemerintah," kata Hari Priyono seperti dikutip Kasdi Subagyoni.
Sekjen Kementan mengharapkan kinerja pelaksanaan anggaran satuan kerja diimbangi dengan akuntabilitas dalam pelaksanaan anggaran, yang bermuara pada laporan keuangan yang baik sesuai ketentuan yang berlaku.
"Ke depan, akan terus diupayakan peningkatan prestasi kinerja lainnya guna mengoptimalisasi anggaran yang telah disediakan untuk mendukung pembangunan pertanian di Indonesia, seperti peningkatan kualitas SDM melalui pelatihan," kata Hari Priyono.
Jakarta (B2B) - Indonesian Supreme Audit Board has stated that there are still or possibly many financial working units in the Agriculture Ministry who have not properly managed non-tax state revenues or BNBP, after still finding direct use, late deposits, types and rates without legal basis.
"Besides to the issue of budget execution performance, asset management or state property, I hope the working unit also pay attention to the management of non-tax state revenue based on the BPK audit report," said secretary general of the ministry, Hari Priyono here on Wednesday (21/2).
Mr Priyono in his direction delivered by Acting Finance and Equipment Bureau, Kasdi Subagyoni expects the head of the financial work unit to be careful of government accounts that are not in use so that should be closed immediately.
"Financial officers should propose to the bank where the account is opened for closure to avoid misuse of government accounts," Hari Priyono was quoted by Kasdi Subagyoni.
Mr Priyono expects the performance of work unit balanced with accountability of use the state budget, so as to make a good financial report in accordance with applicable regulations.
"In the future, we must strive to improve performance to optimize the state budget to support agricultural development in Indonesia, such as improving the quality of human resources through training," Mr Priyono said.