Sesditjen PSP: Pupuk Bersubsidi 2018 Capai 9,55 Juta Ton, "Ditebus dengan Kartu Tani."
Indonesian Govt Allocated 9.55m Tons Subsidize Fertilizers
Editor : M. Achsan Atjo
Translator : Dhelia Gani

PUBLISHED: Minggu, 15 Oktober 2017 , 02:07:00 WIB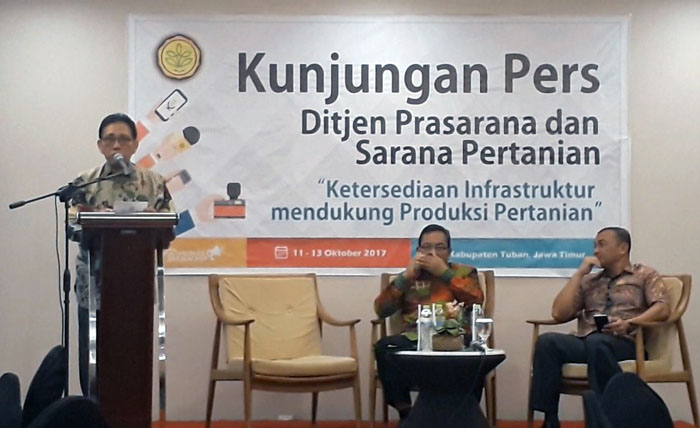 KARTU TANI & PUPUK BERSUBSIDI: Sesditjen PSP Kementan, Abdul Madjid (berdiri) Kadis Pertanian Tuban, Murtadji; dan Dandim 0811/Tuban, Letkol Inf Sarwo Supriyo (Foto: B2B/Mac)
Tuban, Jawa Timur (B2B) - Pemerintah RI mengalokasikan pupuk bersubsidi untuk 2018 hingga 9,55 juta ton, Kementerian Pertanian mengintegrasikan dengan Kartu Tani untuk distribusinya. Tujuannya agar petani yang berhak membeli pupuk bersubsidi sudah melalui validasi dan verifikasi online di database perbankan yang menjadi provider Kartu Tani.

Sekretaris Direktorat Jenderal Prasarana dan Sarana Pertanian (PSP) Kementan Abdul Madjid menegaskan komitmen pemerintah untuk terus melakukan perbaikan dalam melakukan distribusi pupuk bersubsidi, khususunya alokasi 9,55 juta ton pada 2018 yang terintegrasi dengan Kartu Tani yang didukung bank-bank BUMN dari Himpunan Bank Negara (Himbara).

"Validasi dan verfikasi online tujuannya agar pemerima pupuk bersubsidi tepat sasaran, nanti petani menebus pupuk dengan Kartu Tani, kalau sudah melibatkan bank maka layanan online pasti akan jalan. Petani atau kelompok tani yang tidak punya Kartu Tani maka tidak dilayani," kata Abdul Madjid saat membuka kegiatan 'Press Tour Ditjen PSP Kementan' di Kabupaten Tuban, Jatim, Rabu malam (11/10) mewakili Dirjen PSP Pending Dadih Permana yang berhalangan hadir.

Menurutnya, Kartu Tani akan mendukung upaya pengawasan lebih ketat terhadap penyaluran pupuk bersubsidi, pihak-pihak yang berniat menyelewengkan atau mengoplos pupuk bersubsidi harus 'berpikir dua kali' karena TNI dan Polri mendukung langkah Kementan melakukan pengawasan dan pemantauan distribusi pupuk bersubsidi agar tepat sasaran.

WA Grup Pupuk Tuban
Kepala Dinas Pertanian dan Tanaman Pangan Tuban, Murtadjie mengatakan kebutuhan pupuk bersubsidi di seluruh Kabupaten Tuban pada 2017 mencapai 372.000 ton, namun yang terealisasi hanya 30% atau 110.000 ton dari pemerintah pusat.

"Kami memahami keterbatasan anggaran pemerintah pusat, karena kabupaten lain juga membutuhkan pupuk bersubsidi. Petani Tuban berupaya mandiri, tidak dapat pupuk bersubsidi ya beli yang non-subsidi," kata Murtadjie yang didampingi Komandan Kodim (Dandim) 0811/Tuban, Letkol Inf Sarwo Supriyo.

Mengantisipasi keterbatasan tersebut, Murtadji dan Dandim Tuban menggelar rapat koordinasi dengan distributor, kios-kios pedagang pupuk, kelompok tani (Poktan), gabungan kelompok tani (Gapoktan) dan penyuluh pertanian untuk mengantisipasi aksi penyelewengan dan mafia pupuk memanfaatkan kekurangan pupuk di Tuban.

"Saya ingat seruan Dandim saat itu, mafia atau Dandim yang kalah. Alhamdulillah bisa teratasi, dan saya lebih tenang karena TNI AD mem-back up kami bekerja mendukung pengawasan distribusi pupuk," kata Murtadjie.

Dia pun mengungkap tentang kiat Dandim dan dirinya membentuk WA Group Pupuk Tuban, untuk memantau ketersediaan dan kebutuhan pupuk per hari yang dilaporkan lengkap dengan foto/video, kalau tanpa foto berarti laporannya hoax," kata Murtadjie.
Tuban of East Java (B2B) - The Indonesian government allocates subsidized fertilizer for 2018 of approximately 9.55 million tons, the Ministry of Agriculture integrates it with Farmer Cards - locally known as the Kartu Tani - for its distribution. The target is that farmers who are entitled to purchase subsidized fertilizer have been through online validation and verification in the banking database as provider of Kartu Tani.

Secretary of the Directorate General of Infrastructure and Agricultural Facilities, Abdul Madjid affirmed the government's commitment to improve the distribution of subsidized fertilizer, especially allocation of 9.55 million tons in 2018 integrated Kartu Tani supported by state-owned banks from the State Bank Association called the Himbara.

"Validation and verification online to be on target, farmers will redeem with Farm Cards, if involving banks must be with online services. Farmers or farmer groups without Kartu Tani will not be served," said Director General of Infrastructure and Agricultural Facilities PSP Pending Dadih Permana while he opened the press tour event in Tuban district of East Java province on Wednesday night (October 11) in his speech delivered by Abdul Madjid.

According to him, the Kartu Tani will support more strict supervision efforts on distribution of subsidized fertilizers, parties who intend to misuse or mix subsidized fertilizers should 'think twice' because the army and police support the ministry's step to supervise and monitor distribution in order to be on target.

WhatsApp Group
The Head of Tuban's Agriculture Office, Murtadjie said the subsidized fertilizer demand in his working area in 2017 reached 372,000 tons, but only 30% or 110,000 tons realized from the central government.

"We understand the central government's budget, because other districts also need subsidized fertilizer, Tuban growers work independently, no subsidized fertilizer, buy non-subsidized" Murtadjie said accompanied by Tuban District Military Commander of Kodim Lieutenant Colonel Sarwo Supriyo.

Anticipating that, he and the military held a coordination meeting with distributors, fertilizer kiosks, farmers' groups, farmer group associations and agricultural extension workers to anticipate misappropriation.

"I remember the call of the military commander at that time, the mob or our losers, and thankfully it could be resolved, and I can work because the army supports the supervision of fertilizer distribution," he said.

He also revealed about the military tips to form WhatsApp Group to monitor the availability and needs of fertilizer per day is reported complete with photos or video. "If no photos means hoax report."