Deregulasi Kementan, Investasi Asing Sektor Pertanian 2017 Capai Rp45,9 Triliun
Deregulation increase Foreign Investment in Indonesia`s Agricultural Sector
Reporter : Gusmiati Waris
Editor : Cahyani Harzi
Translator : Dhelia Gani

PUBLISHED: Selasa, 22 Mei 2018 , 02:13:00 WIB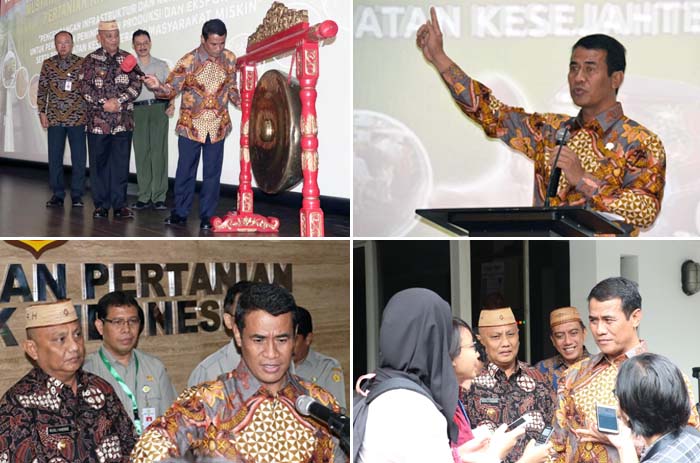 MUSRENBANGTAN 2018: Mentan Andi Amran Sulaiman (batik) membuka Musrenbangtan 2018 didampingi Gubernur Gorontalo Rusli Habibie dan Sekjen Kementan, Syukur Iwantoro (Foto2: Humas Kementan)
Jakarta (B2B) - Pemerintah RI berupaya meningkatkan investasi di sektor pertanian melalui deregulasi, yang diupayakan Kementerian Pertanian dari hasil evaluasi Menteri Pertanian Andi Amran Sulaiman terhadap 241 peraturan dan keputusan menteri pertanian (Permentan dan Kepmentan), terbukti turut mendorong peningkatan investasi asing di sektor pertanian hingga Rp45,90 triliun pada 2017 atau naik 14,2% dari 2013 yang hanya Rp29,3 triliun seperti dilansir Badan Koordinasi Penanaman Modal (BKPM).
"Sesuai arahan Presiden Joko Widodo, kunci sukses menjadi negara maju adalah orientasi investasi dan ekspor maka Kementan mendorong deregulasi 241 peraturan didukung peningkatan layanan publik," kata Mentan Amran Sulaiman pada pembukaan Musyawarah Perencanaan Pembangunan Pertanian Nasional - Musrenbangtan 2018 di Jakarta, Senin (21/5).
Menurutnya, deregulasi merupakan hasil evaluasi Kementan terhadap 241 Permentan dan Kepmentan, misalnya menyederhanakan 15 Permentan menjadi satu peraturan, dan mencabut 140 Permentan seperti perbenihan dan layanan perkarantinaan di pelabuhan.
Hasilnya, kata Mentan, Presiden Jokowi mengapresiasi Kementan dan Kementerian Energi Sumber Daya Mineral (ESDM) sebagai kementerian/lembaga negara yang berhasil melakukan program deregulasi untuk menunjang investasi dan ekspor.
Sebelumnya diberitakan, BKPM melansir capaian penanaman modal dalam negeri (PMDN) dan modal asing (PMA) di sektor pertanian mencapai Rp45,9 triliun atau meningkat dari Rp29,3 triliun pada 2013. "Jika dirata-ratakan terjadi peningkatan investasi 14,2 persen dalam lima tahun terakhir."
Jakarta (B2B) - The Indonesian government seeks to increase investment in the agricultural sector through deregulation, which the agriculture ministry is seeking of evaluation by Minister Andi Amran Sulaiman to 241 ministerial regulations and decrees, proved to increase foreign investment in the agricultural sector up to 45.90 trillion rupiah in 2017 or up 14.2% of 2013 is only 29.3 trillion, as reported by Indonesia´s investment coordinating agency or the BKPM.
"President Joko Widodo has instructed that the key to success in developed countries is investment and export orientation and the ministry encouraged the deregulation of 241 regulations," said Minister Amran Sulaiman at the ministry´s 2018 coordination meeting here on Monday (May 21).
According to him, deregulation is the ministry´s evaluation of 241 ministerial regulations, or example, simplify 15 into one ministerial regulation, and revoke 140 ministerial regulations such as seedling and quarantine services at the port.
President Widodo appreciated the agriculture ministry and the energy mineral resources ministry, he said, as a successful of deregulation program to support investment and export.
Previously reported, the BKPM launched the achievement of domestic investment and foreign capital in the agricultural sector reached 45.9 trillion rupiah or increased from 29.3 trillion rupiah in 2013. "The average has increased 14.2 percent in the last five years."