IFAD: READSI 2018 Dukung Program Pemerintah RI Berdayakan Petani
IFAD`s READSI Program Support Indonesian Govt to Farmer Empowerment
Editor : M. Achsan Atjo
Translator : Dhelia Gani

PUBLISHED: Sabtu, 30 September 2017 , 02:28:00 WIB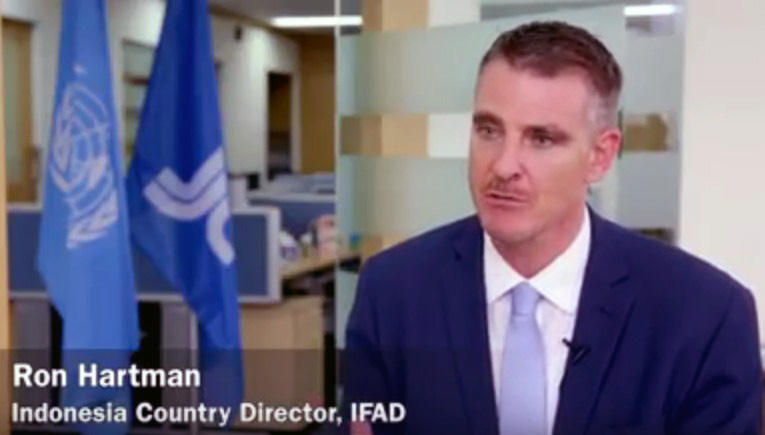 Foto: YouTube
Bogor, Jawa Barat (B2B) - Program Pemberdayaan Pedesaan dan Pembangunan Pertanian (READSI) pada 2018 fokus pada memberdayakan rumah tangga di pedesaan dengan keterampilan, percaya diri, dan pemanfaatan hasil-hasil produksi pertanian untuk meningkatkan pendapatan dan penghidupan secara berkelanjutan melalui pendekatan program yang terukur.

Indonesia Country Director IFAD, Ron Hartman mengatakan program READSI yang didukung Lembaga Pendanaan Internasional untuk Pembangunan Pertanian (IFAD) dari Perserikatan Bangsa-Bangsa (PBB) mengelompokkan kegiatan program tiga komponen yang meliputi pengembangan pertanian sebagai penggerak utama ekonomi pedesaan.; kelembagaan petani dan akses pasar; dukungan pemerintah pusat dan dinas pertanian di daerah dengan menerapkan kebijakan dan regulasi yang mendukung pembangunan pertanian.

Mr Hartman menambahkan IFAD memperkirakan total biaya program READSI pada 2018 mencapai US$55 juta terdiri atas dukungan Pemerintah RI sebesar US$9,6 juta, pinjaman lunak IFAD US$39,8 juta dan hibah dari IFAD US$1 juta - khusus hibah ditujukan untuk pembuatan kebijakan yang ditangani oleh Badan Perencanaan Pembangunan Nasional (Bappenas), penerima manfaat US$2,6 juta dan sektor swasta US$2,2 juta.
"Pelaksanaan READSI tidak banyak berubah dari implementasi READ dengan bebeberapa modifikasi yang tetap mengacu pada kerangka manajemen program," katanya kepada B2B di Kota Bogor pada Kamis (28/9) usai pembukaan sosialisasi program READSI 2018 oleh Kepala Badan Penyuluhan dan Pengembangan Sumber Daya Manusia Pertanian (BPPSDMP) Kementan, Momon Rusmono.

Menurutnya, Kementerian Pertanian RI akan menjadi badan pelaksana dengan menunjuk BPPSDMP Kementan sebagai penyelenggara program secara nasional, untuk melanjutkan dan meningkatkan kualitas program READ sebelumnya.

Tampak hadir pada sosialisasi program READSI 2018 antara lain Kepala Pusat Pelatihan Pertanian BPPSDMP Kementan, Widi Hardjono; Kepala Bidang Program dan Kerjasama Pelatihan, Dewi Darmayanti; Kepala Balai Besar Pelatihan Peternakan (BBPP) Kupang, Adang Warya; perwakilan dari Badan Perencanaan Pembangunan Nasional (Bappenas); Kementerian Keuangan (Kemenkeu); Kementerian Dalam Negeri (Kemendagri); Bappeda provinsi; dan para kepala dinas pertanian provinsi/kabupaten/kota dari seluruh Indonesia.

Kisah Sukses
Program READSI di Provinsi Sulawesi Tengah oleh IFAD tergolong sukses dan berhasil mendorong peningkatan ekonomi pedesaan di daerah-daerah sasaran program, hal itu diakui oleh Pemerintah RI sebagai model yang dapat ditiru untuk mendukung pencapaian target pembangunan nasional. Hal itu pula yang mendorong pemerintah meminta IFAD untuk mendukung kegiatan serupa, selain Sulawesi Tengah ke provinsi lain di Sulawesi dan di luar Sulawesi yang ditunjuk Kementan sebagai pelaksana program READSI 2018.

"Program baru dari READSI mempertimbangkan pengalaman dan masukan dari program READ tetapi juga proyek-proyek lain di Indonesia," kata Ron Hartman.

READSI tidak hanya akan melanjutkan program READ sebelumnya yang tergolong berhasil dan akan meningkatkan pendekatan dari sebuah proyek ke platform terprogram sehingga dapat meningkatkan taraf hidup masyarakat pedesaan ke depan, dan menarik minat investor ke pedesaan. Dari indikator keberhasilan, READSI akan melakukan pendekatan sesuai dengan wilayah geografis lainnya didukung kebijakan pemerintah.

"Seperti dilakukan IFAD pada program READ, maka READSI akan melanjutkan kemitraan yang sukses dengan MARS Chocolate dan juga mencakup Mondelez untuk memfasilitasi peningkatan akses terhadap teknologi, keterampilan dan layanan baru serta pasar bagi petani kakao," kata Ron Hartman asal Australia.
Bogor of West Java (B2B) - The project objective of Rural Empowerment and Agricultural Development Scalling - Up Innitiative (READSI) in Indonesia for 2018 will aim to empower rural households with the skills, confidence and resources to sustainably improve incomes and livelihoods through a scalable programmatic approach.

Indonesia Country Director IFAD, Ron Hartman said the project activities of International Fund for Agricultural Development (IFAD) in Indonesia next year will be clustered in three, interlinked components: village agriculture and livelihoods development; services, inputs and market linkages; and policy and strategy development support.

Financing, the total project cost are estimated at US$55 million consisting of Indonesian government contribution US$9.6 million; IFAD loan US$39.8 million and IFAD grant US$1 million, the grant will go towards policy dialogue and knowledge management activities, beneficiaries US$2.6 million and private sector US$2.2 million, Mr Hartman said.

"Implementation of READSI will follow the overall implementation arrangements of READ with some modifications reflecting the evolution into a programme management framework," Mr Hartman said here to the B2B on Thursday (September 29) after opening socialization of the 2018 READSI program by Director General of Agency for Agricultural Extension and Human Resource Development (BPPSDMP) Momon Rusmono.

According to him, the Indonesian Agriculture Ministry with the BBPSDMP being assigned to host the National Project Management Unit (NPMU), continuing and building on existing READ capacities.

READSI socialization activity was attended by the Director of Agricultural Training Center BPPSDMP Widi Hardjono; the Head of Program and Training Cooperation, Dewi Darmayanti; Director of East Nusa Tenggara´s Kupang Livestock Training Center, Adang Warya; representatives of the National Development Planning Agency (Bappenas); Finance Ministry; Home Affairs Ministry; Development Planning Agency at Sub-National Level and and the heads of provinces/districts/municipalities agricultural offices from all over Indonesia.

Talking Points
The Rural Empowerment and Agricultural Development on Sulawesi Island Programme, or READSI as we call it, tells a successful scaling up story: Following the completion of the READ Programme, the Government of Indonesia recognized READ as a potential replicable model to support the achievement of national development targets. It has therefore requested IFAD financing to assist with scaling-up the READ approach from one province (Central Sulawesi) to additional areas both in and outside of Sulawesi Island.

"This new programme takes into account the lessons learned from READ but also other projects in Indonesia and the region," Mr Hartman said.

READSI will not only replicate the successfully piloted READ intervention but also upgrade the approach to evolve from a project to a programmatic platform with an intention to influence future public and private investment. It is expected, that, based on results, the READSI approach will then be scaled up to other geographic areas with national financing.

"As piloted under READ, READSI will continue the successful partnership with MARS Chocolate and expand it to also include Mondelez to facilitate enhanced access to new technologies, skills and services as well as markets for cocoa farmers," he said.