PBNU Apresiasi Kinerja Kementan Tingkatkan Kesejahteraan Ummat
Indonesia`s Biggest Islamic Group Support Corn Self-sufficiency
Reporter : Gusmiati Waris
Editor : Cahyani Harzi
Translator : Dhelia Gani

PUBLISHED: Selasa, 20 Maret 2018 , 02:35:00 WIB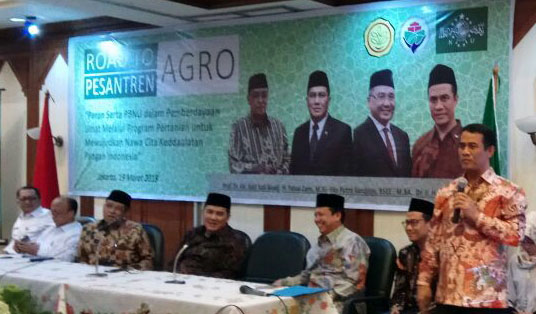 PBNU - KEMENTAN: Mentan Amran Sulaiman menegaskan bahwa Kementan pada 2018 akan melanjutkan kerjasama dengan PBNU, dengan bantuan budidaya jagung benih dan pupuk di lahan 100.000 hektar (Foto: B2B/Gusmiati Waris)
Jakarta (B2B) - Ketua Umum PB Nahdlatul Ulama (PBNU), KH Said Aqil Siradj mengapresiasi kinerja Kementerian Pertanian RI dalam tiga tahun terakhir di bawah pimpinan Menteri Andi Amran Sulaiman, dan menyambut baik kerjasama PBNU dan Kementan untuk 2018 dengan bantuan benih jagung dan pupuk untuk lahan seluas 100.000 hektar sehingga dapat mendukung peningkatan produksi jagung nasional.

"Kami sangat mengapresiasi kerjasama dengan Kementan. Dari kerjasama dengan berbagai kementerian, hanya dengan Kementan nyata memberikan hasil yakni peningkatan kesejahteraan ummat dari peningkatan produksi jagung," kata Said Aqil Siradj pada diskusi ´Road Pesantren Agro: Peran Serta PBNU dalam Pemberdayaan Ummat Melalui Program Pertanian Untuk Mewujudkan Nawacita Kedaulatan Pangan Indonesia di kantor pusat PBNU Jakarta pada Senin (19/3).

Mentan Amran Sulaiman menegaskan bahwa Kementan pada 2018 akan melanjutkan kerjasama dengan PBNU, dengan memberikan bantuan budidaya jagung benih dan pupuk untuk lahan seluas 100.000 hektar.

"Kerjasama ini dalam rangka pengentasan kemiskinan atau peningkatan kesejahteraan ummat. Sebab produksi jagung dapat mendorong pertumbuhan ekonomi nasional. Produksi jagung di lahan seluas 100 ribu hektar tersebut nilainya sekitar 1,5 sampai 2 triliun rupiah, dan keuntungannya akan langsung dinikmati ummat," katanya.

Mentan menambahkan, pemerintah akan terus meningkatkan kerjasama dengan PBNU di tahun-tahun mendatang, mengingat potensi pasar jagung Indonesia di mancanegara mencapai empat ton, atau setara Rp12 hingga 14 triliun.

Kerjasama Strategis
Mentan Amran Sulaiman mengatakan kerjasama Kementan dan NU pada 2017 terbukti memberikan hasil, setelah kementerian memberi bantuan benih jagung untuk luas tanam 20.000 hektar di Provinsi Bengkulu.

Menurutnya, kerja sama dengan PBNU sangat penting dan strategis untuk membangun pertanian sampai di pedesaan dan kawasan perbatasan. Pasalnya, warga NU tersebar hingga ke pelosok negeri ini, dan mayoritas adalah petani.

"Hasilnya memuaskan. Atas dasar ini, kami lanjutkan kerja sama tahun ini. Kami puas dengan PBNU. Anggota NU di seluruh Indonesia sekitar 90 an juta orang, dan 80 persen adalah petani," kata Mentan.

Kementan memberikan bantuan kepada PBNU dengan nilai mencapai Rp 200 miliar. Adapun bantuannya berupa dua unit ekskavator, dua unit traktor roda empat, 10 unit traktor roda dua, 10 unit pompa air. Di tahun 2018, bantuan pupuk beserta benih untuk jagung seluas 100.000 hektar dan kedelai 10.000 hektar yang fokus pada sembilan kabupaten.

Said Aqil Siradj menilai hanya di era pemerintahan Joko Widodo - Jusuf Kalla, Mentan bekerja keras mendukung petani untuk memajukan pertanian nasional. "Baru kali ini ada menteri pertanian beneran."

"Petani NU di Jawa masih panas-panasan kerja di sawah. Kondisi mereka tentu masih memprihatinkan. Hasil dari bertani hanya bisa untuk makan sehari-hari. Terima kasih buat pak menteri ini. Sejak zaman beliau, ada perubahan," katanya.
Jakarta (B2B) - General Chairman of Indonesia´s biggest Muslim organisation, Nahdlatul Ulama (NU) Said Aqil Siradj appreciated support and assistance of agriculture ministry in the last three years under the leadership of Minister Andi Amran Sulaiman, and welcomed the cooperation of NU and the agriculture ministry for 2018 with corn and fertilizer seeds for the land area of 100,000 hectares

"Of the many cooperation with other ministries, only with the ministry of agriculture that gives benefits to the people," said Said Aqil Siradj here on Monday (March 19).

Minister Sulaiman said that his ministry this year will continue cooperation with NU, by providing seed corn and fertilizer for 100,000 hectares of land.

"Cooperation aims to alleviate poverty, because corn production can encourage national economic growth. Corn production of 100 thousand hectares is worth about 1.5 to 2 trillion rupiahs, yields and profits for the people," he said.

Minister Sulaiman said the government will continue to increase cooperation in the coming years, because the potential of Indonesia´s corn market in foreign countries reached four tons, or equivalent 12 to 14 trillion rupiah.

Strategic Cooperation
Minister Sulaiman said the ministry and NU cooperation in 2017 proved successful after granting corn seeds for 20,000 hectares of planting area in Bengkulu province.

According to him, cooperation with the NU is very important and strategic to build agriculture to rural and border areas, and NU members are spread to remote areas, and the majority are farmers.

"We are satisfied, so we continue cooperation with the NU. The NU members across the country are about 90 million people, and 80 percent are farmers," Mr Sulaiman said.

Previously, the central government provided assistance to NU with two excavator units, two four-wheeled tractors, 10 units of two-wheeled tractors, 10 units of water pumps. In 2018, fertilizer assistance and corn seeds for 100,000 hectares and soybean seeds for 10,000 hectares for nine districts.

Said Aqil Siradj said only the Joko Widodo administration and Minister Sulaiman worked hard to support farmers. "He was the real agriculture minister for the first time."

"The NU farmers in Java are already working hard in the rice fields, but their condition is still poor, they only have enough food to eat everyday, thanks to the minister," he said.