Naik 7,34%, Kementan Targetkan Produksi Jagung Nasional 2018 Capai 30 Juta Ton
Indonesian Govt Target Maize Production 2018 to Reach 30m Tons
Editor : M. Achsan Atjo
Translator : Dhelia Gani

PUBLISHED: Rabu, 21 Maret 2018 , 02:35:00 WIB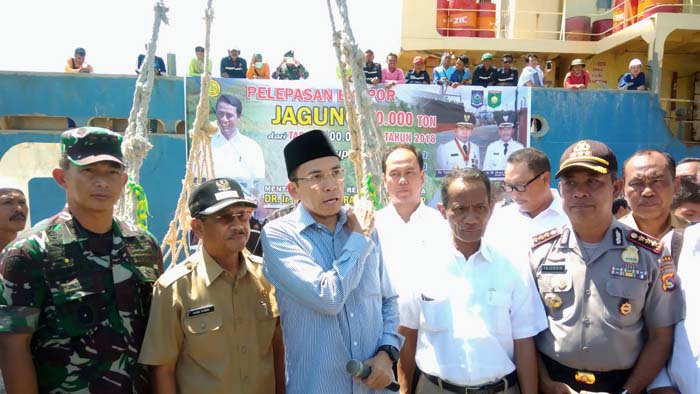 PELABUHAN BADAS: Kepala BKP Kementan, Agung Hendriadi (ke-2 kanan) didampingi Gubernur NTB TGH Zainul Majdi (ke-3 kanan) melepas ekspor jagung Sumbawa (Foto: Humas BKP Kementan)
Sumbawa, NTB (B2B) - Badan Pusat Statistik (BPS) melansir angka ramalan II (Aram) produksi jagung 2017 mencapai 27,95 juta ton, meningkat 18,53% dibanding 2016 sebanyak 23,58 juta ton, sementara Kementerian Pertanian RI menargetkan produksi jagung 2018 mencapai 30 juta ton atau meningkat 7,34% dari 2017.

Kepala Badan Ketahanan Pangan (BKP) Kementerian Pertanian RI Agung Hendriadi mengatakan Aram II BPS dihasilkan dari 10 sentra produksi jagung nasional atau 85% dari total produksi nasional, dan Provinsi Nusa Tenggara Barat (NTB) di peringkat kelima dengan kontribusi produksi jagung mencapai 7%.

"Kementan menargetkan produksi tahun ini sekitar 30 juta ton sementara perkiraan kebutuhan 20,23 juta ton sehingga ada surplus 9,77 juta ton," kata Agung H kepada pers di Pelabuhan Badas di Sumbawa Besar, NTB usai melepas ekspor jagung 11.500 ton ke Filipina, Selasa (20/3).

Menurutnya, komponen kebutuhan pakan masih menjadi porsi terbesar dari kebutuhan jagung nasional, sekitar 50 hingga 55% produksi jagung nasional dimanfaatkan untuk bahan baku pakan ternak.

Data Kementan menyebutkan, selama lima tahun terakhir (2014-2018), diperkirakan produksi jagung nasional rata-rata tumbuh 12,32% per tahun. Per tahun, pertumbuhan produksi diikuti pertumbuhan luas panen 2014 - 2018 sekitar 11,13% dan pertumbuhan produktivitas 1,57%.

Sementara produksi jagung NTB menurut Gubernur TGH Zainul Majdi mengutip data dari Dinas Pertanian Pemprov NTB, diperkirakan 195.018 ton pada triwulan pertama, Januari - April, 187.255 ton (Februari); 262.530 ton (Maret); dan 385.152 ton (April).

"Produksi tersebut dari luasan panen selama Januari - April 2018 sekitar 37.576 ha untuk Januari kemudian 36.080 hektar pada Februari, dan 50.584 hektar pada Maret dan April sekitar 74.210 hektar," katanya.

Agung menambahkan, untuk membantu petani memperoleh hasil yang layak, Pemerintah RI menerbitkan Peraturan Menteri Perdagangan No. 27/M-DAG/PER/5/2017 tentang Penetapan Harga Acuan Pembelian di Petani dan harga Acuan Penjualan di Konsumen.

Dalam Permendag ini harga jagung di tingkat petani dibedakan berdasarkan kadar air per kg yaitu 15% seharga Rp 3.150; 20% seharga Rp 3.050; 25% seharga Rp 2.850; 30% seharga Rp 2.750; dan 35% seharga Rp2.500, sedangkan harga acuan jagung di tingkat konsumen Rp4.000 per kg.

"Dengan peraturan ini, keseimbangan harga di tingkat petani dan konsumen dapat terjaga dengan baik," kata Agung.
Tampak hadir perwakilan dari Kemenko Perekonomian, Pangdam IX/Udayana, Mayjen TNI Benny Susianto, Wakil Kapolda NTB Kombes Tajuddin MH, dan Bupati Sumbawa Husni Djibril.
Sumbawa of West Nusa Tenggara (B2B) - Indonesian Statistics Agency or BPS announced the second forecast of maize production in 2017 reached 27.95 million tons, increased by 18.53% from 2016 as much as 23.58 million tons, while the Indonesian Agriculture Ministry targets 2018 maize production to reach 30 million tons, up 7.34 percent of 2017, according to senior official.

The Director General of Food Security Agency, Agung Hendriadi said the prediction refers to 10 national corn production centers or 85% of national production, and Nusa Tenggara Barat province or NTB ranked fifth with contribution of 7% of production.

"The agriculture ministry target 2018 production around 30 million tons, while estimated demand of 20.23 million tons or surplus of 9.77 million tons," Mr Hendriadi told the press here on Tuesday (March 20).

According to him, the needs of national corn for animal feed is still the largest, about 50 to 55% of national corn production is used for feed raw materials.

The ministry data states, the last five years (2014 - 2018) national corn production is estimated to grow an average of 12.32% per year. Per year, production growth followed by the addition of yield area 2014 - 2018 about 11.13% and productivity increased 1.57%.

While the NTB corn production according to Governor Majdi cites data of the provincial agriculture service estimated 195,018 tons in the first quarter, January - April, 187,255 tons (February); 262,530 tons (March); and 385,152 tons (April).

"The production of January to April 2018 yield area is about 37,576 ha for January then 36,080 hectares in February, and 50,584 hectares in March and 74,210 hectares in April," he said.

Mr Hendriadi said to help farmers make a profit, Indonesian government set up through trade ministerial regulation Number 27/M-DAG/PER/5/2017 on the reference price of purchases at farmers and the selling price to consumers.

The regulation of the trade minister stipulates the price of corn at the farm level refers to the water content per kg, ie 15% for 3,150 rupiah; 20% for Rp 3,050; 25% for 2,850 rupiah; 30% for 2,750 rupiah; and 35% for 2,500, while the reference price of maize at the consumer level is 4,000 rupiah per kg.

"The government regulation encourages price equilibrium at the farmers´ level and consumers can be maintained," Mr Hendriadi said.
It was attended by representatives from the coordinating ministry for economic affairs, Commanders of Udayana's Military Regional Command, Maj. Gen. Benny Susianto; Deputy Chief of the NTB's Regional Police, Commissioner Tajuddin MH and Sumbawa Regent Husni Djibril.