Rangkul BEM, Mentan Jalin Komunikasi Online dengan Mahasiswa Pertanian 34 Provinsi
Indonesian Ministers Create Online Communication with Agricultural Students
Reporter : Gusmiati Waris
Editor : Cahyani Harzi
Translator : Dhelia Gani

PUBLISHED: Kamis, 31 Mei 2018 , 02:38:00 WIB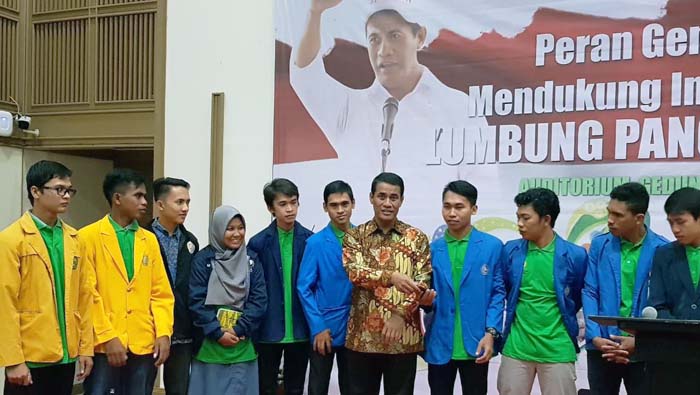 Mentan Andi Amran Sulaiman (batik coklat) berbincang dengan perwakilan BEM mahasiswa pertanian dari seluruh Indonesia (Foto: Humas Kementan)
Jakarta (B2B) - Kementerian Pertanian RI menjalin komunikasi online dengan mahasiswa fakultas pertanian di 63 perguruan tinggi negeri (PTN) dari 34 provinsi, dengan membuat grup pesan singkat atau WAGroup (WAG), untuk mewadahi gagasan baru dan cemerlang maupun kritik dari mahasiswa untuk disampaikan kepada Menteri Pertanian Andi Amran Sulaiman dan jajarannya.
"Setelah kami diskusi hampir dua jam, para mahasiswa mengaku belum mengetahui persis capaian pemerintah di sektor pertanian, padahal kita sudah ekspor jagung. Mahasiswa akui, inshaa Allah Indonesia mampu jadi lumbung pangan dunia, dan mereka mengaku siap lanjutkan estafet ini ke depan," kata Mentan Amran Sulaiman pada kegiatan temu mahasiswa pertanian di Jakarta pada Rabu (30/5).
Sedikitnya 221 mahasiswa mewakili 92 badan eksekutif mahasiswa (BEM) bertemu dengan Mentan yang didampingi Kepala Badan Penyuluhan dan Pengembangan SDM Pertanian (BPPSDMP) Kementan, Momon Rusmono. Turut hadir 100 mahasiswa dari sekolah tinggi penyuluhan pertanian (STPP) di Medan, Bogor, dan Malang.
Menurut Mentan, pengembangan WAG Kementan dan BEM bertujuan berbagi informasi tentang kebijakan pertanian sehingga apa pun persoalan pertanian dapat langsung dilaporkan dan segera diselesaikan, yang akan ditindaklanjuti BEM dengan Biro Humas Kementan sebagai bagian dari penderasan informasi.
"Silakan para mahasiswa pertanian dapat langsung melaporkan kondisi di lapangan tentang kinerja kementerian. Semuanya akan saya jawab, group ini akan kami tuangkan dalam MoU bersama hari ini juga," katanya.
Sementara itu Sekretaris Jenderal Ikatan Senat Mahasiswa Pertanian Indonesia, Hasbi Abdullah mengapresiasi berbagai capaian kementerian sampai saat ini sehingga pertemuan tersebut sangat bermanfaat untuk mendukung pencapaian Indonesia menjadi lumbung pangan dunia.
"Pemerintah agar mengoptimalkan lembaga-lembaga yang ada untuk mencapai tujuan tersebut, salah satunya bagaimana kementerian mampu mengembalikan identitas Indonesia sebagai negara agraris," katanya.
Jakarta (B2B) - The Indonesian Agriculture Ministry maintains online communication with agricultural faculty students in 63 state universities or the PTN of 34 provinces, by creating a short message group or WAGroup (WAG), to accommodate new and brilliant ideas as well as criticism from students to the Agriculture Minister Andi Amran Sulaiman and his staff.
"After talking for nearly two hours, the students admitted not knowing the government´s achievements in the agricultural sector, while Indonesia has been exporting corn. Students support the country into a world food barn, and they declared ready to continue after graduation," said Minister Sulaiman here after meeting with agricultural students on Wednesday (Mayh 30).
At least 221 students represented 92 student senates met with Minister Sulaiman accompanied by Director General of Agricultural Extension and Agricultural Human Resources or the BPPSDMP, Momon Rusmono. Also attended were 100 students from agricultural extension college of Medan, Bogor and Malang.
According to Minister Sulaiman, the development of short messages online with students to share information about agricultural policy, so that any agricultural issues can be directly reported and handled immediately, which will be followed up by the ministry´s public relations bureau.
"Agricultural students can directly report on field conditions about ministry performance. Everything I will answer, making this WA group will be arranged in a mutual agreement today," he said.
Meanwhile, Secretary General of the Union of Agriculture Student Senate Indonesia, Hasbi Abdullah appreciate the various achievements of ministries to date so that the meeting is very useful to support the achievement of Indonesia into a world food barn.
"The government is expected to optimize the existing institutions to achieve these goals, one of which is how the ministry can restore the identity of Indonesia as an agrarian country," he said.