Kementan Ubah Masa Paceklik jadi Produktif, Stok Beras Melimpah di Pasar
Indonesian Govt Seeks to Maintain Food Self-sufficiency
Reporter : Gusmiati Waris
Editor : Cahyani Harzi
Translator : Dhelia Gani

PUBLISHED: Rabu, 11 Oktober 2017 , 02:43:00 WIB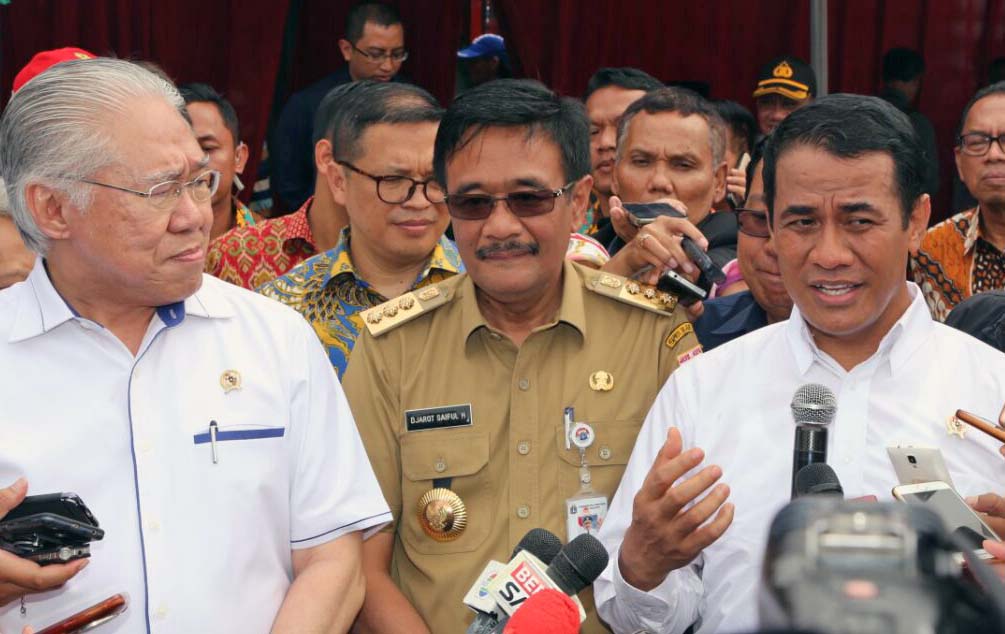 Mentan Andi Amran Sulaiman (kanan) menjawab pers didampingi Mendag Enggartiasto Lukita (kiri) dan Gubernur DKI Jakarta Djarot Syaiful Hidayat (Foto: B2B/Gusmiati Waris)
Jakarta (B2B) - Pemerintah RI menjamin tidak akan ada lagi paceklik beras yang kerap terjadi di akhir hingga awal tahun lantaran pasokan di pasar melimpah dua kali lipat, misalnya stok di Pasar Induk Beras Cipinang (PIBC) Jakarta Timur mencapai 53.000 ton di atas stok minimum 30.000 ton per hari, hal itu terwujud setelah Kementerian Pertanian mengubah kebiasaan pola tanam pada masa paceklik, Juli - September, dari 500.00 hektar menjadi satu juta hektar per bulan setelah didukung mekanisasi, perbaikan irigasi, pendampingan petani oleh penyuluh pertanian dan prajurit TNI AD.

"Kementan mengubah strategi terhadap pola tanam Juli sampai September yang hanya 500 ribu hektar, kami tingkatkan menjadi satu juta hektar. Kita berhasil menghapus masa paceklik dengan penanaman pada musim kemarau setelah didukung perbaikan irigasi, embung dibangun, pompanisasi air dari sungai, mekanisasi pertanian dan dukungan penyuluh pertanian bersama prajurit TNI AD," kata Menteri Pertanian Andi Amran Sulaiman di PIBC Cipinang pada Selasa (10/10).

Hal itu dikemukakan Mentan Amran Sulaiman saat memantau pasokan beras di PIBC bersama Menteri Perdagangan Enggartiasto Lukita, Gubernur DKI Jakarta Djarot Syaiful Hidayat, dan Direktur Utama Food Station Tjipinang Arif Prasetyo.

Mentan menambahkan dari perubahan pola tanam satu juta hektar per bulan dapat memenuhi kebutuhan beras nasional sekitar 2,6 juta ton per bulan. Bandingkan dengan pola tanam sebelumnya, hanya 500.000 hektar dengan produktivitas rata-rata enam ton gabah kering giling (GKG) per hektar hanya menghasilkan 1,5 juta ton beras sehingga defisit 1,1 juta ton dan harus dipenuhi dari beras impor.

"Kementan mengubah strategi, dua tahun berturut-turut tidak ada gejolak harga khususnya beras. Tanam tiap hari. Panen padi tiap hari. Kita sudah memperbaiki irigasi atas perintah Presiden Joko Widodo, sekarang sudah mengairi tiga juta hektar. Alhamdulillah tanam padi Juli hingga September dua tahun berturut-turut, rata-rata satu juta hektare. Kita hapus paceklik dengan penanaman dua kali lipat pada musim kering," kata Mentan.

Arif Prasetyo mengakui dampak dari strategi Kementan, stok beras di PIBC Cipinang jauh di atas aman, minimum 30.000 ton per hari, saat ini stok per hari di atas 53.000 ton per hari.

"Kita ingin meletakkan dasar-dasar pengendalian harga di Jakarta dengan fokus mengamankan stok pangan, dan berkat dukungan pihak-pihak terkait dapat mengendalikan inflasi di Jakarta menjelang Lebaran kemarin," kata Gubernur Djarot.
Jakarta (B2B) - Indonesian government guarantees that rice supply in the market exceeds consumer need, for example in Jakarta´s Cipinang Rice Market reaches 53,000 tons above the minimum stock of 30,000 tons per day, it was realized after the Ministry of Agriculture changed the habit of cultivation pattern in the famine period from July to September, from 500.00 hectares to one million hectares per month after supported by mechanization, irrigation improvement, farmer assistance by agricultural extension workers and army soldiers.

"The agriculture ministry changed the strategy of rice cultivation pattern from July to September which is only 500 thousand hectares, we increase to one million hectares. We managed in transforming famine by planting in the dry season after supported by irrigation improvements, basin retention, water pumping from rivers, agricultural mechanization and agricultural extension support with the army," said Agriculture Minister Andi Amran Sulaiman here on Tuesday (October 10).

It was stated by Minister Sulaiman when monitoring rice supply in Cipinang with Trade Minister Enggartiasto Lukita, Jakarta Governor Djarot Syaiful Hidayat, and Tjipinang Food Station President Director Arif Prasetyo.

Mr Sulaiman said that the change can meet the national rice demand of about 2.6 million tons per month. Compare with the previous, only 500,000 hectares with an average productivity of six tons of dry milled grain per hectare only produce 1.5 million tons of rice or deficit of 1.1 million tons, and must be met from rice imports.

"The ministry changed its strategy, two years without rice price volatility. Plant rice every day. Harvest paddy every day. We have repaired irrigation by order of President Joko Widodo, now it has irrigated three million hectares. Thank God, July to September in these two years, averages about one million hectares. We change the famine with double planting in the dry season," he said.

Arif Prasetyo acknowledged the impact of ministerial strategy, Cipinang rice supply above safe limit, minimum 30,000 tons per day, currently stock per day above 53,000 tons per day.

"We want to establish a basic price control in Jakarta with a focus on safe food supply, and thanks to support of related parties can control inflation in Jakarta during Eid al-Fitr," Governor Hidayat said.