Optimalisasi Alsintan, Mentan Larang Keras Ada yang `Mengganggur` di Poktan
Indonesian Minister Push the Optimization of Agricultural Machinery
Editor : M. Achsan Atjo
Translator : Dhelia Gani

PUBLISHED: Selasa, 08 Mei 2018 , 02:44:00 WIB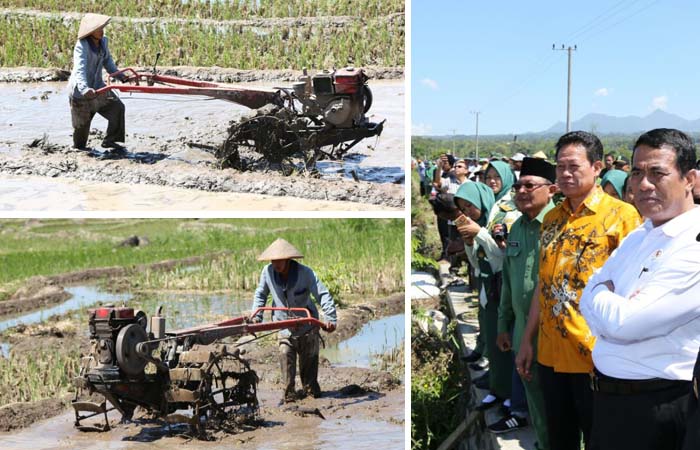 Mentan Amran Sulaiman pantau pemanfaatan Alsintan di Provinsi Jawa Timur didampingi PJ OPA Nasional, Momon Rusmono (kemeja kuning) Foto2: Humas Kementan)
Jakarta (B2B) - Menteri Pertanian RI Andi Amran Sulaiman meninjau pemanfaatan alat dan mesin pertanian (Alsintan) di Kabupaten Magetan, Provinsi Jawa Timur pada Senin (7/5) didampingi Penanggung Jawab Optimalisasi Alsintan - PJ OPA Nasional, Momon Rusmono.

Dalam kegiatan peninjauan di Desa Campur Sari, Kecamatan Sidorejo, Mentan Amran Sulaiman menginstruksikan seluruh Alsintan yang diberikan kepada kelompok tani (Poktan) untuk diidentifikasi pemanfaatannya, apabila tidak maksimal maka segera dilakukan mobilisasi untuk meningkatkan pemanfaatannya, atau direalokasi ke Poktan lain yang lebih membutuhkan.

"Tidak boleh ada alsintan yang menganggur, kerja minimal 10 jam per hari, sehingga bermanfaat bagi petani. Kami harapkan petani dapat memanfaatkan Alsintan secara tepat guna untuk mendukung peningkatan produksi pangan strategis khususnya padi," kata Mentan.

Dia menambahkan sekitar 300 ribu Alsintan telah disalurkan kepada petani melalui Poktan, dilarang keras dikuasai oleh satu kelompok dan harus dimanfaatkan oleh petani lain.

"Sampai saat ini ditemukan sekitar 1.500 unit Alsintan yang tidak sesuai dengan lokasinya, dan tidak optimal pemanfaatannya, sudah dipindahkan," kata Mentan yang didampingi Momon Rusmono, yang juga menjabat Kepala Badan Penyuluhan dan SDM Pertanian (BPPSDMP) di Kementerian Pertanian RI.

PJ OPA Nasional
Sebelumnya diberitakan, Mentan Andi Amran Sulaiman menginstruksikan Dirjen Prasarana dan Sarana Pertanian (PSP) Dadih Pending Permana dan Kepala BPPSDMP Momon Rusmono untuk melakukan optimalisasi Alsintan mendukung peningkatan produksi pertanian strategis.

Kedua pejabat eselon satu di Kementerian Pertanian RI ditugasi Mentan untuk melakukan monitoring dan evaluasi pemanfaatan alat mesin pertanian (Alsintan) khususnya 113.515 unit traktor roda dua dan 6.280 roda empat, dan 17.684 mesin panen (combine harvester) di 13 provinsi, yang dihibahkan Kementerian Pertanian kepada para petani pada 2016 dan 2017.

"Kami ditugasi memimpin monitoring dan evaluasi, 13 provinsi menjadi tanggung jawab saya termasuk Kalbar. Diminta mengecek satu-persatu Alsintan, apakah masih ada? Kalau ada, masih layak atau tidak? Setiap Alsintan diidentifikasi pemanfaatannya, misal untuk TR2 dalam sehari dapat bekerja berapa luas? Setengah hektar atau lebih, begitu pula hari kerjanya dalam setahun. Mentan minta tiap Alsintan dapat dioptimalkan untuk 300 hari kerja," kata Momon Rusmono di Pontianak, Kalbar pada pertengahan Februari lalu.

Data Kementan menyebutkan, pada 2016 disalurkan traktor roda dua (TR2) sebanyak 262.090 dan kebutuhan 451.578 unit, traktor roda empat (TR4) 3.288 unit (kebutuhan 9.412). Kemudian 2017 dihibahkan 263.400 unit TR2 (kebutuhan 449.590), 3.295 unit TR4 (kebutuhan 9.366).

Sementara mesin combine harvester pada 2016 telah dihibahkan 797 unit combine harvester kecil disingkat CHS, 2.392 unit ukuran sedang (CHM) dari kebutuhan 15.059 unit dan 1.594 unit ukuran besar (CHB). Berlanjut pada 2017 sebanyak 801 unit CHS, 2.403 unit CHM dan 1.594 unit CHB.
Jakarta (B2B) - Indonesian Agriculture Minister Andi Amran Sulaiman reviewed utilization of agricultural machinery or Alsintan in Magetan district of East Java province on Monday (May 7) accompanied by Momon Rusmono as Person in Charge of Optimizing Alsintan or PJ OPA National.

In a review activity in Campur Sari village, Sidorejo sub-district, Minister Sulaiman instructed all Alsintan given to farmer groups or Poktan for the identification of utilization, if not maximized then immediately carried out mobilization to improve its utilization, or reallocated to other Poktan more need.

"No alsintan is not used, use at least 10 hours per day, so it is beneficial to farmers. We hope that farmers can utilize Alsintan properly to support the increase of strategic food production, especially rice," Mr Sulaiman said.

He added that about 300,000 Alsintan has been distributed to farmers through Poktan, strictly forbidden to be controlled by one group and must be utilized by other farmers.

"Until now, about 1,500 Alsintan units that are not in accordance with the location, and not optimally utilized, have been moved," said Minister Sulaiman who was accompanied by Mr Tusmono.
The Optimization
Previously reported, Minister Andi Sulaiman instructed Director General of Infrastructure and Agricultural Facility or the PSP, Dadih Pending Permana and Director General of Agency for Agricultural Extension and Human Resources Development or BPPSDMP Momon Rusmono to optimize agricultural machinery in support of increasing strategic agricultural production.

The senior official of the ministry will lead monitor and evaluate the utilization of agricultural machinery, in particular 113,515 units of two-wheeled tractors and 6,280 four-wheelers, and 17,684 combine harvests in 13 provinces, granted by the agriculture ministry to farmers in 2016 and 2017.

"We are assigned to lead monitoring and evaluation, 13 provinces are my responsibility, including West Borneo province. Check one by one, still there? Can be used? Each unit identified its utilization, for example a two-wheeled tractor on the effectiveness of usage per hectare. in a day can work how much land? Half a hectare or more, as well as his workday of the year. The minister asked for each unit to be optimized for 300 working days," Mr Rusmono said.

According to the ministry data, in 2016 distributed 262,090 units of two-wheeled tractor engine needs 451,578 units, 3,288 units of four-wheeled tractors (needs 9,412). Then 2017 granted 263,400 units of two-wheeled tractor (needs 449,590), 3,295 units of four-wheeled tractor (needs 9,366).

While combine harvester in 2016 provided 797 units of small type, 2,392 units of medium type of needs 15,059 units and 1,594 units of large type. Continues in 2017 as many as 801 units of small type, 2,403 medium type, and 1,594 units of large type.