Korporasi Petani, Gapoktan Target #Serasi di Sumsel Sepakat Dirikan BUMP
Farmers´ Corporations Determine of Success Indonesia`s Swampland Development
Editor : M. Achsan Atjo
Translator : Dhelia Gani

PUBLISHED: Senin, 17 Desember 2018 , 02:45:00 WIB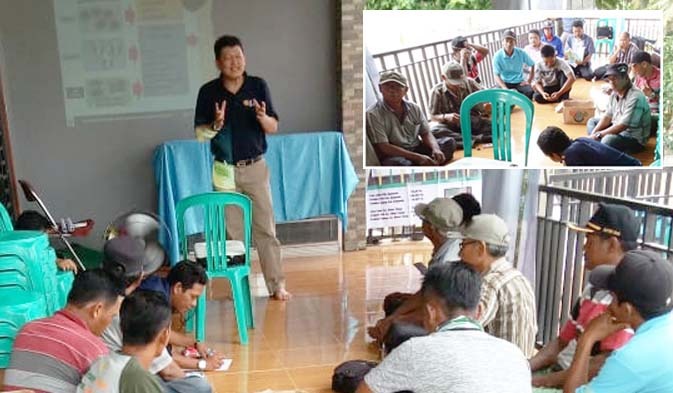 SOSIALISASI KORPORASI: Kabid Penyelenggaraan Penyuluhan - Pusluhtan, Zahron Helmy memimpin sosialisasi yang diikuti para ketua Poktan/Gapoktan di Muara Telang, Banyuasin (Foto2: Humas Pusluhtan/Nur F)
Banyuasin, Sumsel (B2B) - Gabungan Kelompok Tani (Gapoktan) di Kecamatan Muara Telang, Kabupaten Banyuasin sepakat mengelola usaha bisnis di setiap desa, sebagai target pilot project program #Serasi di Provinsi Sumatera Selatan, untuk tahun pertama. Gapoktan setempat menyatakan siap mengembangkan badan usaha milik petani (BUMP) berbadan hukum koperasi atau perusahaan terbatas (PT) di tahun kedua #Serasi.
Hal itu dikemukakan oleh Kepala Bidang Penyelenggaraan Penyuluhan, Zachron Helmy dari kegiatan sosialisasi Program ´Selamatkan Rawa Sejahterakan Petani´ disingkat #Serasi di Muara Telang, Rabu pekan lalu (12/12), yang dihadiri perangkat desa, ketua Poktan, Gapoktan, pengelola unit pelayanan jasa Alsintan (UPJA) dari empat desa target #Serasi yakni Telang Rejo, Telang Karya, Sumber Hidup dan Telang Makmur.
"Poin terpenting dari sosialisasi di Muara Telang adalah kesediaan di tahun pertama mengembangkan unit usaha bisnis yang dikelola oleh Gapoktan, yang dilaksanakan di setiap desa," kata Zahron Helmy melalui pernyataan tertulis.
Sementara di tahun kedua, katanya, Gapoktan didorong menjadi BUMP berbadan hukum koperasi atau PT, yang harus didukung penggerak unit usaha agribisnis oleh seorang manajer khusus, untuk mengelola bisnis Gapoktan yang masih di bawah koordinasi kepala desa, "bisa saja untuk pengembangan awal, manajernya adalah kepala desa."
"Penyuluh pertanian atau individu yang memiliki kemampuan dalam jejaring dan kemitraan harus berperan aktif mendukung Gapoktan. Unit-unit usaha yang sudah berjalan di desa, diharapkan masuk dalam pengelolaan Gapoktan," kata Zahron H yang didampingi Kasubbid Kelembagaan Petani, Yoyon Haryanto dan empat petugas dari Pusluhtan.
Sebagaimana diberitakan sebelumnya, Kementerian Pertanian RI mengembangkan #Serasi dalam upaya memanfaatkan rawa sebagai lahan produktif seluas 400 ribu hektar dari target 34,1 juta hektar di sembilan provinsi.
Setelah diluncurkan Menteri Pertanian RI Andi Amran Sulaiman di Jakarta pada 21 November lalu, Pusat Penyuluhan Pertanian (Pusluhtan) pada Badan Penyuluhan dan Pengembangan SDM Pertanian (BPPSDMP) ditugasi mendukung pengembangan kelembagaan petani dan kelembagaan ekonomi untuk menunjang kesejahteraan petani lahan rawa berbasis koperasi yang dikorporasikan melalui #Serasi. (Liene/NurF)
Banyuasin, Sumsel (B2B) - Combined farmer groups or the Gapoktan in Muara Telang sub-district of Banyuasin district agreed to developing agriribusiness in each village, as the target of the #Serasi pilot project in South Sumatra province for the first year. The Gapoktan is ready to developing business entity owned by farmers or BUMP the legal entity is a cooperative or private company in the second year of the #Serasi program.
It was stated by the Head of Organization for Agricultural Extension, Zahron Helmy of socialization ´the swampland use program for agriculture´ or the #Serasi in Muara Telang, Wednesday last week (December 12) attended by village officials, farmer group leaders, agricultural machinery rental managers of #Serasi four target villages namely Telang Rejo, Telang Karya, Sumber Hidup and Telang Makmur.
"The most important point of socialization in Muara Telang is the willingness in the first year to developing agribusiness which is managed by Gapoktan, and implemented in each village," Mr Helmy said through written statement.
While in the second year, he said, Gapoktan was encouraged to become BUMP, a cooperative legal entity or PT, which must be supported by the agribusiness unit driver by a manager to manage business which is still under coordination of village head, "it could be for initial development, the manager is the village head."
"Agricultural extensionist who have the ability in networks and partnerships must play an active role to support Gapoktan. The business units that have been running in the village are expected to join Gapoktan," Mr Helmy said.
As reported previously, Indonesian Agriculture Ministry launched ´the swampland use program for agriculture´ or the #Serasi, seek to utilize swamp into productive area of 400 thousand hectares of the target 34.1 million hectares in nine provinces.
After #Serasi was launched by Agriculture Minister Andi Amran Sulaiman in Jakarta on November 21, so the Agricultural Extension Center or Pusluhtan of Directorate General of Extention and Agricultural Human Resource Development or BPPSDMP assigned by the ministry to support development of farmer groups in swamp land into future potential of Indonesian agriculture.