Ali Rachman Pantau Mahasiswa Pendamping untuk Optimalisasi Alsintan di Klaten
Indonesian Students Support Farmer Assistance in Central Java
Editor : M. Achsan Atjo
Translator : Dhelia Gani

PUBLISHED: Rabu, 18 April 2018 , 02:50:00 WIB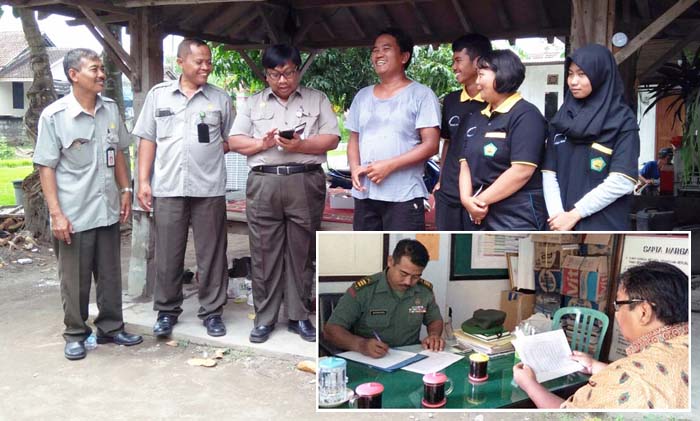 Ketua STPP Yogyakarta, Ali Rachman memimpin monitoring kegiatan pendampingan mahasiswa untuk Optimalisasi Alsintan di Klaten (Foto2: Humas STPP Yogyakarta)
Klaten, Jateng (B2B) - Ketua Sekolah Tinggi Penyuluhan Peternakan - STPP Magelang, Ali Rachman memantau kegiatan pendampingan mahasiswa untuk optimalisasi alat mesin pertanian (Alsintan) di Kabupaten Klaten, Provinsi Jawa Tengah pada Senin (16/4) khususnya pada unit pelayanan jasa Alsintan (UPJA) Taju Jawa di Desa Kebondalem Lor, Kecamatan Prambanan.

Kegiatan pendampingan mahasiswa tersebut merupakan inisiasi Sekolah Tinggi Penyuluhan Pertanian - STPP Yogyakarta, unit pelayanan teknis (UPT) Badan Penyuluhan dan Pengembangan SDM Pertanian (BPPSDMP) Kementan untuk mendukung program Mentan Andi Amran Sulaiman yang mendorong pelibatan mahasiswa pada program Upsus Pajale dan OPA di seluruh Indonesia.

Ali Rachman mengingatkan arahan dari Kepala BPPSDMP Kementan Momon Rusmono sebagai Penanggung Jawab - PJ Upsus Kalbar bahwa sudah saatnya pembangunan pertanian digerakkan oleh para pemuda agar lebih melaju ke pertanian modern yang lebih efektif dan efisien untuk meningkatkan produktivitas dan keberlanjutannya didukung pemanfaatan Alsintan.

"Mahasiswa harus menjadi bagian dari pembangunan pertanian. Caranya? Dengan mendampingi petani melakukan usaha tani modern yang didukung mekanisasi pertanian," kata Ali Rachman melalui pernyataan tertulis.

Dia menambahkan bahwa Alsintan yang telah diterima dimanfaatkan semaksimal mungkin, untuk meningkatkan hasil produksi pertanian.

"Pemanfaatan Alsintan harus optimal. Tidak boleh ada alat dan mesin yang tidak dimanfaatkan. Pada saat mengolah tanah ... traktor roda dua dan empat yang bekerja, mesin panen otomatis belum digunakan, cuma pak menteri instruksikan tidak boleh TR2 dan TR4 tidak berfungsi, kalau di desa atau Poktan lain mengolah tanah maka Alsintan harus dimobilisasikan ke sana," katanya.

Ali Rachman mengingatkan Poktan dan pengelola unit pelayanan jasa Alsintan (UPJA) di Kecamatan Prambanan memobilisasi Alsintan yang sedang tidak dipakai ke tempat lain. "Kalau TR2 dan TR4 didiamkan di sini karena olah tanah sudah selesai, padahsl bisa dimobisasi ke tempat lain."

Kabag Administrasi Umum STPP Yogyakarta, Irwan Johan Sumarno mengatakan bahwa kegiatan pendampingan meliputi bimbingan teknis (Bimtek), demo efektifitas dan efisiensi pemanfaatan Alsintan, mobilisasi pemanfaatan Alsintan, dan relokasi Alsintan yang belum dimanfaatkan secara maksimal sehingga tetap dapat mendukung peningkatan LTT di Kalbar, khususnya empat kabupaten yang menjadi target kegiatan pendampingan mahasiswa.

"Mahasiswa dengan ide kreatifnya sangat dibutuhkan sebagai bagian dari solusi permasalahan di lapangan, memahami karakter dan kerja keras petani, membudayakan cara-cara bertani, menjunjung nama baik civitas academica, dan mendukung target pemerintah mencapai ketahanan pangan nasional," kata Irwan JS mengutip Ali Rachman.
Klaten of Central Java (B2B) - The Rector of Indonesia´s Magelang Livestocks Extention College or STPP Magelang, Ali Rachman monitor student assistance activities for the optimization of agricultural machine tools or Alsintan in Klaten district of Central Java province on Monday (April 16) especially at the service unit of Alsintan Taju Jawa in Kebondalem Lor village of Prambanan subdistrict.
Mentoring students were the initiation of Yogyakarta Agriculture Extension College or STPP Yogyakarta as the technical service unit of Directorate General of Agency for Agricultural Extension and Human Resources Development or BPPSDMP at the agriculture ministry to support program of Agriculture Minister Andi Amran Sulaiman is encouraging mentoring students for farmers across the country.

He reminded the instructions of her boss, Mr Rusmono as PiC of Upsus Kalbar on the student´s vital role in supporting farmers to develop modern agriculture that promotes ´efficiency and effectiveness of farming with high productivity ´supported by agricultural machinery.

"Students must be part of agricultural development. How? By guiding farmers to modern farming activities supported by agricultural mechanization," Mr Rachman said.

He said that Alsintan that has been received as maximally as possible, to improve agricultural production.

"Utilization of the Alsintan must be optimal. No one is stuck. While it is processing the soil ... tractor two and four wheels that work, the rice transplanter automatic break," Mr Musyafak said.

He also reminded Poktan and managers of Alsintan service units or UPJA in Sungai Raya sub-district to mobilize Alsintan who was resting elsewhere.

The Head of General Affairs of STPP Yogyakarta, Irwan Johan Sumarno the mentoring activities include technical guidance, demo utilization of agricultural machinery, identification, mobilization, and reallocation of agricultural machinery that has not been optimally utilized, especially the four districts targeted by the student assistance activities.

"Students should be part of solution of problems in the field, understanding character and hard work of farmers, uphold reputation of civitas academica, and support government´s target of achieving national food security," Mr Sumarno said.