Jajaran Kementan Harus Miliki `Semangat Kekinian` Capai Lumbung Pangan Dunia 2045
Indonesian Govt Reminded Target of 2045 World`s Food Barn
Reporter : Gusmiati Waris
Editor : Cahyani Harzi
Translator : Dhelia Gani

PUBLISHED: Selasa, 18 Juli 2017 , 02:50:00 WIB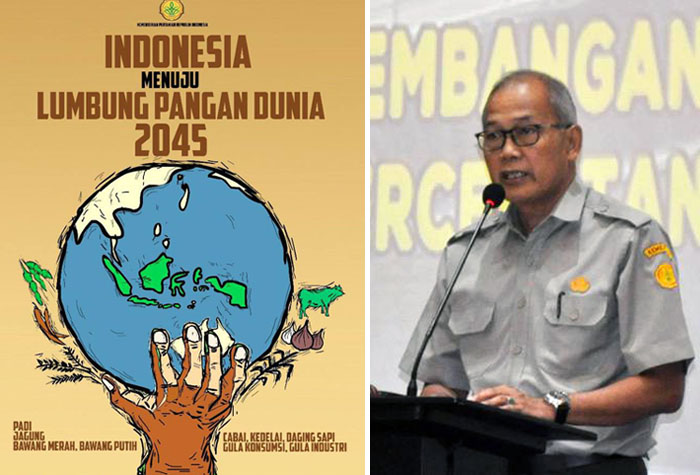 Sekjen Kementan Hari Priono (kanan) mengajak generasi muda Kementan menjadi penggerak sektor pertanian nasional (Foto & Ilustrasi: Humas Kementan)
Jakarta (B2B) - Sekitar 400 pegawai di bawah usia 40 tahun di Kementerian Pertanian RI diingatkan oleh Sekjen Hari Priono untuk bekerja dengan ´semangat kekinian´: "jangan sekadar ke kantor mengisi absen, ke kantin makan siang, lalu duduk menunggu perintah atasan", pangan telah menjadi isu global dan Indonesia harus memanfaatkan potensi iklim di kawasan tropis untuk mencapai target Lumbung Pangan Dunia 2045.

Hari Priono mengingatkan dua isu krusial yakni peranan pangan dan perubahan iklim, terlihat dari peningkatan migrasi penduduk dari negara krisis pangan ke negara lain dengan pangan melimpah, namun negara-negara di kawasan subtropis dengan empat musim mulai khawatir pada dampak perubahan iklim mempengaruhi produksi pangan lantaran keterbatasan sinar matahari.

"Indonesia yang berada di kawasan tropis dengan dua musim, mendapat manfaat dari melimpahnya sinar matahari sepanjang tahun sebagai modal pengembangan pertanian modern. Kekuatan utama Indonesia pada posisinya di khatulistiwa, dan jajaran Kementan harus menjadi penggerak utama untuk mewujudkan target Indonesia menjadi lumbung pangan dunia," kata Sekjen Hari Priono mewakili Menteri Pertanian RI Andi Amran Sulaiman yang masih melakukan lawatan ke luar negeri.

Kepada 400 PNS Kementan yang mengikuti Leadership Training 2017: ´Mempersiapkan Generasi Muda Pertanian Wujudkan Indonesia Lumbung Pangan Dunia 2045´, Hari Priono mewakili Mentan mengingatkan tentang potensi pertanian Indonesia sebagai tumpuan penggerak roda perekonomian negara, namun masih bertumpu pada sektor ekonomi lain.

"Kita masih belum mampu meyakinkan bahwa kita dapat menjadi tumpuan penggerak perekonomian nasional. Kita masih sibuk dengan bertumpu pada sektor lain karena mengejar pertumbuhan ekonomi, yang memang dapat tumbuh tinggi tapi tanpa pondasi kuat karena lebih mengandalkan bahan baku impor," kata Mentan dalam amanatnya yang dibacakan oleh Sekjen Kementan.

Kementan telah meluncurkan berbagai kebijakan/regulasi dan program terobosan diantaranya penyediaan alsintan, perbaikan infrastruktur irigasi, pembuatan embung/dam parit, pengendalian impor padi, jagung, kedelai, cabai, bawang, dan daging, serta percepatan pembangunan pertanian di perbatasan.

"Hasil dari kebijakan dan program terobosan ini menunjukkan secara signifikan bahwa berbagai produksi pangan strategis meningkat tinggi, tata niaga pangan semakin efisien, impor pangan menurun dan meningkatnya kepuasan dan kesejahteraan petani," kata Mentan yang disampaikan Sekjen Kementan.
Jakarta (B2B) - Secretary General of the Indonesian Ministry of Agriculture reminds 400 civil servants in the ministry, who are under 40 years old to work with ´the spirit of the future´ and "do not just come to the office to fill in attendance list, lunch in the canteen, then sit waiting orders from the boss" because food has become a global issue and Indonesia should exploit the potential climate in the tropics to reach the target of ´2045 World Food Barns´.

Mr Priono reminded two crucial issues, food and climate change, seen in the growing migration of the population from the country´s food crisis to developed country, but developed countries in the subtropical region with four seasons are starting to worry about the impacts of climate change affecting food production due to the limited sunlight.

"Indonesia in the tropics with two seasons gets sunshine all year round as a potential for the development of modern agriculture. Indonesia´s main strength in the equator position, and the agriculture ministry should be the main drivers for realizing Indonesia´s target become the world´s food barn," said Mr Priono representing Agriculture Minister Andi Amran Sulaiman who is still abroad.

To the 400 participants of Leadership Training 2017: Mr. Priono who represents Minister Sulaiman reminded about the potential of Indonesian agriculture as a driver of the country´s economy, but still relies on other economic sectors.

"We are still unable to convince that we can be a driver of the national economy, we are still relying on other sectors because it focuses on economic growth, which is increasing but relying on imported raw materials," Minister Sulaiman Sulaiman said as quoted by Mr Priono.

He said the ministry has launched various policies/regulations and programs such as agricultural machinery, irrigation improvements, retention basin development, strategic food import control, and acceleration of agricultural development in border areas.

"This breakthrough policy and program show that increase of strategic food production, efficiency of the food trade, food imports are declining, and welfare of farmers," Mr Priyono said.