Pompa Air, Solusi Upsus Pajale Kebumen Atasi Kendala Musim Gadu
Indonesian Govt Seeks to overcome the Shortage of Water for Irrigation
Editor : M. Achsan Atjo
Translator : Dhelia Gani

PUBLISHED: Jum'at, 18 Mei 2018 , 02:53:00 WIB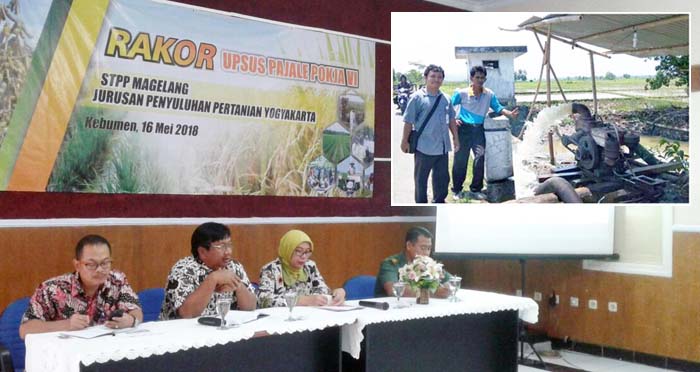 PJ Upsus Pajale Kebumen, Ali Rachman memimpin Rakor dengan Dinas Pertanian Kebumen, petugas data LTT dan Optimalisasi Alsintan, TNI AD khususnya Kodim 0709/Kebumen dan Babinsa Koramil (Foto2: STPP Yogyakarta)
Gombong, Jateng (B2B) - Penanggung Jawab upaya khusus padi, jagung, dan kedelai - PJ Upsus Pajale Kabupaten Kebumen terus berupaya mengatasi keterbatasan air untuk pengairan, dengan menambah jumlah pompa air untuk digunakan kelompok tani (Poktan) mengalirkan air dari sungai maupun embung ke lahan persawahan sehingga dapat mengatasi kendala curah hujan yang sudah mulai berkurang di wilayah Kebumen.
Hal itu dikemukakan PJ Upsus Pajale Kebumen, Ali Rachman pada rapat koordinasi dengan Dinas Pertanian Kebumen, petugas data luas tambah tanam (LTT) dan petugas data Optimalisasi Alsintan, dan TNI AD khususnya komando distrik militer - Kodim 0709/Kebumen dan para bintara pembina desa (Babinsa) dari komando rayon militer (Koramil) di seluruh wilayah kabupaten.
"Masih banyak sumber air yang dapat dimanfaatkan untuk pengairan, tapi kendalanya adalah belum mencukupinya jumlah pompa air untuk digunakan Poktan mengatasi kekurangan air di persawahan mereka," kata Ali Rachman yang juga menjabat Ketua Sekolah Tinggi Penyuluhan Pertanian - STPP Jurluhtan Yogyakarta di Gombong, Jateng pada Rabu (16/5).
Dari hasil pemantauan tim Upsus Pajale Kebumen, didapati banyak lahan persawahan yang sudah tertanami maupun pascapanen tidak mendapat suplai air yang memadai, Ali Rachman mengaku akan berupaya keras mengatasi kendala petani dengan memberi bantuan peminjaman pompa air untuk dimanfaatkan Poktan.
"Saat ini kecamatan yang sudah mendapatkan bantuan pinjaman pompa air adalah Kecamatan Ambal, tepatnya untuk Desa Ambalkebrek," kata Ali Rachman.
Saat ini petani di wilayah Kebumen lebih mengandalkan air hujan untuk mengairi lahan persawahan mereka, akan tetapi jika terjadi kemarau panjang dan curah hujan yang tidak menentu dapat mengakibatkan waktu tanam menjadi mundur, panen tidak bisa 100% berhasil, dan indeks pertanaman atau IP 300 belum bisa tercapai.
Dalam upaya mensukseskan program Upsus Pajale, salah satu upaya penyuluh pertanian lapangan (PPL) melalui sinergi dengan aparat desa, kelompok tani dan TNI AD untuk bersama-sama berupaya melakukan optimalisasi pemanfaatan pompa air, yang diawali dengan usaha Normalisasi Sungai Kalitolang yang mengalami pendangkalan.
Gombong of Central Java (B2B) - The Person in Charge of increase of strategic food production for Kebumen district or PJ Upsus Pajale Kebumen seeks to overcome the shortage of water for irrigation, by increasing the number of water pumps for use of farmer groups or Poktan.
It was stated by the PJ Upsus Pajale Kebumen, Ali Rachman at a coordination meeting with Kebumen agriculture service office, and related parties across the district.
"There are still many sources of water that can be used for irrigation, but the constraints to the number of water pumps for farmers are still limited," said Mr Rachman who also served as the Rector of Yogyakarta´s Agriculture Extention College.
The results of the monitoring team, there are still many rice fields that have been planted or postharvest, Mr Rachman said he will work hard to overcome farmers´ obstacles by lending water pumps.
"Currently, the subdistrict that has received a water pump is Ambal subdistrict," Mr Rachman said.
Currently farmers in the Kebumen region rely more on rainwater to irrigate their rice fields, if the dry season and minimal rainfall resulted in the plan to plant backward, rice yield may fail, and the crop index will be low.
agricultural extension workers must synergize with village officials, farmer groups and the army to optimize the use of water pumps, beginning with the shallow river normalization business.