Aram LTT 2018, Luas Tanam Padi Kalbar Masuk `Tiga Besar` Nasional
West Borneo`s Planting Area as the Third Largest in Indonesia
Editor : M. Achsan Atjo
Translator : Dhelia Gani

PUBLISHED: Senin, 30 Juli 2018 , 02:54:00 WIB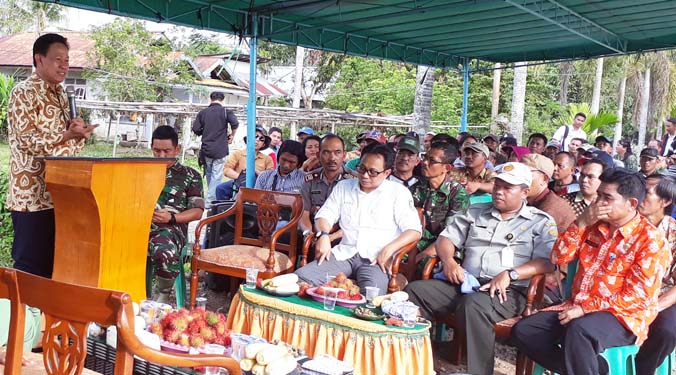 PJ Upsus Kalbar Momon Rusmono (berdiri kiri) menyampaikan arahan usai Gertam di Kabupaten Sanggau (Foto: B2B/Mac)
Sanggau, Kalbar (B2B) - Rapat pembahasan perkiraan produksi padi nasional 2018 di kota Solo, Provinsi Jawa Tengah, pekan lalu (24/7), mengurai pencapaian luas tambah tanam (LTT) yang ditargetkan Pemerintah RI. Provinsi Kalimantan Barat masuk peringkat ´tiga besar terbaik´ di 34 provinsi dari capaian luas dan persentase peningkatan luas tanam Oktober 2017 hingga Mei 2018 disingkat Okmei.
Capaian tersebut diumumkan oleh Penanggung Jawab Upsus Nasional Pajale (PJ Upsus Nasional) mewakili Menteri Pertanian RI Andi Amran Sulaiman pada pembahasan angka ramalan (Aram), angka sementara (Asem), dan angka tetap (Atap) di Solo.
Dari peningkatan LTT maka capaian Sumatera Utara yang tertinggi sebesar 78.000 hektar, Jawa Barat 71.000 hektar, dan Kalimantan Barat 69.000 hektar.
"Sementara dari persentase peningkatan LTT maka Kalbar juga berada di peringkat ketiga setelah Sulawesi Utara dan Sulawesi Barat. Dari hasil evaluasi capaian tiap provinsi tersebut maka Kalbar di peringkat pertama dari sisi persentase peningkatan luas tanam padi," kata PJ Upsus Kalbar, Momon Rusmono pada arahannya usai gerakan tanam (Gertam) di Kabupaten Sanggau, Kalbar pada Kamis (26/7).
Dia menambahkan, LTT Kalbar di 14 kabupaten/kota hingga Mei 2018 mencapai 350.000 hektar atau surplus luas tanam 50.000 hektar, ketimbang periode yang sama tahun lalu hanya mencapai 306.000 hektar.
Momon Rusmono menargetkan hingga September 2018 surplus luas tanam 100.000 hektar, produktivitas rata-rata 3,2 ton per hektar ekuivalen dengan 320.000 ton gabah kering panen (GKP) setara beras 160.000 ton.
"Berkat kerja keras semua pihak, LTT Kalbar per Mei 2018 surplus 50.000 ton. Tentu bukan hal yang muluk-muluk, kalau kami di kementerian mewakili Mentan Amran Sulaiman berharap banyak pada para petani dan para pemangku kepentingan untuk merealisasikan target surplus 100.000 hektar per September 2018," katanya pada Kamis petang (26/7) usai panen di sawah tadah hujan seluas 100.000 hektar yang diairi dengan air dari sumur bor.
Secara khusus dia mengucapkan terima kasih kepada para petani Kalbar, Kepala Dinas Pertanian Pemprov Kalbar, Heronimus Hero; Kepala Dinas Pertanian Pemkab Sanggau, John Henri; Kepala Balai Pengkajian Teknologi Pertanian - BPTP Kalbar, Achmad Musyafak; Komandan Kodim 1204/Sanggau - Sedakkau, Letkol Inf. Herry Purwanto mewakili para bintara pembina desa (Babinsa) dan para pemangku kepentingan di Kalbar.
Sanggau of West Borneo (B2B) - The coordination meeting on Indonesia´s 2018 rice production forecast in Solo city of Central Java province, last week (July 24) unraveling the achievement of extension of rice planting or LTT targeted by the central government in Jakarta. West Borneo is the best three of 34 provinces of planted area and the percentage increase from October 2017 to May 2018, called the Okmei.
The achievement was announced by Person in Charge of National Increase Food Production or the PJ Upsus Nasional represent the Agriculture Minister Andi Amran Sulaiman on the discussion of rice planting forecasts, temporary figures, and fixed figures in Solo.
For LTT improvement, North Sumatra´s highest achievement is 78,000 hectares, West Java is 71,000 hectares, and West Borneo is 69,000 hectares.
"Meanwhile, the percentage increase of LTT, West Borneo is ranked third after North Sulawesi and West Sulawesi province. For the evaluation of each province´s achievements, West Borneo is ranked first in terms of percentage increase of rice planting area," said PJ Upsus Kalbar, Momon Rusmono here on Thursday (July 26).
Mr Rusmono said until May 2018 reached 350,000 hectares or surplus planting area of 50,000 hectares, than the same period last year only 306,000 hectares.
He targeted to September 2018, surplus planted area of 100,000 hectares, the average productivity of 3.2 tons per hectare is equivalent to 320,000 tons of dry grain harvest or equal to 160,000 tons of rice.
"Thanks to the realization of Kalbar per May 2018 surplus planting area of 50,000 tons. The government expects the support of farmers and stakeholders, to realize a 100,000 hectares surplus target as of September 2018," Mr Rusmono said here on Thursday (July 26).
Mr Rusmono say thank you to support of farmers; Head of West Borneo Agriculture Office, Heronimus Hero; Head of Sanggau Agriculture Office, John Henri; Director of West Borneo´s Research Center for Agricultural Technology, Achmad Musyafak; Commander of Sanggau - Sedakkau´s Resort Military Regional Command, Lieutenant Colonel Inf Herry Purwanto; represent the village counselors, and stakeholders.