Dirgahayu HUT RI ke-72, Mentan Relakan Gaji Rp19 Juta untuk Pemenang Lomba
Indonesian Ministry Welcomes the Anniversary of Independence with Various Races
Reporter : Gusmiati Waris
Editor : Cahyani Harzi
Translator : Dhelia Gani

PUBLISHED: Jum'at, 11 Agustus 2017 , 02:58:00 WIB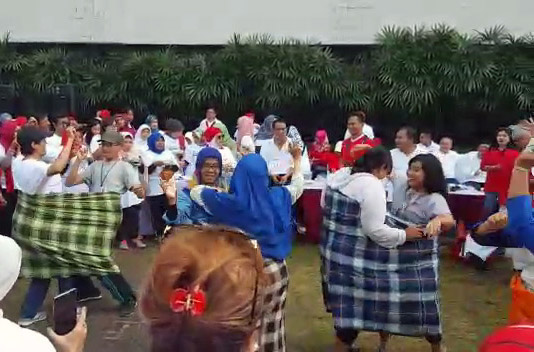 Mentan Andi Amran Sulaiman (duduk tengah) menjadi juri lomba joget yang diikuti wartawan (Foto: B2B/Gusmiati Waris)
Jakarta (B2B) - Menyambut HUT Kemerdekaan RI ke-72, Menteri Pertanian RI Andi Amran Sulaiman merelakan gajinya pada Agustus dan September untuk pemenang lomba minum susu dengan dot, tujuannya agar pemenang lomba dapat merasakan gaji seorang menteri sebesar Rp19 juta per bulan.

"Gaji saya bulan ini untuk pemenang pertama lomba, hadiah untuk juara dua sampai lima saya ambilkan dari gaji September dibagi empat, jadi masing-masing mendapat Rp5 juta," kata Mentan Amran Sulaiman, Kamis (10/8) pada kegiatan perlombaan yang berlangsung di kantor Kementerian Pertanian RI di kawasan Ragunan.

Selain menggelar berbagai perlombaan, Kementan juga menggelar bazar pangan lokal yang diikuti 60 UKM dari Jakarta, Banten, dan Jawa Barat yang berlangsung hingga hari ini (11/8), bertujuan mengangkat citra pangan lokal sebagai makanan dapat dikonsumsi oleh seluruh lapisan masyarakat.

"Kelak dengan menampilkan pangan lokal sebagai alternatif sumber pangan karbohidrat juga mempromosikan budaya pola makan dengan menu beragam, bergizi, seimbang dan aman," kata Mentan.

Kegiatan lomba HUT RI diikuti oleh para pejabat eselon satu yang bertanding voli melawan para pejabat eselon dua, dan para wartawan mengikuti lomba joget dalam sarung dengan hadiah dua ekor kambing untuk dua pemenang.
Jakarta (B2B) - Welcoming the 72th Anniversary of Indonesian Independence, Agriculture Minister Andi Amran Sulaiman gives his salary as minister for August and September to the winner of milk drinking competition.

"My salary in August for the first winner, while the prize for the second winner to five from the September salary, which is divided by four for each winner," Minister Sulaiman said here on Thursday (August 10).

The Indonesian Ministry of Agriculture also organized a local food bazaar which was attended by 60 SMEs from Jakarta, Banten and West Java which lasted until today (11/8), which aims to promote local food for all people.

"Local food is an alternative source of carbohydrates and encourages the diet of diverse, nutritious, balanced and safe menus," Mr Sulaiman said.

The race events were followed by first echelon officials against second echelon officials who competed in volleyball, and journalists followed the dance competition in sarongs.