BBPP Ketindan Gelar Pelatihan Tematik Kedelai di BPP Naibonat Kupang
Indonesian`s Agriculture Training Center Conducts Soybean Thematic Training in Kupang
Editor : M. Achsan Atjo
Translator : Dhelia Gani

PUBLISHED: Minggu, 22 Oktober 2017 , 00:30:00 WIB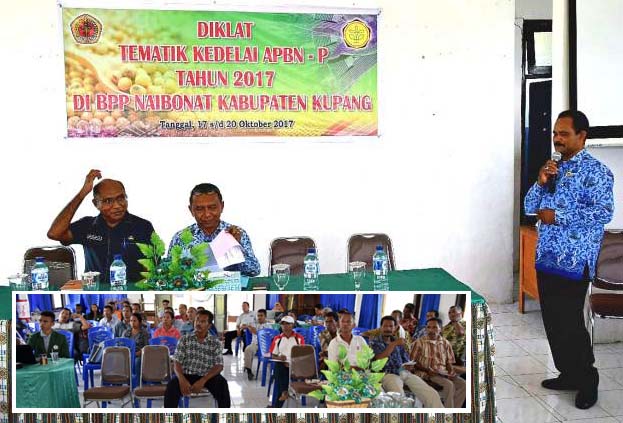 Foto: Humas BBPP Ketindan
Kupang, NTT (B2B) - Badan Pelaksana Penyuluhan Pertanian, Perikanan dan Kehutanan (BP4K) Kabupaten Kupang, Provinsi Nusa Tenggara Timur (NTT) menggandeng Balai Besar Pelatihan Pertanian (BBPP) Ketindan - Malang, Jawa Timur mengadakan pelatihan tematik komoditas kedelai program pendampingan dan pengawalan APBN-P 2017 yang berlangsung di balai penyuluhan pertanian (BPP) Naibonat, Kupang selama empat hari, 17 - 20 Oktober 2017.

Pelatihan tematik kedelai juga digelar di BPP kecamatan di Kabupaten Sumba Barat, Sikka, Rote Ndao, Malaka, Manggarai Timur, Ngada dan Lembata, dengan jumlah peserta sebanyak 30 orang.

Kegiatan pelatihan dibuka oleh Kepala Bidang Produksi Tanaman Pangan Kabupaten Kupang, Robertus Ongo didampingi Kepala Badan Pelaksana Penyuluhan Pertanian, Perikanan dan Kehutanan (BP4K) Kabupaten Kupang Marthen A Rahakbauw, yang diikuti oleh penyuluh pertanian alumni training of trainer (TOT).

"Peserta pelatihan tematik adalah petani penerima manfaat program perluasan areal tanam kedelai, yang merupakan bagian dari target Indonesia menjadi Lumbung Pangan Dunia 2045, khususnya swasembada kedelai 2018," kata Kepala BBPP Ketindan, Djajadi Gunawan melalui pernyatan tertulis.

Kegiatan pelatihan tematik menjadi kian menarik lantaran sekitar empat kilometer dari lokasi pelatihan diadakan pameran pembangunan yang berlangsung delapan hari, dalam rangka memperingati ulang tahun Kabupaten Kupang 'Oelamasi ke-11' yang melibatkan 24 kecamatan, satuan kerja perangkat daerah (SKPD), swasta dan masyarakat.

Pelatihan Tematik
Pelatihan tematik dilakukan di lokasi target pelatihan berbeda dengan pelatihan reguler yang dilaksanakan di balai pelatihan, dengan materi dan kurikulum yang telah ditetapkan oleh balai pelatihan. Sementara tema, materi, dan kurikulum pelatihan tematik disusun berdasarkan potensi pertanian di wilayah target pelatihan yang dilaksanakan di tingkat balai penyuluhan pertanian (BPP) tingkat kecamatan di masing-masing kabupaten/kota.

"BPP di tingkat kecamatan menjadi tempat kegiatan pelatihan tematik, karena BPP kecamatan merupakan kelembagaan penyuluhan pertanian yang langsung bersentuhan dengan masyarakat tani, sehingga dampak dari pelatihan dapat langsung diketahui oleh petani dan peternak," kata Djajadi Gunawan.

Materi dan kurikulum pelatihan tematik juga disusun bersama oleh BBPP Ketindan di Kabupaten Kupang dengan melibatkan BPP Naibonat.

"Model pelatihan menerapkan pembelajaran yang berorientasi pada pemecahan masalah dan pengambilan keputusan berdasarkan kesesuaian materi yang dibutuhkan peserta pelatihan," kata Djajadi.
Kupang of East Nusa Tenggara (B2B) - The Agricultural, Fisheries and Forestry Extension Agency of Kupang district in East Nusa Tenggara province with Ketindan Agricultural Training Center of Malang, East Java province held a thematic training of soybean commodities of mentoring program and guard of 2017 revised state budget in Naibonat's Agricultural Counseling Center, Kupang district for four days, 17 to 20 October 2017.

The soybean thematic training was also held at BPP subdistrict in West Sumba, Sikka, Rote Ndao, Malaka, East Manggarai, Ngada and Lembata, with a total of 30 participants.

The training was opened by the Head of Food Crops Division of Kupang district, Robertus Ongo, accompanied by the Head of the Agricultural Extension Agency, Fisheries and Forestry (BP4K) Kupang district, Marthen A Rahakbauw, followed by agricultural alumni training of trainers (TOT).

"The thematic participants are the beneficiaries of the soybean plantation expansion program, which is part of Indonesia's, especially the self-sufficiency of soybean in 2018," said Director of BBPP Ketindan, Djajadi Gunawan through written statement.

Thematic training activities are become more interesting because about four kilometers from the training site is held an eight-day development exhibition, in commemoration of the anniversary of Kupang district 'Oelamasi-11' involving 24 subdistricts, local unit of work units (SKPD), private and community.

The Tematic Training
The thematic training is conducted at the target location of the training differs from regular training, with the materials and curriculum set by the training center. Meanwhile theme, materials, and thematic curriculum are organized based on agricultural potentials in the target areas of training at subdistrict education extension centers in each district/city.

"The subdistrict training center is a place for thematic training activities, because it is an agricultural extension institution that is in contact with the farming community," Djajadi Gunawan said.

Thematic training materials and curriculum are also co-organized by BBPP Ketindan in Kupang district.

"The training model applies problem-oriented learning, and decision-making based on the material fit required by the trainees," he said.