Kapusluh Kementan Dorong Percepatan Adaptasi Paket Teknologi Spefisik Lokasi
Indonesian Govt Supports Application of Location-specific Agricultural Technology
Editor : M. Achsan Atjo
Translator : Dhelia Gani

PUBLISHED: Senin, 11 Juni 2018 , 03:05:00 WIB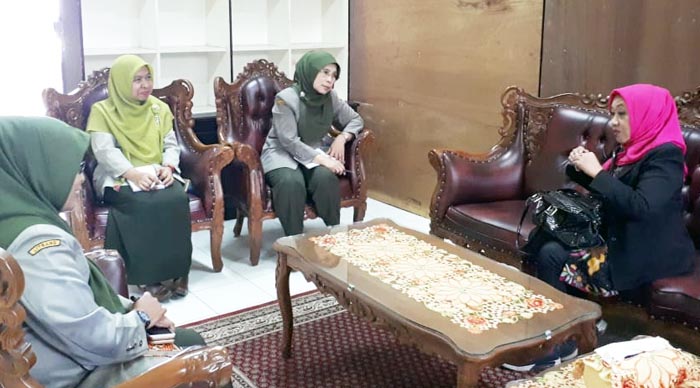 Kapusluhtan BPPSDSMP Kementan, Siti Munifah (kanan) diterima oleh Kepala Kerjasama dan Pelayanan Pengkajian, Aulia Evi Susanti mewakili Kepala BPTP Sumsel, Priatna Sasmita (Foto: Humas Pusluhtan)
Palembang, Sumsel (B2B) - Kementerian Pertanian RI mendorong percepatan pelaksanaan kegiatan ´adaptasi paket teknologi spesifik lokasi´ disingkat SL. Badan Penyuluhan dan Pengembangan SDM Pertanian (BPPSDMP) mengharapkan dukungan Balai Pengkajian Teknologi Pertanian (BPTP) untuk dilaksanakan oleh 340 Balai Penyuluhan Pertanian (BPP) di seluruh Indonesia sebagai ´garda terdepan´ dari lembaga penyuluhan nonstruktural di tingkat kecamatan.
Harapan tersebut dikemukakan oleh Kepala Pusat Penyuluhan Pertanian (Pusluhtan) Siti Munifah pada kunjungan kerja di BPTP Sumatera Selatan, Kamis (7/6) dan diterima oleh Kepala Kerjasama dan Pelayanan Pengkajian, Aulia Evi Susanti mewakili Kepala BPTP Sumsel, Priatna Sasmita. Turut hadir peneliti Dedeh Hadiyanti dan Suri Emma.
"Kegiatan adaptasi paket teknologi diharapkan dapat mendorong peningkatan produksi dan produktivitas komoditas pertanian unggulan strategis, untuk mendukung swasembada pangan berkelanjutan," kata Siti Munifah.
Upaya akselerasi percepatan pelaksanaan adaptasi teknologi SL akan dilaksanakan 340 BPP yang melibatkan para penyuluh pertanian melalui kegiatan kursus tani di lokasi SL, mengamati dan mencatat perkembangan pelaksanaan SL, melaksanakan farmers field day (FFD) di lokasi SL, dan melaporkan hasil pelaksanaan SL.
"Penerapan paket teknologi yang telah direkomendasikan dapat digunakan sesuai kebutuhan di wilayah kerja penyuluh pertanian masing-masing. Pasalnya, penelitian dan penyuluhan pertanian merupakan komponen terpenting dalam mewujudkan program SL," kata Siti Munifah.
Kapusluh BPPSDMP Kementan mengingatkan bahwa percepatan pembangunan pertanian di kecamatan, tidak terlepas dari dukungan pendampingan dan pengawalan penyuluh pertanian di BPP, yang merupakan lembaga nonstruktural terdepan di kecamatan. BPP berfungsi sebagai tempat pertemuan para penyuluh pertanian, petani dan pelaku usahatani.
"BPP harus mampu mengoordinasikan, mensinergikan dan menyelaraskan kegiatan pembangunan pertanian di wilayah kecamatan dengan pemangku kepentingan lainnya," kata Siti Munifah.
Penyuluh pertanian berperan penting dan strategis dalam mengawal program pembangunan pertanian, ebagai faktor penggerak pelaku pembangunan pertanian maka harus mampu dan berperan aktif menjadi komunikator, fasilitator, advisor, motivator, edukator, organisator dan dinamisator mendampingi dan mengawal petani melaksanakan program pembangunan pertanian. Tujuannya adalah mencapai swasembada pangan berkelanjutan, diversifikasi pangan, peningkatan nilai tambah, daya saing dan ekspor komoditas pertanian.
Dia mengingatkan bahwa penyuluh pertanian harus menggerakkan pemanfaatan alat dan mesin pertanian (Alsintan) di wilayah kerja masing-masing, dengan pendampingan dan pengawalan berkelanjutan untuk mendapatkan hasil maksimal mendukung pencapaian targedt luas tambah tanam (LTT).
Palembang of South Sumatera (B2B) - The Indonesian Agriculture Ministry supports the acceleration of use of technology specific location or SL. Directorate General of Agricultural Extension and Agricultural Human Resources or the BPPSDMP expects the support of Agricultural Technology Assessment Center or the BPTP to be implemented by 340 agricultural extension centers or BPP across the country as an agricultural extension agency in subdistrict level.
It was stated by Director of Agriculture Extention Center or Pusluhtan, Siti Munifah on a working visit at BPTP Sumsel here on Thursday (June 7) and met with Head of Cooperation and Assessment Service, Aulia Evi Susanti representing Director Priatna Sasmita who was accompanied by researcher Dedeh Hadiyanti and Suri Emma.
"Package technology adaptation activities are expected to boost production and productivity of strategic agricultural commodities, to support sustainable food self-sufficiency," Mrs Munifah said.
The activities will be carried out by 340 BPP involving agricultural extensionist through agricultural course activities at SL sites, observe and record the progress of SL implementation, farmers field day at SL location, and report on SL implementation results.
"The application of recommended technology packages can be used as needed in the work area of agricultural extension workers respectively. Research and counseling is the most important component in realizing the SL program," Mrs Munifah said.
She reminded the acceleration of agricultural development in subdistrict should be supported by assistance and guidance of agricultural extensionist in the BPP, as a non-structural institution in subdistrict. The BPP serves as a meeting place for agricultural extensionist and farmers.
"BPP should be able to coordinate, synergize and harmonize agricultural development activities in the subdistricts with other stakeholders," Mrs Munifah said.
Agricultural extensionists play an important role in supporting agricultural development programs, The goal is to achieve sustainable food self-sufficiency, food diversification, increased value-added agricultural production, competitiveness and export of agricultural commodities.
She reminded that agricultural extensionist should mobilize the use of agricultural machinery or Alsintan in their respective working areas, with ongoing facilitation and escort to get maximum results support the achievement of plant extensification targets.