Puasa Bukan Halangan, BPTP Kaltim Dukung Gertam dan Opsin Capai Target LTT
East Boreno Province Maximize the Utilization of Agricultural Mechanization
Editor : M. Achsan Atjo
Translator : Dhelia Gani

PUBLISHED: Kamis, 14 Juni 2018 , 03:14:00 WIB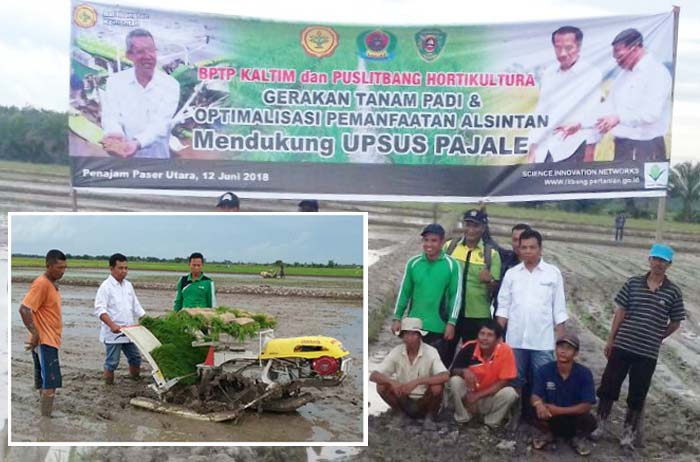 Kepala BPTP Kaltim, Muhammad Amin memimpin Gertam dan Opsin Kabupaten Penajam Paser Utara (PPU) dan menguji coba rice transplanter bersama penyuluh pertanian setempat (Foto2: Humas BPTP Kaltim)
Penajam Paser Utara, Kaltim (B2B) - Sedikitnya 40 orang yang sebagian besar berpuasa terlibat pada gerakan tanam padi (Gertam) dan optimalisasi pemanfaatan Alsintan (Opsin) dengan mekanisasi pertanian di Kabupaten Penajam Paser Utara (PPU), Provinsi Kalimantan Timur, Selasa (12/6), dalam kegiatan ´kaji terap´ yang digelar oleh Balai Pengkajian Teknologi Pertanian - BPTP Kaltim di Kecamatan Babulu untuk mendukung luas tambah tanam (LTT) seluas 95 hektar di empat desa.
Mekanisasi pertanian menjadi fokus perhatian BPTP Kaltim di Kecamatan Babulu, PPU untuk mengoptimalkan Alsintan bantuan Pemerintah RI melalui Kementerian Pertanian berupa satu unit mesin panen besar (combine harvester), 16 unit pompa air, tiga unit rice transplanter, dan tiga unit traktor tangan roda dua (TR2), untuk mendukung kegiatan Gertam yang memanfaatkan tiga varietas unggul baru (VUB) seperti Inpari 30, Inpari 32 dan Inpago 8.
"Mekanisasi pertanian merupakan satu faktor penting dalam pengembangan pertanian modern yang berkelanjutan dan berkesinambungan, BPTP Kaltim sebagai UPT dari Badan Litbang Pertanian Kementan bertanggung jawab dalam pengembangan pertanian modern," kata Kepala BPTP Kaltim, Muhammad Amin.
Menurutnya, Badan Litbang Pertanian melalui BPTP Kaltim memperkenalkan pemanfaatan Alsintan dalam proses budidaya, tidak hanya penggunaan dalam kegiatan pengolahan lahan, penanaman dan pemeliharaan tanaman bahkan dalam tahapan panen juga memanfaatkan Alsintan.
Kholil selaku koordinator penyuluh pertanian lapangan (PPL) dari Balai Penyuluhan Pertanian (BPP) Kecamatan Babulu menyambut baik kegiatan ´kaji terap´ berharap mekanisasi pertanian akan mendorong munculnya generasi baru pertanian.
"Mekanisasi pertanian menjadi penentu keberhasilan dalam program Upsus Pajale untuk mencapai target LTT," kata Kholil.
Muhammad Amin mengingatkan bahwa PPL menjadi penentu keberhasilan mekanisasi pertanian untuk mencapai target LTT dan Opsin menunjang peningkatan produksi pangan strategis, karena PPL berperan tak ubahnya ´nakhoda´ dalam menggerakkan petani bekerja keras meningkatkan hasil pertanian.
North Penajam Paser of East Borneo (B2B) - At least 40 people join rice cultivation activities with agricultural machinery in the North Penajam Paser district of East Borneo province, Tuesday (June 12) held by East Borneo´s Assessment Institute for Agricultural Technology called the BPTP Kaltim to support extensification of rice cultivation or LTT on 95 hectares of paddy fields in four villages.
The agricultural mechanization become the focus of BPTP Kaltim in Babulu subdistrict to optimize agricultural machinery of Indonesian government assistance such as one large combine harvester unit, 16 units of water pumps, three rice transplanter units, and three units of two-wheeled tractors to support the planting of three new varieties: Inpari 30, Inpari 32 and Inpago 8.
"The agricultural mechanization is a major factor in the development of sustainable modern agriculture, the BPTP Kaltim BPTP as the technical implementation unit of the ministry responsible to support development of modern agriculture," said Director of BPTP Kaltim, Muhammad Amin.
According to him, Indonesian agricultural research and development agency or Balitbangtan through the BPTP Kaltim introduces the use of agricultural machinery in the cultivation process, not only for land processing, planting, crop maintenance even in rice yield activities.
Kholil as coordinator of agricultural extensionist of subdistrict office to appreciate the agricultural mechanization to encourage regeneration in the agricultural sector.
"The agricultural mechanization be the determinant of rice production increase program to achieve rice self-sufficiency," Kholil said.
Mr Amin reminded that agricultural extensionist are the decisive success of reaching LTT targets, and agricultural machinery supports increased rice production.