Hari Kesadaran Nasional, Momentum STPP Yogyakarta Refleksi Kemerdekaan RI
The National Awareness Day is a Reflection Keep the Indonesian`s Independence
Editor : M. Achsan Atjo
Translator : Dhelia Gani

PUBLISHED: Jum'at, 18 Mei 2018 , 03:40:00 WIB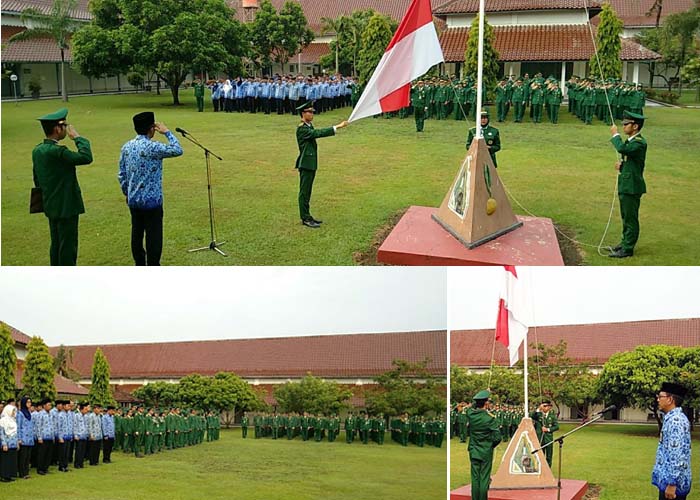 Kabag Administrasi Umum STPP Jurluhtan Yogyakarta, Irwan Johan Sumarno memimpin upacara Hari Kesadaran Nasional mewakili Ketua STPP Yogyakarta, Ali Rachman (Foto2: Humas STPP Yogyakarta)
Yogyakarta (B2B) - Hari Kesadaran Nasional yang dilaksanakan melalui upacara tanggal 17 setiap bulan bermakna membangkitkan semangat persatuan dan kesatuan bangsa, sekaligus kesadaran mempertahankan Kemerdekaan RI yang diperingati setiap tanggal 17 Agustus setelah diproklamirkan oleh Soekarno - Hatta pada 1945, yang juga bertepatan dengan hari pertama bulan suci Ramadan tahun ini.
"Upacara setiap tanggal 17 sebagai hari kesadaran nasional setiap bulan bertujuan mengingatkan kita untuk melakukan refleksi terhadap perilaku, aturan, dan kebijakan sekaligus menjadi momentum bagi bangsa dan rakyat Indonesia untuk mempertahankan dan mengisi kemerdekaan," kata Ketua Sekolah Tinggi Penyuluhan Pertanian Jurluhtan - STPP Yogyakarta, Ali Rachman pada pidato arahannya yang disampaikan oleh Kabag Administrasi Umum, Irwan Johan Sumarno di halaman kampus pada Kamis pagi (17/7).
Menurut Ali Rachman, kesadaran nasional bukanlah keadaan yang pasif melainkan suatu proses aktif untuk mengerti keadaan hari ini untuk keadaan esok yang lebih baik. Kesadaran nasional pada akhirnya akan mengarahkan kita untuk menjalani kehidupan dengan mantap dalam koridor yang benar.
"Kesadaran pula menjadi ekspresi keberanian untuk berubah pada saat melakukan kesalahan, dan kesadaran nasional itulah yang diperlukan bangsa Indonesia hari ini," kata Irwan JS mengutip arahan Ketua STPP Yogyakarta.
Komitmen dan disiplin menjadi kunci sukses sebuah organisasi melalui kegiatan apel pagi setiap Senin dan tanggal 17 setiap bulan, maupun hari-hari tertentu yang dianggap penting, sebagai komponen utama dalam pembentukan karakter maupun penajaman visi, misi dan tujuan organisasi.
Apel pagi menjadi kegiatan teratur dan rutin dilakukan oleh Sekolah Tinggi Penyuluhan Pertanian - STPP Yogyakarta yang diikuti oleh mahasiswa, para pegawai, dan pimpinan dari kampus terpadu di Jl Kusumanegara 2 di sisi utara dari ´kota gudeg´ tersebut.
"Apel pagi walau berlangsung singkat dapat dimanfaatkan untuk menyampaikan berbagai informasi penting terkait kegiatan belajar mengajar dan manajemen organisasi sebagai bagian dari Kementerian Pertanian RI," kata Irwan JS mengutip arahan Ali Rachman.
Menurutnya, banyak manfaat dari pelaksanaan apel pagi diantaranya, membiasakan disiplin juga membuka ruang dalam koordinasi, komunikasi, meningkatkan silaturahmi, dan rasa kekeluargaan.
Yogyakarta (B2B) - National Awareness Day which is held through the 17th of every month ceremony means raising the spirit of national unity and unity, as well as the awareness to defend the Indonesian Independence which is commemorated every August 17 after proclaimed by Soekarno - Hatta in 1945, which also coincides with the first day of this year´s holy month of Ramadan.
"The ceremony every 17th day as national awareness day every month aims to remind us to reflect behavior, rules, and policies as well as become a momentum for the nation and people of Indonesia to maintain and fill the nation´s independence," said Rector of the Yogyakarta´s Agriculture Extention College or STPP Yogyakarta in his speech delivered by the Head of General Affairs of STPP Yogyakarta, Irwan Johan Sumarno on the campus yard on Thursday morning (May 17).
The National Awareness Day is not a passive state but an active process to understand today´s situation for a better tomorrow. The National Awareness Day will ultimately lead us to live life steadily in the right corridor.
"Awareness is also an expression of courage to change when making mistakes, and is what the Indonesian people need today," said Mr Sumarno cited the direction of Rector STPP Yogyakarta.
The commitment and discipline become the key success of an organization through the morning ceremony activities every Monday and the 17th of each month, as well as certain important days, as the main component shaping the character and sharpening the vision, mission and goals of organization.
The morning ceremony is a regular and routine activity carried out by the Yogyakarta´s Agriculture Training Center or STPP Yogyakarta was attended by students, employees, and leaders of an integrated campus in 2 Kusumanegara Street on the north side of Yogyakarta.
"The morning ceremony can be used to convey various information related to teaching and learning activities, and organizational management as part of the Indonesian Agriculture Ministry," said Mr Sumarno cited his boss, Mr Rachman.
According to him, many benefits of the implementation of the morning ceremony, among others, to improve discipline, coordination and communication, friendship, and kinship.