Target 3,7 Juta Ton, Realisasi Serap Gabah per 16 Juli Capai 2,7 Juta Ton
Indonesian Army Support the Rice Self-sufficiency
Editor : M. Achsan Atjo
Translator : Dhelia Gani

PUBLISHED: Sabtu, 22 Juli 2017 , 00:34:00 WIB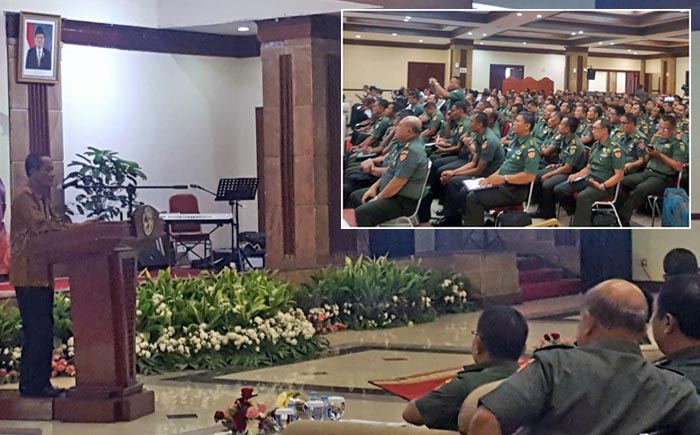 Kepala BKP Kementan memimpin rakorgab Evaluasi dan Percepatan Serap Gabah Petani Tahun 2017 yang dihadiri para kadistan provinsi, pada komandan Korem dan Kodim (Foto2: Humas Kementan/Budi Wibowo)
Jakarta (B2B) - Realisasi serap gabah petani di bawah standar kualitas oleh Perum Badan Urusan Logistik (Bulog) hingga 16 Juli 2017 mencapai 2.758.914 ton gabah atau 1.379.457 ton setara beras, dari target 3.727.019 ton setara beras pada Maret hingga Agustus 2017 dengan fokus pembelian pada 127 kabupaten di 17 provinsi sentra produksi beras.

Hal itu dikemukakan oleh Kepala Badan Ketahanan Pangan (BKP) Agung Hendriadi pada rapat koordinasi gabungan (Rakorgab) yang dihadiri oleh Dirut Perum Bulog Djarot Kusumayakti, Asisten Teritorial Kasad Mayjen TNI Widagdo Hendro Sukoco, kepala dinas pertanian provinsi, kepala BKP provinsi, para komandan Korem dan komandan Kodim dari seluruh Indonesia.

"Rapat koordinasi gabungan kali ini bertujuan mengevaluasi pelaksanaan serap gabah yang berlangsung sejak Maret hingga pertengahan Juli 2017, dan menyusun langkah pencapaian target hingga Agustus 2017," kata Agung Hendriadi di Jakarta pada Rabu (19/7) sehari setelah dilantik sebagai Kepala BKP Kementan.

Sementara Mayjen TNI Widado HS melakukan evaluasi kinerja komando resort militer (Kodim) di 17 provinsi dalam pelaksanaan serap gabah, Aster Kasad secara khusus menyoroti kinerja komandan Kodim yang belum mampu mencapai target. "Kita ini tentara, tidak pernah mengenal kata gagal setelah mendapat perintah."

Agung menambahkan swasembada beras tercapai pada 2016, yang tercapai berkat dukungan semua pihak mendukung petani meningkatkan produksi padi, dan Kementerian Pertanian RI tetap komitmen untuk melaksanakan program dan kebijakan untuk mendukung kinerja petani seperti penyediaan benih unggul, alat mesin pertanian, pupuk bersubsidi dan penyuluhan.
Jakarta (B2B) - Indonesian government through the logistics agency (Bulog) seeks to buy rice from farmers even under quality, conducted since March 2017, and by July 16 Bulog has bought 2.7 million tons of grain or equal to 1.3 million tons of rice, with target of 3.7 million tons of rice until August 2017, according to senior official of agriculture ministry.

It was stated by the Director General of Food Security Agency (BKP) Agung Hendriadi at coordination meeting was attended by President Director of Bulog Djarot Kusumayakti, Territorial Assistant of Indonesian Army Major General TNI Head Widagdo Hendro Sukoco, heads of provincial agricultural offices, commanders of resort military command (Korem) and district military command (Kodim) across the country.

"The coordination meeting aims to evaluate grain purchasing activities by Bulog from March to mid-July 2017, and the strategy of achieving the target until August 2017," said Agung Hendriadi here on Wednesday (July 19).

While Maj. Gen. Widado HS evaluated the performance of military resort command in 17 provinces, he specifically criticized the performance of military district commanders who failed to achieve targets. "We are soldiers, should not fail after instructed by the commander."

Mr Hendriadi added that rice self-sufficiency is achieved by 2016 after being supported by all parties supporting farmers to increase rice production, and the agriculture ministry's commitment to implement programs and policies such as the provision of superior seeds, agricultural machine tools, subsidized fertilizers and agricultural extension.