RI Berupaya Buka Pasar Baru Ekspor, Antisipasi `Oversupply` Daging Ayam Olahan
Indonesia Seeks New Export Markets, Anticipate Oversupply Processed Chicken Meat
Reporter : Gusmiati Waris
Editor : Cahyani Harzi
Translator : Dhelia Gani

PUBLISHED: Kamis, 22 Juni 2017 , 04:25:00 WIB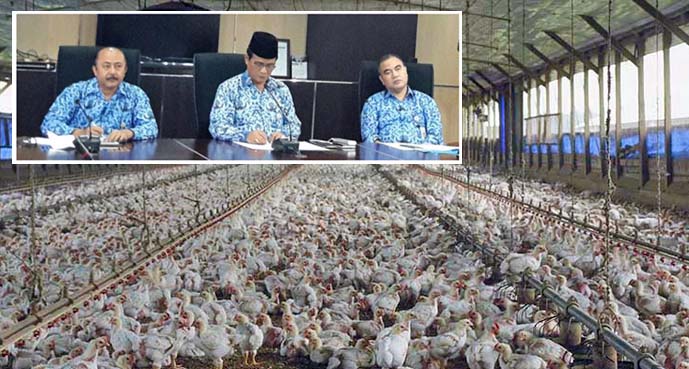 Dirjen Peternakan I Ketut Diarmita (tengah) didampingi pejabat eselon dua Ditjen Peternakan dan peternakan ayam ras (Foto: Humas Kementan/Rusman Inguana)
Jakarta (B2B) - Pemerintah RI berupaya membuka pasar ekspor baru daging ayam olahan di mancanegara untuk mencegah kelebihan pasokan daging ayam di dalam negeri, dan saat ini Jepang telah menetapkan lima unit usaha pengolahan daging yang disetujui untuk melakukan ekspor ke Jepang.

Dirjen Peternakan I Ketut Diarmita mengatakan dalam penyediaan protein hewani asal ternak, saat ini Indonesia telah mencapai swasembada ayam, bahkan telah mengekspor telur ayam tetas (hatching eggs) ke Myanmar dan daging ayam olahan ke Papua Nugini dan Timor Leste.

"Untuk subsektor perunggasan khususnya ayam ras, faktor kritis yang menjadi perhatian pemerintah adalah pengaturan keseimbangan supply dan demand dalam rencana produksi nasional setelah Indonesia berhasil mencapai swasembada daging ayam," kata Diarmita kepada pers di Jakarta pada Rabu (21/6).

Menurutnya, rencana produksi tersebut dengan memperhatikan eksistensi dan keberlangsungan usaha para pebisnis perunggasan yaitu pelaku usaha integrasi, pelaku usaha mandiri, koperasi, dan peternak. Pemerintah juga telah menetapkan regulasi terkait hal itu melalui peraturan menteri pertanian (Permentan No 61/2016 tentang Penyediaan, Peredaran, dan Pengawasan Ayam Ras.

Dia menambahkan, faktor lain yang dicermati pada subsektor perunggasan adalah target Kementan untuk zero impor jagung sebagai bahan pakan ternak. Hal itu akan dicapai melalui upaya khusus penambahan luas areal penanaman jagung di lahan khusus, dan melakukan kerjasama penyerapan dan pembelian hasil panen jagung oleh pabrik pakan.

"Semua langkah tersebut bertujuan mendukung kebijakan pembangunan nasional terutama mewujudkan pencapaian ketahanan pangan, dan pembangunan peternakan untuk mencapai ketahanan pangan melalui penyediaan protein hewani asal ternak," kata Diarmita.

Dia menegaskan komitmen Kementan bahwa ketahanan pangan tidak mencakup ketersediaan pangan yang cukup, tetapi juga kemampuan untuk mengaksesnya, termasuk membeli pangan, dan tidak terjadi ketergantungan pangan impor.
Jakarta (B2B) - The Indonesian government seeks new export markets for processed chicken meat in foreign countries, after Papua New Guinea and East Timor, to prevent oversupply in the country, to prevent overpopulation of domestic chickens, and currently Japan has set up five processing businesses approved for export To Japan, according to senior official.

Director General of Livestock I Ketut Diarmita said in provide animal protein, Indonesia has now reached self-sufficiency in chicken meat, and exported hatching eggs to Myanmar and processed chicken meat to Papua New Guinea and Timor Leste.

"For the poultry subsector, especially the chicken, the government focus on the critical factor in setting up the supply and demand balance related to the national production plan after Indonesia succeeds in self-sufficiency of chicken meat," Diarmita told reporters here on Wednesday (June 21).

According to him, the production plan takes into account the existence and sustainability of the business of integration entrepreneurs, independent entrepreneurs, cooperatives, and farmers. The government has also established regulations through the Minister of Agriculture´s Regulation (Permentan No. 61/2016 on the Supply, Distribution and Control of Chicken Race.

He added, another factor observed in the poultry subsector is the target of the Ministry of Agriculture to zero import of maize for animal feed. Achievement measures are made through special efforts to increase the area of maize, and to cooperate with feed factories to buy farmers´ produce.

"The goal is to support national development policies, especially to achieve food security, and livestock development to provide animal protein," Mr Diarmita said.

He affirmed the Ministry´s commitment that food security does not include adequate food availability, but also the ability to access it, including food purchases, and no dependence on imported food.