PKL di Cilacap, 36 Mahasiswa STPP Magelang Jurluhtan `Magang` pada PPL
Indonesian`s Agricultural Extension Students must be Apprenticed in Rural Areas
Editor : M. Achsan Atjo
Translator : Dhelia Gani

PUBLISHED: Selasa, 03 Juli 2018 , 04:27:00 WIB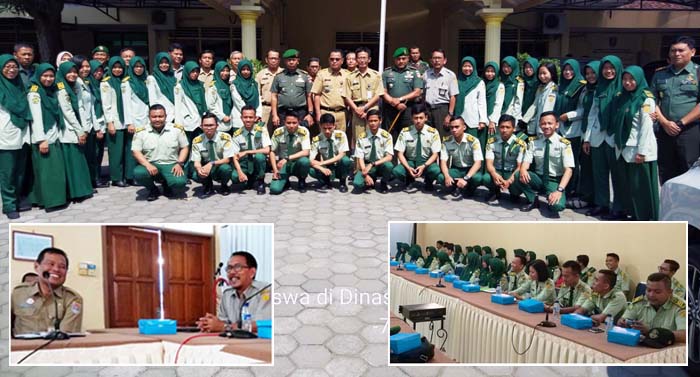 Kabag Administrasi Umum STPP Jurlhutan Yogyakarta, Irwan JS bersama 36 mahasiswa PKL, Kadistan Cilacap Gunawan MM, Dandim 0703/Cilacap Letkol Inf Yudi P dan Koordinator PKL, Budi Wijayanto (Foto2: Humas STPP Magelang)
Cilacap, Jawa Tengah (B2B) - Pemerintah Kabupaten Cilacap, Provinsi Jawa Tengah menyambut baik kehadiran 36 mahasiswa Sekolah Tinggi Penyuluhan Pertanian - STPP Magelang dari jurusan penyuluhan pertanian (Jurluhtan Yogyakarta) untuk praktek kerja lapangan (PKL) selama dua bulan, Juli dan Agustus, fokus pada belajar sambil bekerja atau magang pada penyuluh pertanian lapangan (PPL) dan petani khususnya PKL tematik optimalisasi Alsintan di delapan kecamatan di Cilacap.
Serah terima 36 mahasiswa berlangsung di Cilacap, Senin (2/7) yang dilepas oleh Ketua STPP Magelang Jurluhtan Yogyakarta, Ali Rachman diwakili Kabag Administrasi Umum, Irwan Johan Sumarno dan diterima oleh Kepala Dinas Pertanian Cilacap, Gunawan MM. Turut hadir Komandan Kodim 0703/Cilacap Letkol Inf Yudi Purwanto dan Instruktur Alsintan STPP Yogyakarta sekaligus Koordinator PKL, Budi Wijayanto.
"Kegiatan PKL selama dua bulan bertujuan meningkatkan pengetahuan, pengalaman dan wawasan mahasiswa di luar kampus, untuk belajar dan menimba pengalaman dengan PPL dan petani, sehingga mereka siap pakai begitu lulus dari STPP Yogyakarta," kata Irwan JS mewakili Ali Rachman.
Menurutnya, target utama PKL di Cilacap untuk mendukung program pemerintah khususnya di Kementerian Pertanian RI dalam program upaya khusus padi, jagung, dan kedelai (Upsus Pajale) dan Optimalisasi Alsintan (Opsin) yang gencar dilakukan oleh Pemerintah RI untuk mendukung peningkatan produksi pangan strategis.
Ke-36 mahasiswa STPP Jurluhtan Yogyakarta akan disebar di delapan kecamatan yakni Nusawungu, Binangun, Adipala, Kroya, Sampang, Maos, Kesugihan, dan Kawunganten.
Gunawan MM menambahkan PKL merupakan kegiatan wajib mahasiswa, dan Pemkab Cilacap akan memberikan bantuan dan dukungan kepada mahasiswa STPP Jurluhtan Yogyakarta selama berada di Cilacap mulai dari masyarakat, kepala desa dan camat.
"Kami berharap selama berada di Cilacap, para mahasiswa dapat beradaptasi dan menyesuaikan diri dengan kondisi sosial dan budaya di sini, mewakili Pemkab Cilacap, kami mengapresiasi STPP Jurluhtan Yogyakarta memilih Cilacap untuk kegiatan PKL," kata Kadistan Gunawan MM.
Cilacap of Central Java (B2B) - Indonesia´s Cilacap District Government of Central Java province welcomes field work practices of 36 students of Yogyakarta´s Agriculture Extension College or STPP Magelang for two months, July and August, focus on apprenticeship with agricultural extensionist and farmers in eight subdistricts in Cilacap.
Rector of STPP Magelang, Ali Rachman represent by the Head of General Affairs of STPP Yogyakarta, Irwan Johan Sumarno handed over 36 students for apprenticeship in Cilacap on Monday (July 2) and received by the Head of Cilacap agriculture office, Gunawan MM. It was attended Cilacap Regional Military Commander Lt. Col. Yudi Purwanto.
"The internship activity aims to improve students´ knowledge and insight outside campus to get experience of agricultural extensionist and the farmers," Mr Sumarno represent his boss, Mr Rachman.
According to him, the main purpose of activities in Cilacap to support government programs, especially in the Indonesian Agriculture Ministry to support increasing strategic food production and optimizing the use of agricultural machinery.
The 36 students will be deployed in eight subdistricts namely Nusawungu, Binangun, Adipala, Kroya, Sampang, Maos, Kesugihan, and Kawunganten.
Gunawan said the internship is a mandatory student activity, and Cilacap district government will provide assistance and support to the students in Cilacap from the community, village heads and subdistrict heads.
"We hope during their stay in Cilacap, students can adapt to social and cultural conditions of society," he said