Bimtek Kedelai BPTP Kaltim Dukung Kementan Capai Swasembada Kedelai 2018
Indonesian Agricultural Research Agency Support of Soybean Self-sufficiency
Reporter : Gusmiati Waris
Editor : Cahyani Harzi
Translator : Dhelia Gani

PUBLISHED: Rabu, 08 November 2017 , 04:57:00 WIB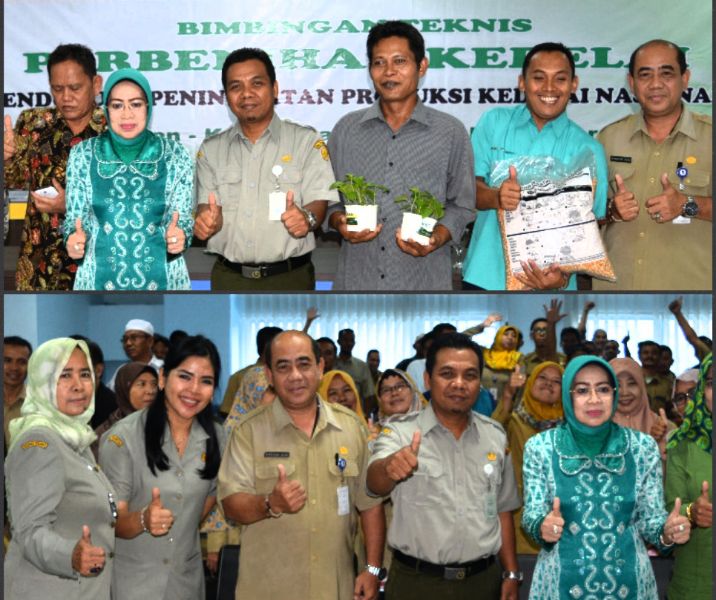 BIMTEK KEDELAI BPTP KALTIM: Kepala BPTP Kaltim, Mohammad Amin (atas ke-3 kiri) dengan Anggota Komisi IV DPR Hj Kasriyah (atas ke-2 kiri) bersama peserta Bimtek dan pimpinan BPTP Kaltim.
Balikpapan, Kaltim (B2B) - Sekitar 200 petani, penyuluh pertanian dan penangkar benih kedelai dari empat kabupaten di Provinsi Kalimantan Timur mengikuti bimbingan teknis (Bimtek) di Balikpapan, yang diselenggarakan oleh Badan Penelitian dan Pengembangan Pertanian (Balitbangtan) pada Senin (6/11) dan dibuka oleh Kepala Badan Pengkajian dan Penerapan Teknologi Pertanian (BPTP) Kaltim, Mohammad Amin, untuk mendorong peningkatan produksi, produktivitas, dan mutu hasil tanaman pangan.
Peserta Bimtek berasal dari empat kabupaten di Kaltim yakni Balikpapan, Penajam Paser Utara, Tanah Grogot, dan Kutai Kartanegara.
Mohammad Amin mengatakan tujuan kegiatan Bimtek kedelai mendukung program Nawa Cita dari Presiden RI Joko Widodo - Jusuf Kalla untuk mencapai kedaulatan pangan nasional, dan BPTP Kaltim berupaya mewujudkan target Kementerian Pertanian mencapai swasembada pangan, khususnya kedelai yang dicanangkan dan ditargetkan oleh Mentan Andi Amran Sulaiman dapat terwujud pada 2018.
"BPTP Kaltim sebagai UPT dari Badan Litbang Kementan berupaya meningkatkan kemampuan petani, penyuluh pertanian, dan penangkar benih untuk meningkatkan produktivitas kedelai, yang saat ini rata-rata hanya satu ton per hektar," kata Mohammad Amin.
Kegiatan Bimtek mendapat perhatian khusus dari Anggota Komisi IV DPR, Hj Kasriyah yang menyempatkan diri untuk mendukung dan mendorong BPTP Kaltim melaksanakan tugas pokok dan fungsi (Tupoksi) dalam meningkatkan kemampuan dan keterampilan petani menangani tanaman kedelai.
"Komisi IV sebagai mitra kerja Kementerian Pertanian terus mengupayakan agar pemerintah pusat dan daerah melakukan sinergi dan kemitraan untuk kepentingan petani dan memenuhi kebutuhan konsumen. Saya harapkan Bimtek seperti ini lebih sering diadakan untuk kepentingan petani, rakyat dan negara," kata politisi dari Partai Persatuan Pembangunan di daerah pemilihan (Dapil) Kaltim.
Mohammad Amin menambahkan BPTP Kaltim mengapresiasi minat dan antusias para peserta Bimtek menyimak, bertanya dan berdiskusi dengan narasumber maupun peserta lainnya.
Materi yang disampaikan antara lain tentang varietas unggul dari Badan Litbang Pertanian, teknologi perbenihan kedelai yang menjadi unggulan Balitbangtan, proses sertifikasi benih kedelai, peranan perguruan tinggi dalam menjawab permasalahan kelembagaan, dan pemasaran benih kedelai di Kaltim untuk memenuhi kebutuhan daerah.
Mohammad Amin mengakui potensi swasembada kedelai di Kaltim cukup besar, namun perlu didorong dengan inovasi teknologi maka kegiatan Bimtek tersebut sangat tepat untuk mendukung pencapaian swasembada kedelai 2018.
Balikpapan of East Borneo (B2B) - Around 200 farmers, agricultural extension workers and seed breeders of soybean from four districts in East Kalimantan province attended technical guidance in Balikpapan, the provincial capital, which was held by Indonesian Agriculture Ministry´s Agricultural Research and Development Agency, here on Monday (November 11) and was opened by the Director of East Borneo´s Assessment Institute for Agricultural Technology called the BPTP, Mohammad Amin to encourage increased production, productivity, and quality of food crops.
Technical guidance participants come from four districts namely Balikpapan, Penajam Paser Utara, Tanah Grogot, and Kutai Kartanegara.
Mr Amin said the purpose of technical guidance to support Nawa Cita program of Indonesia President Joko Widodo administration for national food sovereignty, and it seeks to realize the target of Agriculture Ministry to achieve self-sufficiency in food, especially soybean proclaimed by Minister Andi Amran Sulaiman can be realized in 2018.
"The BPTP Kaltim as the technical implementation unit of ministry seeks to improve ability of farmers, agricultural extension workers and seed breeders to increase soybean productivity, which currently only a ton per hectare," he said.
Technical guidance activities attracted the attention of members of parliament, Hj Kasriyah who took time to encourage the BPTP Kaltim carry out the main tasks and functions in improving the skills of farmers to handle soybean crops.
"The parliament continues to strive for central and local government to synergize and partnership for the interests of farmers and meet the needs of consumers, I hope such activities are more often held for benefit of farmers, people and the state," said politician of the United Development Party (PPP) in the electoral district of East Borneo.
Mr Amin appreciates the enthusiasm and enthusiasm of the participants to listen, ask and discuss with the speakers and other participants.
Materials presented include superior varieties, superior seeding technology, soybean seed certification process, the role of universities to address institutional issues, and marketing of soybean seeds in the province to meet local needs.
Mr Amin acknowledged that the potential for soybeans in the province is considerable, but it needs to be encouraged by technological innovation so that technical guidance is appropriate to support the achievement of soybean self-sufficiency in 2018.