Momon Rusmono: P4S Ubah Perilaku Petani dari Budidaya untuk Konsumsi ke Agribisnis
Indonesian Govt Encourages Farmers to Develop Modern Agribusiness
Editor : M. Achsan Atjo
Translator : Dhelia Gani

PUBLISHED: Jum'at, 11 Agustus 2017 , 05:10:00 WIB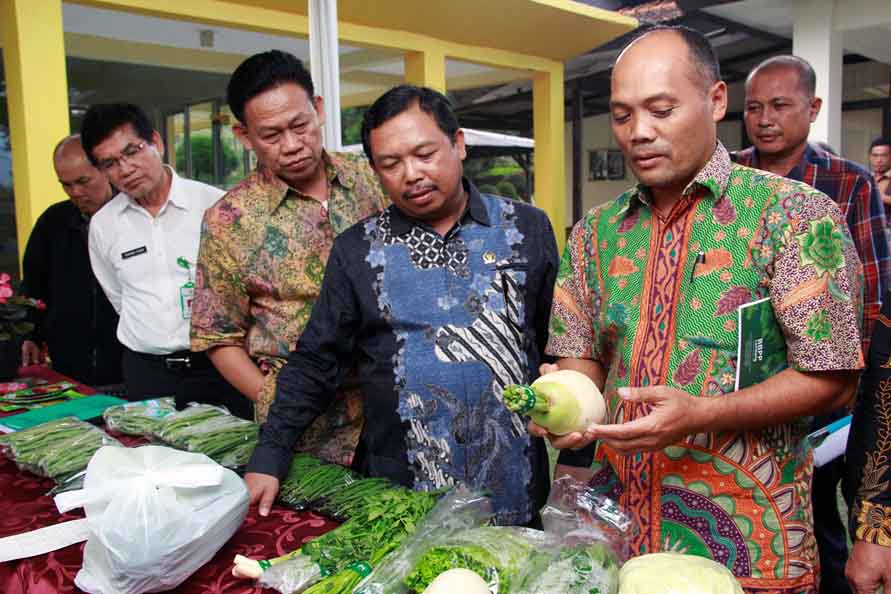 Kepala BPPSDMP Momon Rusmono (ke-3 kiri) dan Wakil Ketua Komisi IV DPR Herman Khaeron (ke-2 kanan) mengamati hasil produksi pertanian dari P4S di Jawa Barat (Foto: Humas BPPSDMP Kementan)
Bandung, Jawa Barat (B2B) - Kementerian Pertanian RI mengembangkan Pusat Perlatihan Pertanian dan Pedesaan Swadaya (P4S) sebagai tempat pelatihan dan pemagangan dari petani untuk petani, sehngga dapat mendorong petani menanam komoditas pangan bukan sekadar dikonsumsi namun membuka wawasan mereka tentang perdagangan produk agribisnis, dan hingga saat ini telah berdiri lebih 1.000 P4S di seluruh Indonesia.

Kepala Badan Penyuluhan dan Pengembangan Sumber Daya Manusia Pertanian (BPPSDMP) Momon Rusmono mengatakan P4S menjadi solusi untuk mengatasi masalah serius dalam pembangunan pertanian, lantaran menurunnya minat generasi muda untuk mengelola lahan pertanian sehingga P4S ke depan akan dikembangkan menjadi sentra pelatihan pertanian terpadu.

"Idealnya, lokasi P4S terintegrasi dengan unit pengolahan padi, peternakan sapi, peternakan kambing, dan rumah kompos untuk mengolah limbah ternak menjadi pupuk kompos," kata Momon Rusmono saat membuka workshop di Balai Besar Pelatihan Pertanian (BBPP) Lembang - Bandung, Jawa Barat pada Rabu (8/8) yang dihadiri Wakil Ketua Komisi IV DPR, Herman Khaeron, politisi senior dari Partai Demokrat.

Dia mengatakan BPPSDMP Kementan berkomitmen melakukan revolusi mental terhadap penyuluh pertanian dan SDM pertanian, maka P4S selayaknya mengembangkan berbagai materi pelatihan antara lain teknik pengolahan lahan, ekologi tanah, pembenihan padi-kedelai, pengendalian hama terpadu, penanganan pasca panen dan teknologi penyimpanan padi-kedelai.

"BPPSDMP Kementan juga akan mengembangkan secara reguler kepada P4S untuk memberikan pembekalan untuk siswa sekolah menengah dan para pemuda tani agar mengerti dan menghayati bagaimana menjadi seorang petani modern. Metodenya sesuai degan jiwa muda mereka dalam bentuk outbound atau kemah tani," kata Momon Rusmono.

Sementara Wakil Ketua Komisi IV DPR RI Herman Khaeron mengatakan, karena ada target yang harus dicapai kementerian yang sudah dicanangkan maka harus didukung peningkatan sumber daya manusia.

Menurut Herman, untuk mengantisipasi penemuan teknologi pertanian, percepatan tanam, iklim yang berubah harus ada penyesuaian kemampuan terhadap penyuluh, karena penyuluh yang berhubungan langsung dengan masyarakat.
Bandung, West Java (B2B) - Indonesian agriculture ministry has developed the Self-help Farmers Training Center called the P4S as a training and apprenticeship center for farmers, so as encourage farmers to cultivate crops not just for consumption, but opened up their insights about agribusiness opportunities and there are now over 1,000 the P4S across the country.

The Director General of Agency for Agricultural Extension and Human Resources Development (BPPSDMP) Momon Rusmono said the P4S is solution to solve serious problems in Indonesia´s agricultural development, after the declining interest of young people to farm and the P4S in the future will be developed into an integrated agricultural training center.

"Ideally, the location of P4S is integrated with rice processing unit, cattle ranch, goat farm, and compost house to process livestock waste into compost," Mr Rusmono said here after opened the workshop for the P4S of West Java province on Tuesday (August 8) and attended by member of parliament Herman Khaeron.

He said the BPPSDMP is committed to a mental revolution for the agricultural extension and agricultural human resources, and the P4S should develop various training materials such as land management, soil ecology, soybean-rice cultivation, integrated pest management, post-harvest handling and soybean-rice storage technology.

"The ministry will also develop regularly to the P4S to train high school students, and young farmers to understand and learn how to be a modern farmer. The training method could be outbound activities or farming camp," Mr Rusmono said.

Meanwhile, MP´s Herman Khaeron urges the ministry should encourage the increase of agricultural human resources support achievement of food self-sufficiency.

"We regularly provides briefing to the high school students and young people in order to understand how to be farmers, with methods appropriate to young lives through outbound or tent farmer," he said.

According to Mr Khaeron to anticipate technological innovation of agriculture, planting period, and climate change there must be adjustment of agricultural extension ability.