Target 4 Juta, Ditjen Peternakan Kementan Realisasi Sapi Bunting Siwab 3,69 Juta Ekor
Indonesian Govt Realizes 92.27% Target of Cow`s Artificial Insemination in 2017
Reporter : Gusmiati Waris
Editor : Cahyani Harzi
Translator : Dhelia Gani

PUBLISHED: Rabu, 13 Desember 2017 , 00:54:00 WIB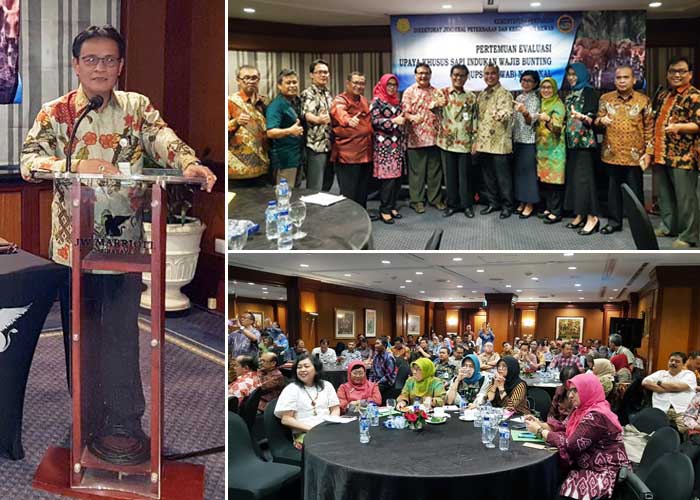 Dirjen Peternakan dan Kesehatan Hewan (PKH) Kementan, I Ketut Diarmita (kiri) memberikan arahan pada pertemuan evaluasi Upsus Siwab Nasional 2017 di Surabaya (Foto2: Humas Ditjen PKH)
Jakarta (B2B) - Realisasi inseminasi buatan (IB) nasional hingga 8 Desember 2017 mencapai 3.690.721 atau 92,27% dari target empat juta ekor sapi betina dalam program upaya khusus 'sapi indukan wajib bunting' disingkat Siwab, sementara realisasi sapi bunting 1.624.614 ekor (54,13%) dari target tiga juta ekor, dan kelahiran 706.314 pedet (anak sapi) merujuk pada laporan online Sistem Informasi Kesehatan Hewan Nasional (iSKHNAS).

Direktur Jenderal Peternakan dan Kesehatan Hewan (PKH) I Ketut Diarmita mengatakan capaian IB nasional berdasarkan kumulatif hingga Jumat pekan lalu (8/12) mencapai 92,27% atau lebih 3,6 juta ekor dari target empat juta ekor untuk 2017, dan akan dilanjutkan oleh Kementerian Pertanian RI pada 2018 sebagai langkah nyata pemerintah pusat didukung daerah mengakselerasi percepatan target pemenuhan populasi sapi potong dalam negeri.

"Capaian masih terus kita evaluasi sampai 2018, mengingat tanda-tanda kebuntingan baru dapat dideteksi beberapa bulan setelah sapi menjalani IB," kata Dirjen Diarmita di Surabaya pada Senin (11/12) pada pertemuan evaluasi Upsus Siwab Nasional 2017.

Upsus Siwab sebagai wujud komitmen pemerintah dalam mewujudkan kemandirian pangan asal ternak dan meningkatkan kesejahteraan peternak sekaligus mengejar swasembada sapi tahun 2026 seperti ditargetkan Presiden RI Joko Widodo.

Dirjen PKH menambahkan, untuk kegiatan pendukung Siwab telah dilaksanakan beberapa hal antara lain penanganan gangguan reproduksi pada 2017, telah diperiksa 288.345 ekor sapi, dan penanganan gangguan reproduksi pada 281.117 ekor sapi.

"Artinya, realisasi penanganan gangguan reproduksi 93,7% dari target 300 ribu ekor, sedangkan untuk kesembuhannya terealisasi 149.615 ekor atau 53% dari target 200 ribu ekor," kata Diarmita.

Dia mengakui gangguan reproduksi pada akseptor merupakan salah satu penyebab kegagalan kebuntingan, sehingga upaya penanganan gangguan reproduksi dilakukan terus-menerus, dan menjadi aktivitas yang tidak terpisahkan mendukung keberhasilan Upsus Siwab.
Jakarta (B2B) - Indonesian government succeeded in artificial insemination on 3,690,721 cows or 92.27% of the target of four million to achieve beef self-sufficiency, locally known as the Upsus Siwab, while realization of pregnant cows is 1,624,614 heads or 54.13% of the target of three million head, and 706,314 calves refer to online report of Indonesian animal health information systems or the iSKHNAS.

Director General of Livestock and Animal Health, I Ketut Diarmita said national cumulative achievement of the Upsus Siwab until Friday last week (December 12) reached 92.27% or more 3.6 million cows of four million cows for 2017, and will be continued next year by the Indonesian agriculture ministry to accelerate beef self-sufficiency target.

"The achievement results continue to be evaluated until 2018 because pregnant cows are detected several months after artificial insemination," said Mr Diarmita in Surabaya, East Java provincial capital, on Monday (December 11).

The Upsus Siwab as the government's commitment to achieve beef self-sufficiency, and improve the welfare of farmers in 2026 as targeted by President Joko Widodo.

Mr Diarmita added to support the Upsus Siwab has been implemented handling reproductive disorder in 2017, has examined 288,345 cows, and 28,117 cows undergoing handling of reproductive disorders.

"Actual treatment of reproductive disorders 93,7% of target of 300 thousand cows, while healing realized 149,615 cattle or 53% of the target of 200 thousand cows," he said.

He acknowledged that reproductive disorder in acceptor is one of the causes of pregnancy failure, so the effort of handling reproduction disorder is done continuously as main activity of the Upsus Siwab.