KRPL Berpotensi Tingkatkan Produksi Hortikultura Bangka Belitung
Indonesia`s Bangka Belitung has Huge Potential to Develop Urban Farming
Editor : M. Achsan Atjo
Translator : Dhelia Gani

PUBLISHED: Selasa, 26 Desember 2017 , 05:44:00 WIB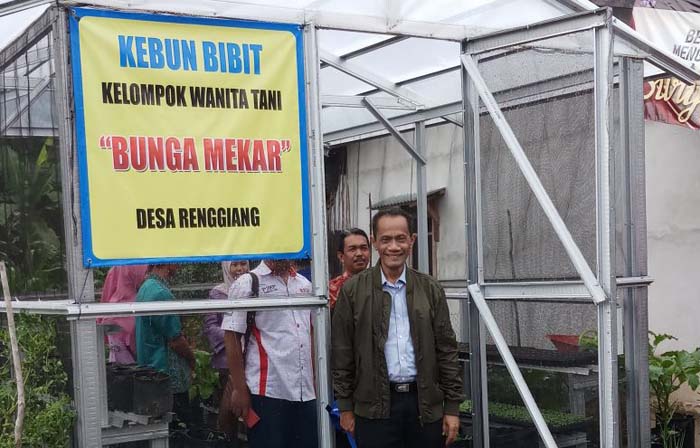 Kepala BKP Kementan, Agung Hendriadi mengunjungi KRPL milik warga Tanjung Pangan, Kabupaten Belitung (Foto: Humas BKP Kementan)
Jakarta (B2B) - Pemerintah RI menilai Provinsi Bangka Belitung memiliki potensi besar dalam pengembangan produk hortikultura seperti sayur dan buah-buahan, dengan mendorong warga mengembangkan kawasan rumah pangan lestari (KRPL) untuk memenuhi kebutuhan lokal sekaligus menambah pendapatan dan meningkatkan kesejahteraan rumah tangga.

Hal itu dikemukakan oleh Kepala Badan Ketahanan Pangan (BKP) Kementerian Pertanian, Agung Hendriadi saat berkunjung ke KRPL di Desa Renggiang, Kabupaten Belitung yang dikembangkan Kelompok Wanita Tani (KWT) Bunga Mekar. Tampak hadir mendampingi adalah Kepala Dinas Ketahanan Pangan Bangka Belitung, Ahmad Damiri; dan Kepala Dinas Pertanian Kabupaten Belitung Timur, Hamali dan rombongan diterima oleh Ketua KWT Bunga Mekar, Liken Suharti, belum lama ini.

"Bangka Belitung mempunyai potensi besar mengembangkan produk hortikultura seperti sayur dan buah-buahan. Jika semua lahan pekarangan rumah warga dioptimalkan akan mendukung kebutuhan pangan sekaligus menambah pendapatan keluarga," kata Agung.

Dia mengharapkan KRPL dikembangkan dalam satu kawasan desa, karena potensinya cukup besar, dan hasilnya dapat dikonsumsi sendiri dan selebihnya untuk dijual.

Pengembangan KRPL selain bermanfaat untuk kecukupan pangan beragam bergizi seimbang dan aman bagi keluarga dari pekarangan sendiri, juga bisa mengatasi kerentanan rawan pangan dan pengentasan kemiskinan.

"Kalau KRPL ini ditangani serius, manfaatnya sangat besar. Untuk itu, saya titip kepada dinas ketahanan pangan Provinsi dan kabupaten juga turut mendukung pengembangan potensi berkelanjutan," kata Agung.

Ahmad Damiri mengakui bahwa pihaknya sangat mengandalkan KRPL agar kecukupan pangan keluarga bisa dipenuhi dari pekarangan sendiri.

"Sebagian besar kebutuhan buah-buahan dan sayuran masih didatangkan dari luar provinsi, sehingga konsumsinya baru sekitar 40 persen dari standar yang dianjurkan. Karena itu kami akan kembangkan KRPL lebih banyak lagi ," kata Ahmad Damiri.

Sementara Hamali, kantor yang dipimpinnya akan mendorong warga mengembangkan KRPL, karena potensinya besar dan dapat dirasakan langsung oleh masyarakat.
Jakarta (B2B) - Indonesian government considers the Bangka Belitung province has huge potential in development of horticultural products such as vegetables and fruits, by encouraging people to develop urban farming, or the KRPL to meet local needs while increasing income and improving household welfare.

It was stated by Director General of the Indonesian Food Security Agency, Agung Hendriadi during visit to the KRPL of Bunga Mekar. It was attended by Head of Bangka Belitung´s Food Security office, Ahmad Damiri; and Head of Belitung Timur agriculture office, Hamali and Chairwoman of the KRPL Bunga Mekar, Liken Suharti on Saturday recently.

"Bangka Belitung has huge potential to develop horticultural products such as vegetables and fruits, if all the home yard for urban farming will support food needs and increase family income," Mr Hendriadi said.

He expects the KRPL to be developed in one village area, because the potential is quite huge, and the production can be consumed by the family and the rest for sale.

The KRPL development in addition to beneficial to adequate food sufficiency of balanced and safe nutrition for the family from their own yard, also can overcome the vulnerability of food insecurity and poverty alleviation.

"If KRPL is handled seriously, the benefits are huge. I ask the provincial and district food security offices to support the development of sustainable potential," Mr Hendriadi said.

Mr Damiri acknowledged that his party relied on KRPL for the sufficiency of family food from home yard.

"Most of the needs of fruits and vegetables from outside the province, so the consumption is only about 40 percent of the recommended standard, therefore we will develop more KRPL," he said.

While Hamali said his office will encourage people to develop KRPL, because the potential is large and useful to local residents.