PJ Opsin Ali Rachman Inisiasi Brigade Alsintan jadi UPJA di Kebumen
Indonesian Govt Support the Farmers Optimized Agricultural Machinery
Editor : M. Achsan Atjo
Translator : Dhelia Gani

PUBLISHED: Rabu, 13 Juni 2018 , 05:57:00 WIB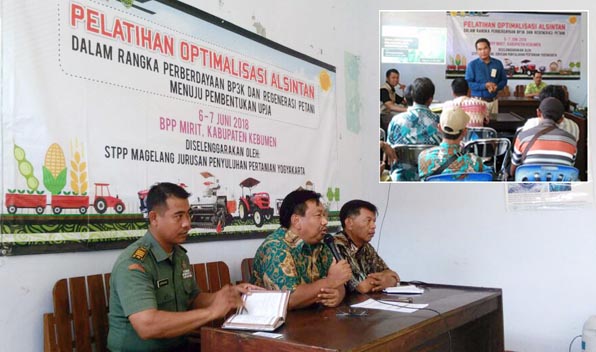 PJ OPA Yogyakarta, Ali Rachman memberi arahan pada pembentukan UPJA tingkat kecamatan di Kabupaten Kebumen, peserta pelatihan dan bersama para pengurus UPJA (Foto2: Humas STPP Magelang)
Kebumen, Jateng (B2B) - Penanggung Jawab Optimalisasi Alat Mesin Pertanian - PJ Opsin Kabupaten Kebumen, Ali Rachman menginisiasi pembentukan Brigade Alsintan tingkat kecamatan dalam bentuk Usaha Pelayanan Jasa Alsintan (UPJA), tujuannya untuk mengoptimalkan fungsi dan manfaat dari anggaran negara yang dikeluarkan Pemerintah RI melalui Kementerian Pertanian menyediakan Alsintan untuk mendukung petani meningkatkan produksi pangan strategis, khususnya padi.
Pembentukan UPJA tingkat kecamatan di Kebumen dipimpin Ali Rachman di kantor Balai Penyuluhan Pertanian (BPP) Kecamatan Mirit, belum lama ini, yang dihadiri oleh 45 peserta di antaranya Kabid Sarana, Prasarana dan Penyuluhan di Dinas Pertanian Kebumen, Kotib; Pasiter Kodim 0709 Kebumen, koordinator penyuluh pertanian lapangan (PPL), Ketua Gapoktan Kecamatan Mirit dan instansi terkait.
"Pemerintah sudah mengeluarkan anggaran cukup besar dalam mendukung petani melalui pemberian bantuan Alsintan sehingga harus dioptimalkan. Tidak boleh ada Alsintan yang menganggur, harus dimanfaatkan melalui UPJA sebagai inisiator pola kelompok ekonomi usaha bersama pertanian," kata Ali Rachman yang juga menjabat Ketua Sekolah Tinggi Penyuluhan Pertanian - STPP Magelang jurusan penyuluhan pertanian (Jurluhtan) Yogyakarta.
Kotib mendukung dan menyambut baik pembentukan UPJA untuk mendorong pemanfaatan Alsintan bantuan pemerintah pusat dan daerah melalui APBN dan APBD. Bantuan Alsintan dari pemerintah didasari pada kondisi mayoritas petani hanya memiliki lahan pertanian yang terbatas, rata-rata 0,3 hektar, sehingga penggunaan Alsintan secara individu kurang efisien.
"Apabila kegiatan budidaya tersebut digabung dan penanganannya oleh UPJA, maka usahanya akan dapat lebih efisien, artinya dengan luasan yang sama membuat petani mendapatkan penghasilan yang lebih layak," kata Koordinator Tim Alsintan STPP Yogyakarta, Irwan Johan Sumarno melalui pernyataan tertulis.
Irwan JS mengingatkan pentingnya untuk merawat Alsintan bantuan pemerintah, pemanfaatan maksimal diikuti perawatan kebersihan dan mesin secara berkala, harga sewa terjangkau petani, mengubah sudut pandang dari sistem individu menjadi kelompok sehingga hamparan sawah lebih luas, memanfaatkan combine harvester akan membuat hasil panen padi lebih bersih dan meminimalisir losses gabah kering panen (GKP).
Kebumen of Central Java (B2B) - Person in Charge of Program Optimizing the Utilization of Agricultural Machinery or PJ Opsin for Kebumen district of Central Java province, Ali Rachman initiate the establishment of agricultural machinery service business or UPJA at the subdistrict level, the goal is to optimize the function of agricultural machinery to support farmers to increase strategic food production.
The establishment of UPJA subdistrict level in Kebumen district was led by Ali Rachman here recently, attended by 45 participants and officials from relevant agencies.
"The government has provided the state budget to support farmers by providing agricultural machinery. There should be no unused agricultural machinery, should be utilized through UPJA as an agricultural economic group," Mr Rachman who was served the Rector of Yogyakarta´s Agriculture Extention College or STPP Magelang.
The local government supports the establishment of UPJA to optimize the use of agricultural machinery from central and local government assistance.
"If the cultivation activities undertaken jointly supported UPJA, the farming activities will be more efficient, with the same area of land, the farmer will earn a more decent income," said coordinator of Alsintan team in STPP Yogyakarta, Irwan Johan Sumarno through written statement.
Mr Sumarno recalls the importance of maintaining agricultural machinery from the government, utilization is supported by regular maintenance of machinery, affordable rents for farmers, change the point of view of the individual system into groups so that the expanse of rice fields extends, utilizing combine harvester will make the rice yield cleaner and minimize the losses of dry grain harvest.