Atasi Kekeringan, Ditjen PSP Kementan Koordinasi Tim Upsus Pajale
Indonesian Govt Supports Farmers to overcome Drought in the Dry Season
Reporter : Gusmiati Waris
Editor : Cahyani Harzi
Translator : Dhelia Gani

PUBLISHED: Selasa, 06 Agustus 2019 , 00:05:00 WIB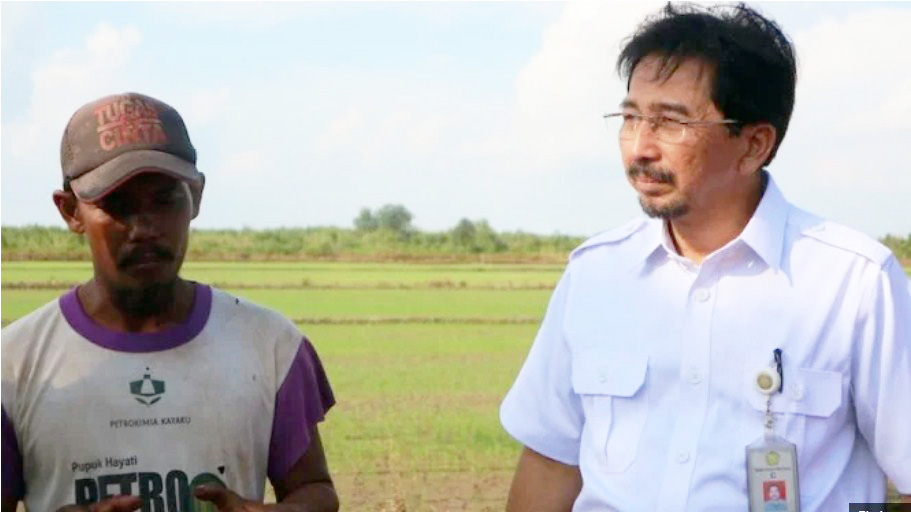 KOORDINASI LAPANGAN: Dirjen PSP Kementan, Sarwo Edhy mengunjungi daerah-daerah rawan kekeringan untuk koordinasi lapangan termasuk dengan petani [Foto: Humas Ditjen PSP Kementan]
Jakarta [B2B] - Pemerintah RI terus berupaya mengatasi kekeringan akibat kemarau panjang, dengan memperkuat koordinasi para pemangku kepentingan di Kementerian Pertanian RI, khususnya Ditjen Prasarana dan Sarana Pertanian [Ditjen PSP] dengan Tim Upaya Khusus Padi, Jagung dan Kedelai [Upsus Pajale] di seluruh Indonesia.
"Contohnya di Purwakarta, Jawa Barat yang dikunjungi akhir Juli lalu, Ditjen PSP Kementan memberi bantuan selang pipa sepanjang 3.700 meter untuk menarik air dari sungai, tujuannya menyelamatkan lahan sawah seluas 1.500 hektar yang terancam gagal panen," kata Dirjen PSP Sarwo Edhy, belum lama ini.
Menurutnya, Ditjen PSP sejak awal menyediakan dukungan infrastruktur yang diperlukan daerah-daerah yang terdampak kekeringan. Langkah strategis pertama adalah pompanisasi dan pipanisasi, untuk menarik air dari sumber-sumber air yang ada, baik dari sungai maupun mata air, yang bisa ditarik melalui pipa ke lahan-lahan sawah, kemudian menyalurkannya ke petak-petak sawah.
Langkah serupa dilakukan di Indramayu, Cirebon, Brebes, dan Tegal. Intinya, daerah-daerah yang terancam kekeringan, jika ada sumber airnya, akan dibantu dengan pompa dan pipa.
"Kedua, juga ada pembangunan embung/long storage. Ini program untuk kelompok tani guna menampung air di musim hujan (bank air), kemudian dialirkan ke sawah di musim kemarau," katanya.
Ketiga, membangun sumur dangkal (sumur bor) di lahan-lahan yang mengalami kekeringan. Sumur bor ini dalamnya bisa 60 meter, jika lebih harus minta izin pada Dinas PU sehingga mendukung langkah mengatasi kekeringan.
Keempat, petani diimbau untuk mengikuti program asuransi AUTP, jika ada lahan sawah mengalami kekeringan hingga 70 persen, akan mendapat ganti rugi Rp6 juta per hektare per musim.
Menurut Sarwo Edhy, tugas mitigasi dan antisipasi kekeringan juga bagian tugas Upsus Pajale, karena itu, pendampingan dan upaya untuk menggerakkan dan mengoordinasikan petani dan kelompok tani dalam mengatasi kekeringan, dilakukan bersama di bawah koordinasi di setiap provinsi dan kabupaten/kota yang mengalami kekeringan.
"Sementera Ditjen PSP menyiapkan prasarana dan sarana yang dibutuhkan, sesuai dengan paket-paket bantuan yang disediakan," kata Dirjen PSP.
Selain itu, peran TNI AD terutama dari Koramil sangat diperlukan mendampingi dan mengoordinasikan petani mengatasi kekeringan. "Ini sudah berjalan dengan baik, sejak adanya kerja sama antara Kasad TNI AD dan Menteri Pertanian sejak 2015 dalam program Upsus Pajale." [Sur]
Jakarta [B2B] - Indonesian government is trying to overcome drought caused by dry season, by strengthening coordination with stakeholders in the Agriculture Ministry, especially the Directorate General of Agricultural Infrastructure and Facilities with the Strategic Food Production Improvement Team across the country.