Kunjungi STPP Yogyakarta, Mentan Ajak Mahasiswa Penyuluhan Bangun Pertanian Modern
Indonesian`s Students Must Support Developing Modern Agriculture: Minister Sulaiman
Reporter : Gusmiati Waris
Editor : Cahyani Harzi
Translator : Dhelia Gani

PUBLISHED: Selasa, 13 Maret 2018 , 06:15:00 WIB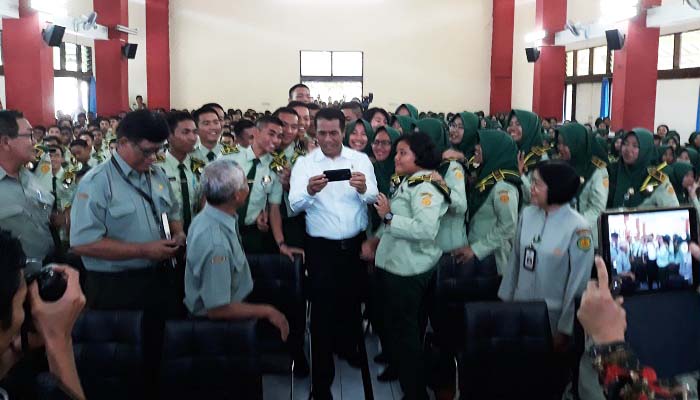 MENTAN SELFIE: Mentan Andi Amran Sulaiman (kemeja putih) foto selfie dengan mahasiswa STPP Yogya (Foto: istimewa)
Yogyakarta, DIY (B2B) - Menteri Pertanian RI Andi Amran Sulaiman mengajak mahasiswa dan pemuda kembali menggarap lahan pertanian atau ´back to agriculture´ sebagai bidang usaha yang menjanjikan di masa depan, karena hampir seluruh profesi rentan digilas kemajuan teknologi, sementara pekerjaan sebagai petani kekal hingga akhir jaman karena manusia tetap butuh makan, dan teknologi dimanfaatkan Kementerian Pertanian sebagai solusi efisien menggantikan pola usaha tani manual.

Mentan mengingatkan Indonesia ke depan membutuhkan sarjana yang mandiri dan mampu membuka lapangan kerja, seharusnya sejak di bangku kuliah dapat memanfaatkan waktu luang dengan bekerja paruh waktu (part-time work) daripada nongkrong dan terlibat tawuran massal, manfaat penting lain adalah mahasiswa tidak lagi tergantung pada uang orangtua.

"Saya juga pernah menjadi mahasiswa dan tinggal di pondokan. Saya lahir miskin tapi saya tidak mau mati dalam keadaan miskin. Semua berawal dari apa yang dilakukan hari ini, untuk menjadi sukses di masa depan. Pintar saja tidak cukup, tetapi harus cerdas dengan hati yang bersih," kata Mentan Amran Sulaiman pada kuliah umum di Sekolah Tinggi Penyuluhan Pertanian - STPP Yogyakarta di Jl Kusumanegara 2, Senin pagi (12/3).

Mentan kemudian menguraikan pengalaman hidup sebagai mahasiswa yang hidup di pondokan mahasiswa dekat kampusnya di Universitas Hasanuddin (Unhas) Makassar dengan bekerja serabutan demi menutup biaya kuliah dan mencukupi kebutuhan sehari-hari sebagai mahasiswa di ibukota Sulawesi Selatan.

"Kehidupan kalian sekarang lebih enak daripada masa kuliah saya dulu, banyak pekerjaan yang bisa dilakukan saat ini seperti cuci mobil, tukang parkir, pengemudi ojek online, atau menjual pulsa. Tidak usah gengsi, yang penting bisa cari uang sendiri," kata Amran Sulaiman yang juga dikenal sebagai pengusaha, inovator dan dosen.

Tampak hadir Kepala Badan Penyuluhan dan Pengembangan SDM Pertanian (BPPSDSMP) Momon Rusmono dan Kepala STPP Yogyakarta, Ali Rachman.

Mentan mengharapkan mahasiswa melakukan transformasi menjadi generasi penerus yang mampu bersaing dan siap bertarung demi kemajuan bangsa dan negaranya, dan revolusi mental yang diusung Presiden Joko Widodo bertujuan menjadikan bangsa ini lebih baik dan maju.

"Kalian adalah harapan bangsa, tongkat estafet ada di tangan kalian, makanya saat ini pola pikir harus diubah untuk menjaga bangsa kita dari keterpurukan. Kalian inilah yang bisa membanggakan Indonesia ke depan," katanya lagi.

Kebanggaan Kampus
Kepala STPP Yogyakarta, Ali Rachman mengaku bangga atas kehadiran Mentan Amran Sulaiman di kampus yang dipimpinnya saat ini dan sosok Mentan menjadi sosok kebanggaan kampus atas keberhasilan membangun pertanian nasional dalam tiga tahun terakhir.

Menurut dia, Mentan sukses mengembangkan potensi pertanian Indonesia, dan telah menyusun pondasi penting bagi Indonesia mencapai swasembada pangan.

"Kami sangat bangga bisa menghadirkan bapak menteri, karena tidak dipungkiri kerja-kerja pak Amran sudah terlihat dalam memimpin sektor pertanian," katanya.
Yogyakarta (B2B) - Indonesian Agriculture Minister, Andi Amran Sulaiman said Indonesian government encourage students and young people return to work on the farm or ´back to agriculture´ as an area of business that promise for the future, because almost all professions vulnerable crushed technological advances, while the work as farmers continue to exist until the end of time because humans need food, and the Agriculture Ministry used technology as an efficient solution to replace manual farming.

Minister Sulaiman reminded the Indonesia´s future requires graduates who are independent and able to create jobs, it should be since the university can use their spare time to work part-time rather than hanging out and engage mass brawl, other important benefits is the students is no longer dependent the parents´ money.

"I have also been a student and lived in the dormitory. I was born poor but I do not want to die remains poor. It all starts from what we do today to succeed in the future. Do not just be smart, but be smart with a clean heart," Minister Sulaiman said told at public lecture in Yogyakarta´s Agricultural Extension College or STPP Yogyakarta here on Monday (March 12).

Minister Sulaiman then elaborate his experiences as a student in the dormitory near the campus in Makassar´s Hasanuddin University (Unhas) to work part time to meet university costs, and meet daily needs as a student in capital of South Sulawesi province.

"Student life is now much better than when I was in college, a lot of work to be done this time as a car wash, parking, ride-hailing or sell credits cellular phone. No need prestige, which is important you can get money," said Mr Sulaiman, also known as an entrepreneur, innovator and lecturers.

It was attended by the Director General of Agricultural Human Resources in agriculture ministry, Momon Rusmono and Rector of STPP Yogyakarta, Alie Rachman.

He expects students to transform into the next generation who are ready to compete for the progress of nations, and the mental revolution of President Joko Widodo aims to make Indonesia as a developed nation.

"Students are the hope of the nation, your mindset should be changed to prevent this country from the downturn. You will make Indonesia proud as a country," he said.

Pride of Campus
Rector Ali Rachman admitted he was pride to invited Minister Sulaiman at the university that he led.

According to him, Minister Sulaiman successfully develop the agricultural potential of Indonesia, and has developed an important foundation for Indonesia achieve food self-sufficiency.

"We are very proud that Mr. Sulaiman are present here, because of his hard work leading the development of the agricultural sector across the country," he said.