BPPSDMP Kementan Dorong Penyuluh Sosialisasikan `Turiman Jagole Super`
Indonesian Govt Seeks to Socialize Intercropping Plants in West Borneo
Editor : M. Achsan Atjo
Translator : Dhelia Gani

PUBLISHED: Minggu, 27 Mei 2018 , 06:56:00 WIB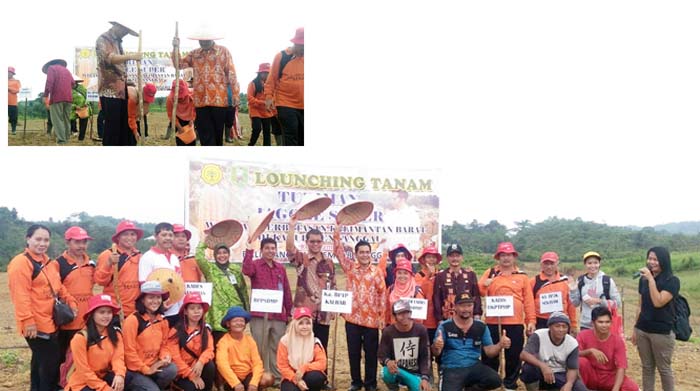 Penyuluh pertanian lapangan (PPL) berseragam oranye hadiri peluncuran teknologi Turiman Jagole Super yang dihadiri SesBadan SDM Kementan, Andriko NS dan Kadistan Sanggau, John Hendri (Foto2: Humas/ Revo Agri)
Sanggau, Kalbar (B2B) - Kementerian Pertanian RI mengharapkan para penyuluh pertanian di Provinsi Kalimantan Barat, khususnya di Kabupaten Sanggau dapat mensosialisasikan dan mendorong petani setempat mengembangkan teknologi ´Turiman Jagole Super´ sehingga dapat mendorong indeks pertanaman (IP) menjadi 300 sehingga dapat tiga kali tanam dalam setahun.
"BPPSDMP Kementan harapkan para penyuluh pertanian untuk mendukung sosialisasi Turiman Jagole Super. Petani dapat menanam jagung dan kedelai selain padi di satu lahan dengan hasil produksi dua kali lipat. Kita upayakan mengubah kebiasaan petani menanam padi gogo pada September dan Oktober dimajukan ke bulan Mei dan Juni," kata Sekretaris Badan Penyuluhan dan Pengembangan SDM Pertanian (BPPSDMP) Andriko Noto Susanto saat peluncuran Turiman Jagole Super di di Desa Kenaman, Kecamatan Sekayam pada Jumat (25/5).
Andriko menambahkan Turiman Jagole Super mampu melipatgandakan lahan tanam, misalnya tujuh hektar menjadi 14 hektar berkat inovasi teknologi Turiman Jagole Super; singkatan dari ´tumpang sari tanaman jagung, padi gogo, dan kedelai super´.
Inovasi teknologi Turiman Jagole Super tidak mengurangi populasi masing-masing komoditas, maksudnya antara tanaman utama dengan tanaman yang di-tumpangsari-kan.
"Pola tanam harus menerapkan arah tanaman pangan dari timur ke barat. Maksudnya, agar intensitas cahaya matahari dapat menyinari seluruh tanaman. Tanaman yang tinggi juga tidak menutupi tanaman yang lebih rendah," kata Tion, peneliti di Balai Pengkajian Teknologi Pertanian Kalimantan Barat, yang hadir mewakili Kepala BPTP Kalbar, Akhmad Musyafak.
Tampak hadir di Sekayam, Sanggau adalah Kasubbag Pelaporan BPPSDMP Kementan, Revo Agri; dan Penyuluh Pertanian Utama, Siti Nurjanah.
John Hendri mengharapkan Turiman Jagole Super mampu mendorong IP 300 di Sanggau maupun Kalbar, dan pihaknya berupaya mendorong sosialisasi kepada petani setempat, seperti halnya pemanfaatan lahan kebun milik masyarakat di Kecamatan Sekayam untuk peluncuran inovasi teknologi tersebut.
"Teknologi pertanaman ini juga untuk merespons dan mencapai target ekspor beras ke Malaysia, sehingga petani Sanggau lebih termotivasi untuk menanam padi, jagung, dan kedelai untuk ekspor sehingga dapat meningkatkan pendapatan petani dari hasil ekspor," katanya.
Kegiatan peluncuran Turiman Jagole Super di Sanggau merupakan rangkaian dari rapat percepatan luas tambah tanam (LTT) Kalbar di Pontianak yang dipimpin oleh Penanggung Jawab Upsus Kalbar, Momon Rusmono, pada Kamis (24/5) didampingi tim Upsus Septalina Pradini dan Yudhistira Nugraha.
Sanggau of West Borneo (B2B) - The Indonesian Agriculture Ministry expects agricultural extensionist in West Borneo province, particularly Sanggau district can socialize and encourage local farmers to develop technology of rice, corn and soybeans planting as the combination of food crops, locally known as the Turiman Jagole Super so it can encourage the cropping index to three times planting in a year.
It was stated by the of Directorate General of Agricultural Extension and Agricultural Human Resources or the BPPSDMP of Indonesian Agriculture Ministry, Andriko Noto Susanto to the Head of Sanggau agriculture office, John Hendri to coordinate socialization of IP 300 program from the development of Jagole Super Turiman in West Borneo and Sanggau or across the country.
Mr Susanto said the combination of food crops is also double the planted area, for example, seven hectares to 14 hectares of food technology innovation Turiman Jagole Super locally known as the Turiman Jagole Super.
Innovation of the Jagole Super Turiman cultivation is not reduce the population of each commodity, meaning between the main crops with intercropping plants.
"The location of food crops from east to west means that the intensity of sunlight can illuminate the whole plant. High crops do not cover the lower crops," said Tion, a researcher of West Borneo´s Assessment Institute for Agricultural Technology called the BPTP represent of his boss, Akhmad Musyafak.
Also attended in Sekayam of Sanggau is the Head of Data Analyst BPPSDMP, Revo Agri and senior agricultural extensionist ot the ministry, Siti Nurjanah.
Mr Hendri expects the Turiman Jagole Super will encourage increase of the plantation index in district and province, and it seeks socialization to local farmers, among others by utilizing community land owned by the community in Sekayam subdistrict.
"The technology also responds and meets demand for export rice to Malaysia, to grow rice, corn and soybeans for export so as to increase farmers´ income," he said.
The launching of Turiman Jagole Super in Sanggau is the series of central and local government for extensification of paddy fields in Pontianak of provincial capital, who was led Person in Charge of province´s increase food production on Thursday (May 25) accompanied by his team Septalina Pradini and Yudhistira Nugraha.